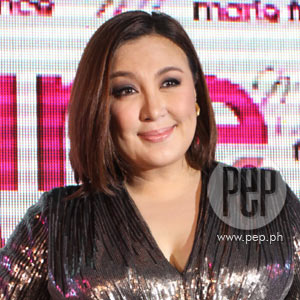 ---
PRESS STATEMENT FROM ABS-CBN:
"The transformation of the lives of 12 overweight Filipinos finally begins on Monday (May 30) in the much-awaited premiere of one of Philippine TV's biggest reality shows in history, The Biggest Loser Pinoy Edition.
"Witness success stories as they happen as the contestants undergo emotional and physical challenges to get in shape and change the course of their lives towards winning P1 million, a condominium unit from DMCI Homes, a Vespa scooter and the title "The Very First Pinoy Biggest Loser."
"ABS-CBN's newest reality TV show offering also marks the return of Philippine Showbiz's one and only Megastar Sharon Cuneta to primetime. Joining her is actor-sports enthusiast Derek Ramsay, who will serve as the game master during the program's challenges.
"Over the past week, ABS-CBN revealed the identities of its 12 contestants—seven males and five females—who all have heartfelt stories that can bring both tears and inspiration to every Filipino.
"Architect Alan Choachuy wants to lose weight to be able to meet and watch his grandchildren grow. Art Mendoza, who recently separated from his wife, doesn't want to die obese and not be able to live out his dream. Eboy Bautista, meanwhile, has always been on the heavy side, but the death of his father has got him thinking about his own mortality.
"There is also Eric Limatog, an emotional eater, who ballooned to his current weight due to his mother's illness, and fire volunteer JM Oloris who is afraid that people will tease his children because of his weight. Raffy Tan, who lost his parents in a gruesome crime, wants to be healthy so that he can give his sister a good future, while Ryan Razon hopes to learn to love himself and no longer be the 'not-so-good-looking Razon son.'"
ADVERTISEMENT - CONTINUE READING BELOW
"Among the women, there is Angela Lupango who is desperate to shed the pounds so she could start a family with her husband and Winwin Cabinta who wants to finally look like a real lady after being mistaken for a tomboy most of her life.
"Edden Cruz joined the show because she believes she can't afford to get sick as her children depend on her. Hazel Chua took the challenge so her parents will be proud of her. Meanwhile, Joy Siy said she is doing this for herself and no one else. Through the show, they hope to not just lose weight but to also gain confidence and knowledge that will make them better persons after.
"In the show's first weeks, the contestants will be divided into two teams—the Red Team will be trained by U.S. certified fitness specialist and mixed martial artist Chinggay Andrada while the Blue Team will be guided by sports scientist Jim Saret who was recently appointed by the Philippine Olympic Committee as head trainer of the National Team.
"Each week, there will be a weigh-in. The team with the higher percentage of weight loss will be safe from elimination, while members of the losing team will each decide who they want to eliminate from their group.
"Cuneta, who recently opened up about her own battle against weight gain in the program's first primer Bigating Pinoy, said that the program hopes to change the lives of the viewers as much as the contestants. She said the program will impart guidance and information that Filipinos can use to start leading healthy lives and in building a stronger nation.
"Remember that when you choose to have a healthy lifestyle, you are given more time to become a father, a mother, a child, a sibling or friend to the people you hold close to your heart," she said.
ADVERTISEMENT - CONTINUE READING BELOW
"Get to know more about the show and the contestants on the second-part of the primer titled Bigating Simula: The Road to the Biggest Loser Pinoy Edition, this Sunday (May 29), 11:15am on ABS-CBN.
"Don't miss the shocking twists on the pilot episode of The Biggest Loser Pinoy Edition on Monday (May 30), after Mara Clara on ABS-CBN's Primetime Bida."
Ed's Note: When content falls under "Press Statement," this means that the material is fully and directly from the company itself. The use of open-and-close quotation marks to envelope the entire text shows as much. This also means that PEP is not the author of the statement being read. PEP is simply providing the information for readers who may be interested.