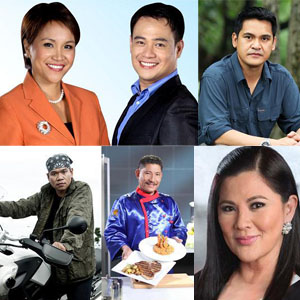 ---
PRESS STATEMENT FROM GMA-7
"GMA News TV Channel 11, the country's first and only news and public affairs channel on VHF free TV, unveils six new, must-see programs beginning this July.
Idol sa Kusina
"Practical tips and special techniques in cooking taught with a dose of humor and a sprinkling of lessons in life. Idol sa Kusina has all the right ingredients for a show that's both informative and highly entertaining.
"Host Master Chef Pablo "Boy" Logro and his celebrity guests will have viewers savoring sumptuous dishes and learning how to create these themselves. Recently seen as the head judge of GMA 7's Kitchen Superstar, Chef Boy Logro is a master chef in Oriental, Mediterranean and Western cuisine. He finished international culinary training in Italy, Switzerland, Spain, United Kingdom, Turkey, Singapore and Japan.
"Chef Boy Logro's exceptional cooking skills helped him rule the royal kitchen of the Sultan of Oman. He also holds the distinction of being the first Filipino to be named as an executive chef of a 5-star hotel in the country. He is currently the president of the Hotel and Restaurant Chefs Association of the Philippines, and has his own culinary school named CLICKS (Chef Logro Institute of Culinary and Kitchen Services).
"Expand your culinary horizon with Idol sa Kusina every Sunday, 7 pm. Idol sa Kusina premiered last July 3.
Follow That Star
"Follow That Star, the newest docu-reality show on GMA News TV takes viewers behind the cameras to give them a glimpse into the real lives of the reel people they only see on the small or big screen.
"Follow That Star will tell you who the stars really are when stripped of makeup and out of the klieg lights. It aims to show the person behind the fame, glamor and money.
"Follow That Star's camera will zero in on one celebrity per episode—following their day-to-day activities, revealing their families, work and private lives. No scripts, no second takes, just the truth behind a star's successes and failures.
ADVERTISEMENT - CONTINUE READING BELOW
"This glimpse into the ordinary and not-so-ordinary world of the famous began yesterday, July 9 at 7:55 pm, with the real life story of Jillian Ward.
Balita Pilipinas Ngayon
"Get the biggest news from the entire country with Balita Pilipinas Ngayon. Anchored by Maki Pulido and Mark Salazar, Balita Pilipinas Ngayon is a 30-minute daily recap of the headlines from various points in the country.
"Pulido and Salazar, along with some of the most credible broadcasters from the regions, will deliver the biggest stories from Luzon, Visayas, and Mindanao. The newscast will also familiarize viewers with each region's food, travel, history, art, and culture. The program will also join 'Serbisyong Totoo' activities by the GMA Kapuso Foundation, in tandem with local and national partners.
"Find out what's happening all over the country in Balita Pilipinas Ngayon premiering today, July 11 at 4:30 pm.
Motorcycle Diaries
"Jay Taruc travels to places where four-wheelers cannot go.
"Each week, the George Foster Peabody award-winning senior reporter will take viewers on an unforgettable journey into areas unseen to look for stories untold.
"Taruc drives his motorcycle to the locale and immerses in the issue affecting the people he covers.
"For the pilot episode, Taruc will live in a military camp to experience firsthand how soldiers live their lives and how they battle the financial and emotional difficulties they encounter while on active duty.
"Afterwards, with the help of a team of experts, Taruc will offer an analysis of the situation and from there, commence with an investigative report on the issue.
"Join Jay Taruc in his journey on two wheels every Friday night in Motorcycle Diaries beginning July 15 at 8 pm.
Personalan
"Providing an alternative viewing in the pre-primetime block, GMA News TV launches Personalan, a one-hour talk-drama show that unveils not just the story but the emotional journey of a featured individual.
ADVERTISEMENT - CONTINUE READING BELOW
"Bannered by veteran TV host Ali Sotto, Personalan is an innovative reality-based program that combines talk show and drama as it gives importance to the fact that everyone has a story to tell.
"Personalan premieres July 25 at 5 pm."
News TV QRT (Quick Response Team)
"A newscast that is designed to be lightning-quick and ready to broadcast from any place and in any situation, News TV QRT (Quick Response Team) will have multi-awarded senior reporter Jiggy Manicad and his team taking viewers right where the action is.
"News TV QRT (Quick Response Team) will serve as eyewitness, collecting data from the field, cross-checking data with relevant sources to help viewers make sense of the major event that just transpired.
"A veteran of memorable coverages in Basilan, Iraq, Afghanistan, Mt. Everest, Haiti, and "EDSA 3", Manicad is the perfect reporter to take viewers right into the heart of a news event.
News TV QRT (Quick Response Team) airs Monday to Friday starting August 1 at 4 pm.
"Six new, must-see programs—newscasts, public affairs programs and out of the box offerings—that continue to deliver Serbisyong Totoo and alternative viewing experience."
Ed's Note: When content falls under "Press Statement," this means that the material is fully and directly from the company itself. The use of open-and-close quotation marks to envelope the entire text shows as much. This also means that PEP is not the author of the statement being read. PEP is simply providing the information for readers who may be interested.