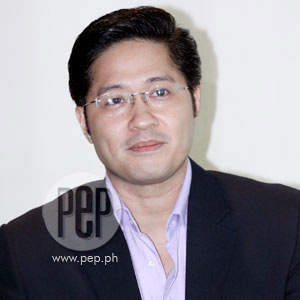 ---
"That's why we call it the Tamano Perspective because it's just one perspective and by giving our perspective we would help the viewers have their own," said Atty. Adel Tamano about his upcoming show, Tamano Perspective, which will air on ANC Skycable Channel 27 starting July 14.
The 40-year old son of former Sen. Mamintal Tamano had a presscon last July 8, Friday, at 9501 restaurant located at the ABS-CBN compound.
In this upcoming news program, Atty. Adel will make viewers aware of current issues and help them make sense of the news.
"I'm very excited and of course I'm very thankful to ANC for giving me this opportunity. To be very honest I am very nervous but I have a very good feel with this."
"I think hosting a talk show is much, much more frightening than running for public office," he quipped.
Atty. Tamano also recalled some of his experiences while taping with former president of the Philippines, Fidel V. Ramos.
"You know we are very lucky, I'm so excited because our very first guest, gusto ko, para bongga 'yong guest namin—President Ramos, and we will be talking about the presidency since one year na sa office si P-Noy [President Noy Aquino]."
"Sabi ko, 'who better to get some insights about being president?' We would get someone who really knows the job."
Atty. Tamano also gave names of persons that he would like to feature in future episodes of his show.
"I would like to have President [P-Noy, Noynoy Aquino] guest on the show."
"Ito, this I think would make a good interview but she would never agree to come, I think, but I'd like to interview the former president, GMA [Gloria Macapagal-Arroyo]. I will ask her, 'Bakit ka nag-sorry? Nag-sorry ka saan?'"
"With the celebrities? Ako, honestly I would like to interview Robin Padilla—partly because pareho kaming Muslim.
ADVERTISEMENT - CONTINUE READING BELOW
"And I would like to give him the opportunity to share ang pagka-Muslim niya. I admire him because nadapa siya tapos tumayo siya ulit. That's what makes him a star for me," he happily shared.
"Sa babae naman si Sharon Cuneta because…because she's simply the Megastar."
"I grew up watching her movies. I would probably ask her how it is to be married to a politician. What are the challenges? Like that."
Atty. Tamano is considered to be the first Filipino Muslim hosting his own talk show on ANC. How does he feel about this?
"I hope you won't think that this is bragging. You know, I can share the stuff that I've done.
"Like for the first Filipino Muslim to go to Harvard Law School, the first Filipino Muslim to be a University President in a university in Metro Manila and this is also the first time that you will have a Filipino Muslim to actually have a show on Philippine TV."
"Those things are important for me, not personally, but I think it's important for Filipino Muslims to see people, fellow Filipino Muslims succeeding, so that they will say 'I can do that also.'"
Tamano Perspective will start airing on ANC Skycable Channel 27 on July 14, 7 pm.