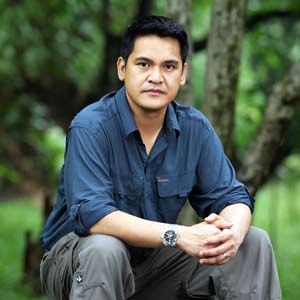 ---
On Monday, August 1, 2011, GMA News TV Channel will broadcast its first "on-the-scene" news program.
Quick Response Team or NEWS TV QRT will be anchored by Jiggy Manicad.
"Unconventional way of doing a newscast ito kasi [ang] napapanood natin [sa newsroom], naka-suit. Ito, rugged, on location, pero studio set-up."
In a press pocket interview last Wednesday, July 27, the veteran correspondent who has been through some of the most remarkable news coverage around the world (wars in Basilan, Iraq, and Afghanistan; Haiti's 2010 earthquake aftermath; Pinoys' 2006 Mt. Everest conquest), explained how they plan to conduct GMA News TV's onsite newscast.
"Halimbawa, may nangyari sa Albay, pupunta kaming Albay."
"Pero hindi ako yung bababad na, halimbawa, for two weeks..."
"After ng newscast—mga two days, just to establish [the story]—out na ako para yung isang reporter yung bababad dun. Para at the same time, hindi rin siya nakakasagasa ng career ng mga reporter."
ADVERTISEMENT - CONTINUE READING BELOW
"So yun ang mangyayari. Kung kinabukasan, katulad kanina galing akong Laguna, kinabukasan may nangyari ... aksidente, halimbawa, sa Baguio na malaki, malaking story, pupunta kaming Baguio."
Manicad is seen delivering news on 24 Oras Weekend and contributes weekly investigative stories that are aired on Reporter's Notebook. Due to QRT's weekday time slot, he shares that he will have to accommodate a new assignment and schedule.
"Ang duty ko na-adjust. From 9 a.m. to 5 p.m., naging 6 a.m. to 2 p.m. to give way to the 4 p.m. newscast."
He likewise shared how long a reporter's designation in a particular place will differ from the usual.
"Although compared dun sa ide-deploy na reporter na tatagal ng two weeks [or] one month, kami medyo controlled para yung deployment mama-maximize namin."
"Usually ang deployment namin as reporters, maximum of two weeks sa isang area. Siguro [in QRT] mga one to three days," Manicad expounded.
ADVERTISEMENT - CONTINUE READING BELOW
QRT's FIRST EPISODE: A PREVIEW
Manicad, 36, had been working for GMA News and Current Affairs for six years as a writer before his infamous coverage of former president Joseph "Erap" Estrada's ousting in 2001. It can be recalled that he was hit in the head by ERAP supporters running amok as he was reporting live from Mendiola.
Asked what QRT's first episode will be about, Manicad who is now a senior news producer in GMA-7, said that he had been recently working on a story about the ghost projects of suspended ARMM (Autonomous Region for Muslim Mindanao) Governor Zaldy Ampatuan who, at present, is detained for his alleged involvement in the 2009 Maguindanao massacre.
Manicad said, "May binubuo po akong story ngayon. Yung ghost projects ni Zaldy Ampatuan sa Maguindanao... Na-shoot ko na."
"Kasi po, di ba, tanda ninyo? Sinabi niya may kickback si Gloria sa P200 million project."
ADVERTISEMENT - CONTINUE READING BELOW
Manicad's first episode expose gives support to Zaldy Ampatuan's recent revelation that the former president Gloria Macapagal Arroyo received P200 million worth of kickbacks from farm-to-market road projects between 2008 and 2009.
Manicad continued, "So may nagbigay sa 'kin ng document na dalawang sets. Yung first set, yun yung pinirmahan ni Zaldy Ampatuan and ni Nasser Pangandaman, yung dating DAR [Department of Agrarian Reform, secretary], requesting ganitong amount ng project."
"Yung second set ng documents, liquidation na yun. Yan yung sinubmit nila dito sa DAR central office."
Manicad relayed that the second set of documents was signed by somebody else apart from the suspended ARMM official.
"Iba na yung nakapirma sa same documents, same request."
"Meaning, magkahabulan, hindi matatamaan yung tao niya."
It so happened, however, that the documents were uncovered, says Manicad.
The first episode, according to him, will show that the farm-to-market roads that were originally allocated millions worth of budget are, until today, nowhere in sight.
ADVERTISEMENT - CONTINUE READING BELOW
"Pinuntahan namin yung area. Yung 50 million [worth of] farm-to-market road... Walang project!"
Manicad mentioned that what lay there was a rough road that the locals themselves made and had to settle with.
When he and his team checked out the other sites included in the document, they found that such farm-to-market roads are yet to be built.
"Punta kami uli sa isang site. 40 million worth of farm-to-market road. Wala din!"
"Isa na lang sabi ko, [worth] 25 million. Wala pa rin."
Manicad further revealed that he had at hand copy of deposit slips of a bank, sent from Malacañang to the office of Zaldy Ampatuan during the previous president's term.
"Binigay yung source sa akin. Sabi nung source ko, '50 million ito ah. Gift ni Gloria kay Zaldy. Pina-check ko sa COA kung may liquidation. Wala. Wala siyang liquidation."
At some point during the interview, Manicad was asked if he has thought about how this first episode would affect him, granted that such expositions might threaten his life. Why work on this particular project?
ADVERTISEMENT - CONTINUE READING BELOW
"Para in a way mapakita na hindi talaga super clean itong si Zaldy. And at the same time, meron namang fact dun sa sinasabi niya na may mga project sila na malalaki [na hindi nila ginagawa]," answered Manicad.
He pointed out that Zaldy Ampatuan's statements regarding former president Gloria Macapagal-Arroyo had to be proven, and the documents handed to him could lead to the previous Chief Executive's involvement in such anomalies.
SHARE THIS STORY Quick Response Team; afternoon newscast starts airing August 1" data-url="https://www.pep.ph/guide/tv/8595/jiggy-manicad-to-anchor-gma-news-tv39s-on-location-quick-response-team-afternoon-newscast-starts-air" data-desc="Jiggy will go beyond the conventional way of providing news by being right where the action is!" data-image="https://contents.pep.ph/images2/guide/d1198161c.jpg"> Quick Response Team; afternoon newscast starts airing August 1" data-url="https://www.pep.ph/guide/tv/8595/jiggy-manicad-to-anchor-gma-news-tv39s-on-location-quick-response-team-afternoon-newscast-starts-air" data-desc="Jiggy will go beyond the conventional way of providing news by being right where the action is!" data-image="https://contents.pep.ph/images2/guide/d1198161c.jpg"> Quick Response Team; afternoon newscast starts airing August 1" data-url="https://www.pep.ph/guide/tv/8595/jiggy-manicad-to-anchor-gma-news-tv39s-on-location-quick-response-team-afternoon-newscast-starts-air" data-desc="Jiggy will go beyond the conventional way of providing news by being right where the action is!" data-image="https://contents.pep.ph/images2/guide/d1198161c.jpg">
SHARE THIS STORY
Quick Response Team; afternoon newscast starts airing August 1" data-url="https://www.pep.ph/guide/tv/8595/jiggy-manicad-to-anchor-gma-news-tv39s-on-location-quick-response-team-afternoon-newscast-starts-air" data-desc="Jiggy will go beyond the conventional way of providing news by being right where the action is!" data-image="https://contents.pep.ph/images2/guide/d1198161c.jpg"> Quick Response Team; afternoon newscast starts airing August 1" data-url="https://www.pep.ph/guide/tv/8595/jiggy-manicad-to-anchor-gma-news-tv39s-on-location-quick-response-team-afternoon-newscast-starts-air" data-desc="Jiggy will go beyond the conventional way of providing news by being right where the action is!" data-image="https://contents.pep.ph/images2/guide/d1198161c.jpg"> Quick Response Team; afternoon newscast starts airing August 1" data-url="https://www.pep.ph/guide/tv/8595/jiggy-manicad-to-anchor-gma-news-tv39s-on-location-quick-response-team-afternoon-newscast-starts-air" data-desc="Jiggy will go beyond the conventional way of providing news by being right where the action is!" data-image="https://contents.pep.ph/images2/guide/d1198161c.jpg"> Quick Response Team; afternoon newscast starts airing August 1" data-url="https://www.pep.ph/guide/tv/8595/jiggy-manicad-to-anchor-gma-news-tv39s-on-location-quick-response-team-afternoon-newscast-starts-air" data-desc="Jiggy will go beyond the conventional way of providing news by being right where the action is!" data-image="https://contents.pep.ph/images2/guide/d1198161c.jpg">