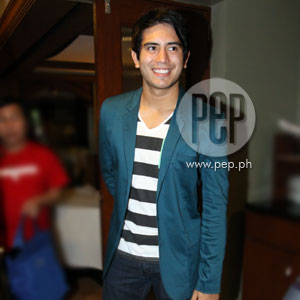 ---
Gerald Anderson looked a little different when he met the media during the renewal of his product endorsement contract last Wednesday, August 17.
The 22-year-old actor grew his hair a little longer and shed 15 pounds from his weight.
This "new look," according to Gerald, is part of his preparation for his role in the upcoming series of ABS-CBN titled Budoy.
He related, "Nagpapahaba po ako ng buhok para sa Budoy, 'yong ginagawa kong soap ngayon na malapit na pong ipalabas.
"Siyempre, kailangan po may bagong hitsura.
"Nag-lose ako ng weight for the role, from 185 lbs. to 170 lbs."
Gerald said his previous weight was already considered an overweight for his body type.
He recalled his recent trip to the States, "Kain kami nang kain doon. When I got back, doon nag-start na ako mag-research [about the role]. Nag-start na rin akong mag-diet, exercise."
Unlike his previous role in Tiagong Akyat, the young actor did not do any special training for his role in Budoy. He just followed the proper diet and regular exercise.
"I'm happy kung ano ang weight ko ngayon, mas magaan ako ngayon at mas fit," said Gerald.
SHARE THIS STORY Budoy" data-url="https://www.pep.ph/guide/tv/8739/gerald-anderson-loses-weight-and-makes-new-look-for-budoy" data-desc="Gerald Anderson will play the role of a mentally-challenged young man in the TV series Budoy." data-image="https://contents.pep.ph/images2/guide/8a4d078f9.jpg"> Budoy" data-url="https://www.pep.ph/guide/tv/8739/gerald-anderson-loses-weight-and-makes-new-look-for-budoy" data-desc="Gerald Anderson will play the role of a mentally-challenged young man in the TV series Budoy." data-image="https://contents.pep.ph/images2/guide/8a4d078f9.jpg"> Budoy" data-url="https://www.pep.ph/guide/tv/8739/gerald-anderson-loses-weight-and-makes-new-look-for-budoy" data-desc="Gerald Anderson will play the role of a mentally-challenged young man in the TV series Budoy." data-image="https://contents.pep.ph/images2/guide/8a4d078f9.jpg">
SHARE THIS STORY
Budoy" data-url="https://www.pep.ph/guide/tv/8739/gerald-anderson-loses-weight-and-makes-new-look-for-budoy" data-desc="Gerald Anderson will play the role of a mentally-challenged young man in the TV series Budoy." data-image="https://contents.pep.ph/images2/guide/8a4d078f9.jpg"> Budoy" data-url="https://www.pep.ph/guide/tv/8739/gerald-anderson-loses-weight-and-makes-new-look-for-budoy" data-desc="Gerald Anderson will play the role of a mentally-challenged young man in the TV series Budoy." data-image="https://contents.pep.ph/images2/guide/8a4d078f9.jpg"> Budoy" data-url="https://www.pep.ph/guide/tv/8739/gerald-anderson-loses-weight-and-makes-new-look-for-budoy" data-desc="Gerald Anderson will play the role of a mentally-challenged young man in the TV series Budoy." data-image="https://contents.pep.ph/images2/guide/8a4d078f9.jpg"> Budoy" data-url="https://www.pep.ph/guide/tv/8739/gerald-anderson-loses-weight-and-makes-new-look-for-budoy" data-desc="Gerald Anderson will play the role of a mentally-challenged young man in the TV series Budoy." data-image="https://contents.pep.ph/images2/guide/8a4d078f9.jpg">