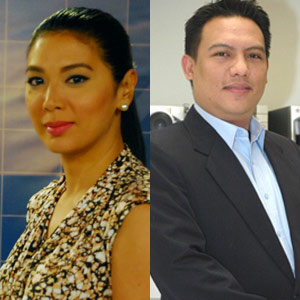 ---
Pinky Webb and Alvin Elchico will anchor ABS-CBN's flagship primetime newscast TV Patrol Weekend starting this Saturday (November 26) and Sunday (November 27).
They will replace former anchors Bernadette Sembrano and Alex Santos who will join the Kapamilya Network's morning show, Umagang Kay Ganda.
Bernadette also anchors Salamat Dok, which airs every Saturday and Sunday morning.
Pinky and Alvin aim to deliver the latest news and information, provoke discussions on socioeconomic issues, inform consumers about their rights, and focus on features that will help Filipino families achieve balance in their work-home life.
Pinky will zero in on everyday problems and issues often ignored by the government in "Kulang sa Pansin." In her first report, Pinky will help a childless widow apply for a senior citizen's card.
"The new assignment is challenging and I am very excited to anchor ABS-CBN's primetime weekend newscast," said Pinky, who also co-anchors ABS-CBN's weekly investigative program XXX and ANC's Mornings@ANC.
Meanwhile, Alvin will educate consumers in "Tapat na Po." The segment will tackle issues from oil prices to bogus promos to shopping tips.
"When you sum it all up, we are all consumers and consumer issues relate to us more," Alvin said.
In his first report, he will expose the truth behind group-buying sites that have been getting complaints for their sham travel deals.
TV Patrol Weekend will also launch a new segment "Applyan Mo." feauring job opportunities here and abroad. The listing will be provided by the Department of Labor and Employment (DOLE) and the Philippine Overseas Employment Administration (POEA).
Another infotainment treat for the family, "Miss Ko 'To" will take viewers on a tour of the archipelago by using photos of different travel destinations and recipes from the "Choose Philippines" website. This is an online resource put up by the ABS-CBN Regional Network Group with up-to-date information on the country's places, food and culture.
ADVERTISEMENT - CONTINUE READING BELOW
Alvin brings his years of experience as ABS-CBN's business and consumer news reporter to the weekend newscast. He also anchors "Konsyumer Atbp" and "SRO" on DZMM and the medical current affairs program, Salamat Dok, on ABS-CBN during weekends. He started as a news anchor of TV Patrol Bacolod in the 1990s.
TV Patrol Weekend airs every Saturday, 5 to 5:30 p.m. and Sunday, 6 to 6:30 p.m. on ABS-CBN.