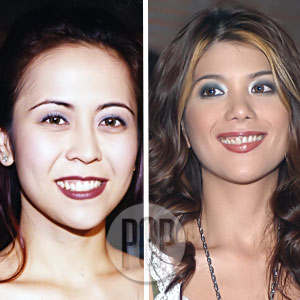 ---
Singers Geneva Cruz and Rachel Alejandro took the hot seat today in Magic 89.9's Good Times. The duo played the celebrity challenge "Forbidden Questions" with DJ Mo Twister—Mohan Gumatay in real life. German "Kuya Germs" Moreno was scheduled to be this morning's guest, but begged off for personal reasons.
Best friends Geneva and Rachel answered the questions together, but tapped out on the 30th question—"Which local reporter do you dislike the most?"
Rachel said: "It would be career suicide."
Geneva seconded: "it's not worth it."
The two were 11 questions short of beating the perfect 40 record of Marcos-scion Borgy Manotoc and talent manager Lolit Solis. The "Forbidden Questions" format had the questions rolling every time guests gave an answer; the questions stopped the moment the guest refused to give an answer. The guest who successfully answered all 40 questions was placed at the top of the totem pole.
Although Geneva and Rachel managed to get only to Question No. 29, they still gave enough shocking and scandalous answers.
On dating married men—Geneva answered "Never." Rachel revealed: "I have not gone out [with a married man]. We stayed in [laughs]. Of course I knew he was married. The wife never knew about it, but he also left her for another girl."
On singers who have overrated voices—Rachel's answer: "Regine Velasquez." She explained that it was a matter of preference because she liked singers with big voices rather than singers with a high range. Geneva seconded, "Sheryn Regis, because she also has a Regine feel."


On celebrities with body odor—Geneva said she didn't know any. Rachel named Jao Mapa as someone who had bad breath, but swore that she only noticed it once.
On "plastic" celebs or those who gave you a big hug then dissed you once you were gone—Geneva recounted an incident. She was having dinner with her boyfriend KC Montero, ex-husband Paco Arespacochaga, his current wife Tiny, and Angel Aquino (Tiny's friend). The singer-actress said that she overheard Angel reassuring Tiny that Tiny was prettier than her. Geneva felt that the comparison was unnecessary because she wasn't trying to get Paco back and, therefore, there was no competition going on between them. She ended the story by saying that she, Tiny, and Angel have already resolved things among themselves.
ADVERTISEMENT - CONTINUE READING BELOW
Meanwhile, Rachel named G Tongi. She said that they don't really greet each other. Then one day, G suddenly "touched base" with her. She said that she suspected G's manager made G do so.
On artists they dislike working with—Geneva answered: April Boy Regino. She recounted an incident wherein she was performing with him and a group of other Filipino singers in Japan. April, who was supposed to sing six songs, performed 12 solo songs, thus delaying the all-star finale.
For Rachel, it was Janno Gibbs, because the singer/host/actor was perennially late when they were still working together.
On losing their virginity—Rachel said she lost hers to her first boyfriend Dingdong Avanzado when she was 17 years of age. Geneva said she lost hers to her second boyfriend and ex-husband, Paco Arespacochaga, when she was 18.
Did they prefer Kapamilya (ABS-CBN) or Kapuso (GMA-7)? Rachel chose ABS-CBN because, she said, the station had better signal and better picture quality. She also admitted that she performed for ABS-CBN's The Filipino Channel (TFC) tour. Geneva answered: "GMA!"
On one-night stands—Geneva admitted that she's had three of these, and that they came after Paco Arespacochaga and before KC Montero. One of them was with her good friend Keempee de Leon. Rachel has had two, both non-showbiz.
On celebrity closet gays—Both stars answered "Sam Milby." Rachel explained, "He is hot, but he seems womanly."
On their choice of the worst actor/actress—Geneva joked: "KC and Troy [Montero]." Rachel was serious: "Gary Estrada and Kris Aquino."
Geneva and Rachel are leaving tomorrow for a series of concerts in the U.S.