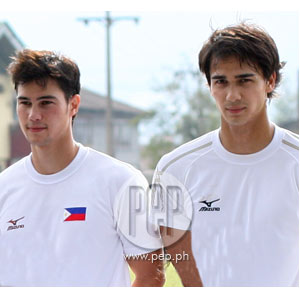 ---
"I love you" were the last words of Phil Younghusband to his mother, Susan Placer-Younghusband, before she passed away last Saturday, September 10, due to a massive heart attack.
Based on the report of Francis Respicio of News 5, which was published today, September 13, on InterAktv, the passing of Mrs. Younghusband, 49, came as a shock to her family because other than diabetes, she did not have any other serious health issues.
Phil also narrated that he and his brother were in Bacolod with the other members of the Philippine national football team, Philippine Azkals, when their younger sister Keri called them about their mother.
"She was crying," said Phil as he recalled his conversation with Keri. "She was saying that mum's not waking up."
James remembered that his mom even helped him pack his things for their trip to Bacolod.
He told News 5, "Mum, even put my clothes inside my bag."
ADVERTISEMENT - CONTINUE READING BELOW
For Phil and James, their mother was their number one fan.
Despite their loss, the Younghusbands promise to continue their careers. They will not stop from joining the Long Teng Cup later this month in Taiwan.
"She wants us to continue playing," James said about his mother.
Meanwhile, according to the report, no cameras were allowed inside the room where Mrs. Younghusband's remains lie at the Manila Memorial Park in Parañaque.
Aside from colleagues and friends, Angel Locsin, Phil's rumored girlfriend, was also seen at the wake.
Susan's remains will be buried on Thursday at the Heritage Park in Fort Bonifacio, Taguig City.
The final mass will be celebrated at 10 a.m. at the Manila Memorial Park, followed by the interment.