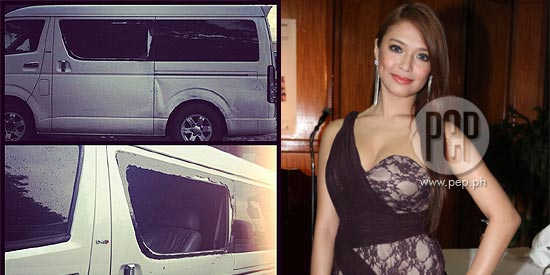 ---
Bangs Garcia considers herself lucky to have quick reflexes.
Earlier this afternoon, July 6, the van that she was riding in was hit by a passenger bus along Elliptical Road in Quezon City.
According to a dzMM report quoted by ABS-CBN News, the van of the Kapamilya actress was hit by a Mafel Bus headed for Fairview. The report also mentioned that the said bus also hit an L300 van as it "swerved out of control."
At 4:46 p.m., Bangs posted this update in her Twitter account: "Car accident.i hate bus drivers here in d Philippines!Very arrogant,they think they're juz drivin a motorcycle!my window broken into pieces!"
When she was asked by singer-actor Kean Cipriano if she was alright, Bangs answered: "if di mabilis reflex ko puro bubog face ko. I was on the left. Basag buong window ko."
In response to a follower who asked her to be careful, Bangs mentioned that she was reminded by the late actor AJ Perez, who died of a vehicular accident in April 2011.
Bangs tweeted: "Im okay. Thank God. Naalala ko c aj perez eh kaya ambilis ng reflex ko."
In her latest update, Bangs shared a photo of her Toyota Grandia van with its left window completely shattered: "Hit by a Bus earlier after i left Abs-Cbn for my fitting. Broken window, i was seated there! God saved me..."
Earlier this afternoon, Bangs Garcia had met with members of the press to talk about her Cinemalaya entry titled Posas.
After the event, she headed to ABS-CBN to fit her gown for the 20th anniversary of Star Magic in ASAP 2012.
In fact, before the accident took place, Bangs was happily snapping photos of her and her companions inside the van.
Star Magic public relations officer Thess Gubi assured that Bangs did not sustain any major injuries: "Okay naman siya [Bangs]. Nabangga ng bus ang sasakyan niya along Quezon Avenue."
ADVERTISEMENT - CONTINUE READING BELOW