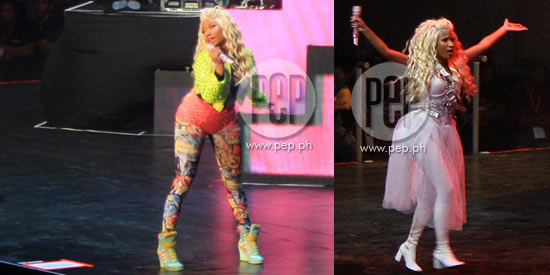 ---
Nicki Minaj definitely got Filipinos' heartbeats runnin' away when she performed last night, July 11, for the Manila leg of her Pink Friday World Tour.
Among those spotted at the venue were loveteam partners Richard Gutierrez and Sarah Lahbati. Tim Yap, Bangs Garcia, and Bianca Valerio were also at the venue while Pia Magalona watched the concert with her children Saab and Arkin Magalona. Sisters Lauren and Megan Young also took time to watch the "Super Bass" singer perform at the SM Mall of Asia Arena.
It was a night of dancing and reminiscing for the rapper-songwriter as she performed her popular hits and recalled the events that inspired some of her songs.
A huge white cloth covered the stage of Arena before Nicki Minaj performed before the jampacked crowd.
A few minutes after 9 p.m., the white cloth dropped down to reveal a curly-haired blonde Nicki Minaj on stage.
She was wearing a black robe and held a crystal-studded microphone as she sang "Roman's Revenge," a song culled from her studio album Pink Friday.
The Arena became a huge dance floor for her avid fans who sang along with their idol.
After that energetic opening, she then removed the robe to reveal her neon green jacket, violet corset top and bright pink hot pants with printed leggings.
Nicki Minaj didn't let the energy die down as she performed "Did It On 'Em" with much enthusiasm.
The 29-year-old recording artist admitted in one of her spiels that night: "I'm so honored to be in the Philippines for the first time."
She asked Pinoys: "Is it true that the Philippines has the more beautiful women in the world?"
The audience shouted their agreement.
Nicki took off her jacket, revealing her tattoo placed vertically on the side of her left arm.
ADVERTISEMENT - CONTINUE READING BELOW
She danced seductively with four muscular guys as she sang "Moment 4 Life," her composition about kids dreaming of becoming rappers.
Before she performed her next song, Nicki asked the crowd: "Did you guys come here to party?"
The crowd answered her with thunderous cheers.
The party vibe continued with her songs "Turn Me On" and "Where Them Girls At," her song with David Guetta and Flo Rida.
Nicki then brought out a plastic bag containing giveaways that she threw at the crowd.
In between sets, a DJ played Nicki's popular hits such as "Fly," which is her collaboration with Rihanna.
As the crowd danced to the upbeat music, the female rapper was backstage changing into a new outfit.
Nicki returned with an all-white ensemble consisting of a white sleeveless top with metallic straps, a white see through skirt, and white boots.
Pinoys danced and sang along as she performed her popular hit "Starships." At one point, three guys got on their hands and knees, forming a "seat" for the female rapper.
Another set featured Nicki wearing a pink gown and short hair. She told the crowd "Welcome to my Barbie dream house."
The stage showed different parts of the "house" such as a fireplace, a window, a painting and a book case.
Nicki admitted, "I had my heart broken and I wanted to kill him."
She then performed "Fire Burns" with lyrics that go: "This is a sickening joke that you play with my emotions / And so I pray you burn in hell and you never find the ocean / I hope your fire, fire burns baby / I hope your fire, fire burns baby / I hope you lay down in your sleep and you choke on every lie you told"
Nicki described a time when the tables were turned and she was the one who ended a relationship. She recalled, "I wrote this song for a boy whose heart I broke."
ADVERTISEMENT - CONTINUE READING BELOW
Part of the lyrics of "Save Me" go: "This time won't you save me? / This time won't you save me? / Baby, I can feel myself givin' up, givin' up / Givin' up, givin' up, givin' up"
During her performance, graphics shown on stage were leaves falling during autumn.
For her final set, Nicki wore a blue wig, a pink newsboy hat and lots of bling bling. She wore black hot pants over animal prints leggings and red knee high boots.
Nicki made a request: "Can you make some noise? You've been absolutely wonderful tonight!"
She coordinated with the DJ regarding the songs that she would perform for the crowd. "Okay, let's see if the Philippines knows this one!"
As soon as the song played, her fans instantly recognized "Bottoms Up," her song with Trey Songz.
Before her next song, she asked the crowd: "Do you guys know reggae?"
The mood mellowed with her rendition of "Hold Yuh," her song with the Jamaican reggae singer Gyptian.
An interactive portion of the concert involved young girls that she picked from the audience.
Before the girls left the stage, Nicki instructed one of the photographers in the patron area, "Take a picture of us!"
"Make some noise Philippines! Manila, I have to tell you, I will never forget you. You will be forever in my heart.
"This place reminds me so much of Trinidad. It's absolutely beautiful."
Nicki, whose real name is Onika Tanya Maraj, was born in Saint James, Trinidad and Tobago and moved to New York City when she was five years old.
The female rapper asked the crowd: "Is there anything that I missed? Thank you and good night!"
She pretended to leave the stage although she hadn't performed her signature song yet.
But, of course, she was only teasing the crowd since she opted to make "Super Bass" her finale song.
ADVERTISEMENT - CONTINUE READING BELOW
The audience could feel the vibrations as she performed her popular hit, prompting everyone to sing: "Can't you hear that boom, badoom, boom / Boom, badoom, boom bass?"
In the middle of the song, confetti is blown up in the air, adding to the festive atmosphere.
She ended "Super Bass" with a bow and formed a heart with her hands and pretended that they were binoculars, indicating that she was trying to see everyone in the audience.
"Manila, God bless! Good night!" she said as she made her exit.
When Nicki Minaj left the stage, people started chanting, "We want more! We want more!"
However, the rapper-songwriter did not perform any more songs. Instead, she came out wearing a pink bath robe and blew kisses to the crowd.