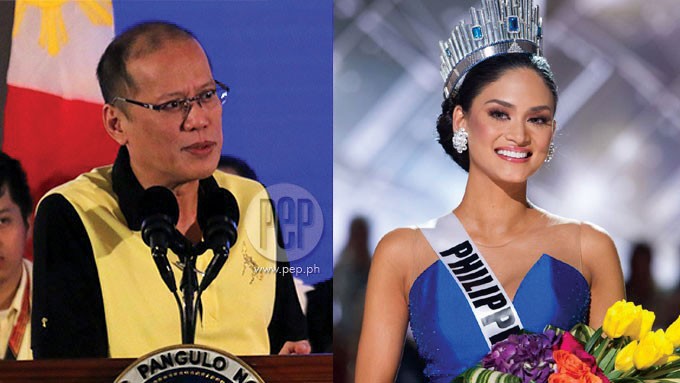 ---
Miss Universe 2015 Pia Alonzo-Wurtzbach answered the question if she would like to date President Benigno "PNoy" Aquino III, when she recently guested in a radio show in the U.S.
It could be recalled that Pia was previously romantically linked to PNoy.
Speaking with the disc jockeys (DJs) of New York radio station WPLJ FM this Thursday (Philippine time), January 7, Pia was asked if she could confirm or deny that she was dating PNoy.
"No, that's so funny," replied the 26-year-old Filipino-German beauty queen.
Pia then went on to explain how rumors about her and the Philippine chief executive started to circulate.
"I met him because I was a contributing writer for the lifestyle section of a newspaper in the Philippines, so I met him in a few social occasions."
She further explained, "Because he's a bachelor that's why."
One of the DJs then asked if Pia wants to date the President, to which the beauty queen replied, "I think that would be very difficult with my... You know, I haven't even had a full 8-hour sleep, it's been very busy. What more [if a go out with] a guy.
"I don't think I'd be able to handle that."
Nonetheless, Pia clarified that the organizers of Miss Universe are not prohibiting a Miss Universe title-holder from having a boyfriend.
"We have a chaperone when we do events and what-not, but they don't try to not allow us to go on dates or have a boyfriend.
"If you're responsible enough, I think they'll trust you."
As the reigning Miss Universe, Pia said that she will be staying in the U.S. for the entire year to fulfill her responsibilities and commitments.
With her newfound fame and having acquired the prestigious beauty title, Pia said that she is slowly adjusting to the changes in her life.
ADVERTISEMENT - CONTINUE READING BELOW
"I know the privacy would go out the window. It's a given.
"But I'm still getting used to things, like the paparazzi.
"Sometimes I see photos of me online and I don't even remember anybody taking that photo of me, like me going to the gym and without any makeup on, and I'm thinking, 'I should have put on a little of lip gloss or something.'
"But I learn as I go along."
Pia also shared that her crown, which is studded with sapphire stones, crystals, and diamonds is worth over US$300,000.
Meantime, Pia is slated to have her homecoming this January 23 and one of her tentative activities is to do a courtesy call in Malacañang.