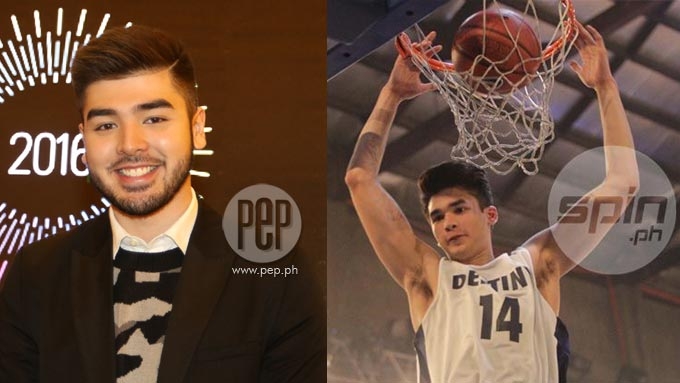 ---
It has been reported that Kobe Paras will no longer be attending the University of California, Los Angeles (UCLA) reportedly because of an "academic issue."
However, his brother Andre Paras said that Kobe's grades had nothing to do with the withdrawal.
A statement from UCLA indicated: "Incoming freshman guard Kobe Paras, admitted upon condition to UCLA, has withdrawn from the university due to academic conditions of his admission not being met."
Read: Kobe Paras forced to withdraw from UCLA Bruins due to 'academic issue'
Even though Kobe won't be playing basketball for the UCLA Bruins, there are still other universities that are open to accepting him.
Andre said about his younger brother, "Well, Kobe's doing well now sa States.
"As of now, naghahanap na siya ng school na papasukan niya."

Was Andre affected by reports saying that his brother failed to meet "academic conditions"?

"Of course," admitted the Kapuso actor during a brief interview at the YES! 100 Most Beautiful Stars launch yesterday, July 11, at Luxent Hotel.

"I was affected kasi I was there naman nung nilabas na pasado si Kobe, mataas yung grades niya.
"Of course, masakit kasi out of nowhere lang he was just [withdrawn]."

Andre pointed out, "No reason, they removed him.
"It's not because of his grades, it's all a matter of politics talaga."

However, he sees a bright side to this situation.

Andre said, "What's good about this is if one door closes, another opens, and di lang isang pinto, marami.
"There are more schools that are interested in Kobe.
"As of now, yung gagawin niya muna, choose na lang one school."

Andre is thankful for technology since he can communicate regularly with his brother who is two years his junior.
"We can talk to each other, send photos, send videos.

"As of now, we're really happy na nakakapag-usap pa kami kahit iba yung time schedule.
ADVERTISEMENT - CONTINUE READING BELOW
"Ako, I stay up late just to talk to him kasi, yun nga, time-zone difference."

When will they decide on a school?

"Soon. Pero as of now, ang alam ko sa States, it's summer or break pa sila kaya wala pang pasukan, kaya he has time to choose pa."
Benjie Paras, the boys' father, took a flight last night to the United States in order to be with Kobe.
(To watch video: Andre Paras says brother Kobe was removed from UCLA because of 'politics')