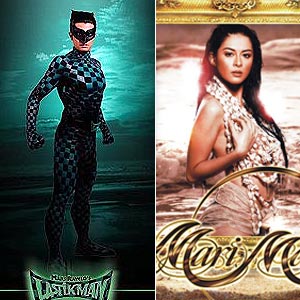 Vhong Navarro's Lastikman scored a big one as it edged out primetime Mega Manila favorite Marimar in AGB Nielsen's summary of the top-rating programs of 2008. Lastikman garnered a rating of 36.4 percent against Marian Rivera and Dingdong Dantes's 34.8 grade, which tied at No. 2 with Kris Aquino's Patayin sa Sindak si Barbara.
Photo: Courtesy of ABS-CBN and GMA-7
Consistent Mega Manila primetime top drawer Marimar fell short against Vhong Navarro's fantasy series Lastikman in the overall Nationwide Urban TV Audience Measurement (NUTAM) tally conducted by AGB Nielsen Media Research, Philippines covering the entirety of 2008.
The Mars Ravelo creation registered an averageof 36.4 percent rating against the 34.8 percent clip accumulated by the local version of the popular Mexican telenovela, which ran from August 13, 2007 to March 14, 2008 and starred Dingdong Dantes and Marian Rivera. Lastikman's triumph was bolstered by a big final rally leading to its final episode January 25, 2008.
ABS-CBN's TV remake of the classic horror film Patayin sa Sindak si Barbara, starring Kris Aquino, wound up sharing the same total as Marimar, with Kung Fu Kids trailing behind. The first locally produced live-action fantasy series, which generated a total rating of 33.7, was a tough contender in the nationwide survey since its January 28, 2008 debut until its final airing on April 25, 2008.
Kung Fu Kids was launched simultaneously with Angel Locsin and Piolo Pascual's Lobo and Jake Cuenca and Cesar Montano's action series Palos—all representing the Kapamilya Network's then new primetime block triumvirate. Between Lobo and Palos, however, only the former managed to penetrate the winning column, finishing eight overall with an average of 32.0 percent behind Anne Curtis's current program, Dyosa.
Another Mars Ravelo classic made it into the final cut. Dyesebel, the legendary Filipino mermaid adapted by GMA-7, clinched the fifth spot with a 33.3 percent rating. It is interesting to point out that only two Kapuso shows—both featuring the hot tandem of Marian Rivera and Dingdong Dantes—entered the primetime list.
Other shows that made it to the elite circle are The Singing Bee (No. 6), TV Patrol World (No.9), and I Love Betty La Fea and Iisa Pa Lamang (tied at No. 10 and 11)
WILLIE RULES DAYTIME RACE. Willie Revillame's noontime variety game show Wowowee asserted its strong hold of the nationwide weekday daytime contest for 2008. Tallying 22.1 percent, Wowowee edged out El Cuerpo Del Deseo's 21 percent and GMA-7's afternoon drama offering, Gaano Kadalas ang Minsan?.
Registering a rating of 18.7 percent, Roxanne Guinoo's Ligaw na Bulaklak settled for fourth place though Pilipinas, Game KNB? and Magdusa Ka bore identical figures, technically making the slot a three-way tie.
The country's longest-running noontime variety show Eat Bulaga! cornered the eight spot behind Ryan Agoncillo's Pieta.
Kristine Hermosa's Prinsesa ng Banyera and Yasmien Kurdi's Saan Darating ang Umaga? carried identical ratings of 17.1 percent to round up the daytime category.
WEEKEND WINNERS. Despite receiving lukewarm response in the Mega Manila survey, KC Concepcion's coming-out TV drama anthology special, I Am KC, fared exceptionally well in the nationwide race.
I Am KC—conceptualized then to give the public a glimpse of KC's acting prowess—premiered on March 29, 2008. The show, which featured four different episodes, logged in a total rating of 28.3 percent but still fell short to eventual topnotcher Komiks in the primetime division for weekend.
ABS-CBN programs dominated the category with Pinoy Big Brother Teen Edition Plus, Maalaala Mo Kaya, The Singing Bee, Goin' Bulilit, 1 vs. 100, Volta, and Rated K making the list.
Michael V's Bitoy's Funniest Videos was the lone GMA-7 program in the given category, earning a rating of 25.9 percent; which was good enough to nail the seventh spot.
The rivalry between Wowowee and Eat Bulaga! was alive once again as reflected in the weekend daytime battle.
Willie Revillame bested the noontime show of Tito, Vic & Joey as Wowowee came out on top with a 21.9 percent rating against Eat Bulaga's 18.2. ASAP '08 settled for third place while Cinema FPJ Da King on ABS-CBN trailed closely with 18 percent. Other shows that made it in the Top 10 were Your Song, Dragon Ball Z, The Buzz, Love Spell, Wish Ko Lang, and Pilipinas, Game KNB?.
Here are the top weekday and weekend programs covering the year 2008, based on a survey conducted by AGB Nielsen among NUTAM households:
Top Weekday Programs (Daytime)
Wowowee (ABS-CBN) - 22.1%
El Cuerpo Del Deseo (ABS-CBN) - 21%
Gaano Kadalas Ang Minsan (GMA-7) - 19.2%
Ligaw Na Bulaklak (ABS-CBN) - 18.7%
Pilipinas, Game KNB? (ABS-CBN) - 18.7%
Magdusa Ka (GMA-7) - 18.7%
Pieta (ABS-CBN) - 17.7%
Eat Bulaga! (GMA-7) - 17.2%
Saan Darating Ang Umaga? (GMA-7) - 17.1%
Prinsesa Ng Banyera (ABS-CBN) - 17.1%
Top Weekday Programs (Primetime)
Lastikman*** (ABS-CBN) - 36.4%
Marimar (GMA-7) - 34.8%
Patayin Sa Sindak Si Barbara (ABS-CBN) - 34.8%
Kung Fu Kids (ABS-CBN) - 33.7%
Dyesebel (GMA-7) - 33.3%
The Singing Bee (ABS-CBN) - 33.2%
Dyosa (ABS-CBN) - 32.2%
Lobo (ABS-CBN) - 32%
TV Patrol World (ABS-CBN) - 31.2%
I Love Betty La Fea (ABS-CBN) - 30.5%
Iisa Pa Lamang (ABS-CBN) - 30.5%
Top Weekend Programs (Daytime)
Wowowee (ABS-CBN) - 21.9%
Eat Bulaga! (GMA-7) - 18.2%
ASAP '08 (ABS-CBN) - 18.1%
Cinema FPJ: Da King on ABS-CBN (ABS-CBN) - 18%
Your Song (ABS-CBN) - 15.4%
Dragon Ball Z (GMA-7) - 14.6%
The Buzz (ABS-CBN) - 14.5%
Love Spell (ABS-CBN) - 14.2%
Wish Ko Lang (GMA-7) - 14.2%
Pilipinas, Game KNB? (ABS-CBN) - 13.5%
Top Weekend Programs (Primetime)
Komiks (ABS-CBN) - 28.4%
I Am KC (ABS-CBN) - 28.3%
Pinoy Big Brother Teen Edition Plus (ABS-CBN) - 27.7%
Maalaala Mo Kaya (ABS-CBN) - 27.6%
The Singing Bee (ABS-CBN) - 26.4%
Goin' Bulilit (ABS-CBN) - 26.2%
Bitoy's Funniest Videos (GMA-7) - 25.9%
1 Vs. 100 (ABS-CBN) - 25.6%
Volta (ABS-CBN) - 24.7%
Rated K (ABS-CBN) - 24.6%
***Final 4 weeks (January 1-25, 2008)
Source: AGB Nielsen Media Research, Philippines