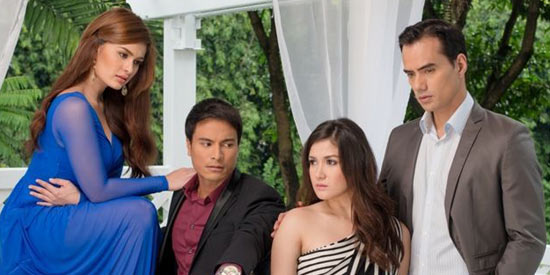 ---
GMA-7 is preparing for tough ratings battles this 2014. As of press time, it has premiered its newest programs both in daytime and primetime, shows that the Kapuso network hopes will help them dominate the ratings war.
The period of January 17 to 23, 2014 covers the premiere of afternoon dramas in the Kapuso network: The Borrowed Wife, which stars TJ Trinidad, Rafael Rosell, Camille Prats and Pauleen Luna; and Tale of Arang, a Korean series with supernatural elements.
Data from AGB Nielsen Philippines from Mega Manila households show that both programs debuted strongly, beating rival shows in its timeslot.
Both shows debuted on January 20 and replaced GMA Blockbusters, GMA-7's daily movie features. It has an average of 11% ratings from week-to-week.
The Borrowed Wife and Tale of Arang did marginally better than GMA Blockbusters. The Borrowed Wife's average rating from January 20 to 23 (Monday to Thursday) is 12.5%, while Tale of Arang has 11.8% for the same period.
The Borrowed Wife maintained strong ratings despite being threatened to be boycotted by call center agents. (CLICK HERE for related story).


Its rival show on ABS-CBN, Galema: Anak ni Zuma, only averaged 7.6% for the same period.
Tale of Arang, on the other hand, was able to beat its rivals: ABS-CBN's afternoon public affairs shows Bistado, Mutya ng Masa, My Puhunan and Tapatan ni Tunying (average: 6.9%), and Princess Hours (average: 8.9%).
Both also beat TV5's new afternoon show Showbiz Police, an entertainment talk show that posted an average of 3.1% ratings.
The battle for top daytime program also continues between GMA-7's Eat Bulaga! and ABS-CBN's Be Careful With My Heart. The long-running noontime show may have always been on the top of the list, but the Kapamilya family drama sometimes challenges its dominance. On January 22, for instance, Be Careful With My Heart (17.1%) beat Eat Bulaga! (16.5%).
ADVERTISEMENT - CONTINUE READING BELOW
Despite winning the afternoon slot, GMA-7 is still losing primetime. ABS-CBN's Honesto and Got to Believe maintain strong leads. The two shows consistently post ratings above 20%, beating GMA-7's Adarna and Kapuso Primetime Cinema.
TV5's primetime ratings isn't also doing well. On Thursday, January 23, the Kapatid channel premiered its newest drama series Obsession with a rating of 4.8%. Obsession stars Marvin Agustin, Bianca King, and Neri Naig.
January 18 marked the last Saturday episode of Startalk, GMA-7's flagship showbiz talk show, which started airing every Sunday starting January 26. Startalk was a ratings loser on its Saturday timeslot, continually losing to The Singing Bee.
Here is the comparative Rating Performance of GMA-7, ABS-CBN and TV5 programs from January 17 to January 23, 2014, derived from AGB Nielsen Philippines from Mega Manila households:
January 17, 2014 (Friday)
Morning:
Born Impact Replay (GMA-7) 1%; Matanglawin Replay (ABS-CBN) .4%; Astig (TV5) .1%; Reaksyon Replay (TV5) .3%
Unang Hirit! (GMA-7) 4.6%; Umagang Kay Ganda (ABS-CBN) 2.6%; Good Morning Club (TV5) .8%
Detective Conan (GMA-7) 5.4%; Pokemon (GMA-7) 6.9%; Kris TV (ABS-CBN) 5%; Jungle Junction (TV5) 2.4%; Phineas and Ferb (TV5) 2.8%
Doraemon (GMA-7) 9.4%; Ultraman Mebius (ABS-CBN) 4.2%; Domo (ABS-CBN) 3.4%; Gargoyles (TV5) 1.5%
Inuyasha (GMA-7) 8.1%; Kuroko's Basketball (ABS-CBN) 3.8%; Domo (ABS-CBN) 3.8%; Naruto Shippuden (ABS-CBN) 3.9%; Oggy and the Cockroaches (TV5) 3.1%
Flame of Recca (GMA-7) 8.6%; Shaman King (GMA-7) 8.1%; Kusina Master (GMA-7) 5.5%; Crazy Love (ABS-CBN) 4.8%; Johnny Bravo (TV5) 3.1%; Adventure Time (TV5) 3.9%
Tunay Na Buhay (GMA-7) 7.8%; Minute To Win It (ABS-CBN) 8.9%; Ben 10 Ultimate Alien (TV5) 3.9%
The Ryzza Mae Show (GMA-7) 12.1%; Be Careful With My Heart (ABS-CBN) 17.1%; Likeable Or Not (TV5) 3.9%
Afternoon:
Eat Bulaga! (GMA-7) 19.4%; It's Showtime (ABS-CBN) 11.3%; NCAA S89 Women's Volleyball: AU Lady Chiefs vs SSC-R Lady Stags (TV5) 1.8%
ADVERTISEMENT - CONTINUE READING BELOW
Villa Quintana (GMA-7) 13.3%; Magkano Ba Ang Pag-ibig (GMA-7) 11.9%; Kapamilya Blockbusters: Shake, Rattle & Roll XI (ABS-CBN) 8%; Sine Ko 5ingko: Imagine That (TV5) 4.7%
GMA Blockbusters: Fantastic Man (GMA-7) 10.7%; Galema: Anak ni Zuma (ABS-CBN) 6%; Hiwaga (ABS-CBN) 5.9%; Princess Hours (ABS-CBN) 7.8%; Face The People (TV5) 5.2%; T3 Reload (TV5) 5.6%
Evening:
Prinsesa ng Buhay Ko (GMA-7) 13.5%; Annaliza (ABS-CBN) 13.7%; Aksyon (TV5) 5.8%
24 Oras (GMA-7) 20.6%; TV Patrol (ABS-CBN) 17.8%; Let's Ask Pilipinas (TV5) 5.3%; Madam Chairman (TV5) 6.7%
Adarna (GMA-7) 18.7%; Honesto (ABS-CBN) 23.1%; PLDT MyDSL PBA 2014 Philippine Cup: San Mig Coffee vs Talk n Text (TV5) 7.7%
Kapuso Primetime Cinema: The Hangover (GMA-7) 20.4%; Got to Believe (ABS-CBN) 22.3%; Maria Mercedes (ABS-CBN) 17.1%; When A Man Falls in Love (ABS-CBN) 12.4%; Astig (TV5) 3.8%
Bubble Gang (GMA-7) 16%; Bandila (ABS-CBN) 6.8%; Pilipinas News (TV5) 2.4%
Saksi (GMA-7) 8.2%; Banana Nite (ABS-CBN) 3.6%; Reaksyon (TV5) 1.8%
The Tim Yap Show (GMA-7) 4.8%; The Medyo Late Night Show with Jojo A (GMA-7) 3.3%; O Shopping (ABS-CBN) 1.6%; PLDT MyDSL PBA 2014 Philippine Cup: Ginebra vs Global Port (TV5) 2.3%

---
January 18, 2014 (Saturday)
Morning:
PJM Forum (GMA-7) .3%; Adyenda (GMA-7) .8%
Kapwa Ko Mahal Ko (GMA-7) 1.4%; Sa Kabukiran (ABS-CBN) .3%; Family Matters (TV5) .2%
Pinoy MD (GMA-7) 1.9%; Salamat Dok (ABS-CBN) 1.4%; Imagination Movers (TV5) 1%
Cinderella (GMA-7) 3.9%; Swak na Swak (ABS-CBN) 3%; Yin Yang Yo! (TV5) 1.7%
Super Book (GMA-7) 6.4%; Honey Watch Out! (ABS-CBN) 1.7%; Kick Buttowski (TV5) 2.7%
Paddle Pop Elemagika (GMA-7) 6.7%; Angry Birds Toons (GMA-7) 7.3%; Sineskwela (ABS-CBN) 2%; The Marvelous Misadventures of Flapjack (TV5) 2.8%
Pororo (GMA-7) 6.8%; Toriko (GMA-7) 6.4%; Avatar: The Legend of Aang (ABS-CBN) 3%; Teenage Mutant Ninja Turtles (ABS-CBN) 3.4%; The Amazing World of Gumball (TV5) 3.3%
Tropang Potchi (GMA-7) 4.6%; Spongebob Squarepants (ABS-CBN) 5.6%; Regular Show (TV5) 3.9%
Sarap Diva (GMA-7) 6.6%; Maynila 14 (GMA-7) 9.1%; NBA 2013-2014 Season: Portland vs San Antonio (ABS-CBN) 3.8%; Powerpuff Girls Z (TV5) 4.8%; Sym-Bionic Titan (TV5) 7%; TV5 Kids Movie Special: Chill Out Scooby-Doo (TV5) 8%
ADVERTISEMENT - CONTINUE READING BELOW
Afternoon:
Eat Bulaga! (GMA-7) 17.8%; It's Showtime (ABS-CBN) 10.5%; Sabado Sinerama: Big Daddy (TV5) 7.8%
Startalk (GMA-7) 9.5%; The Singing Bee (ABS-CBN) 9.7%; Sabado Sinerama: Kung Fu Hustle (TV5) 8.8%
Out of Control (GMA-7) 7.1%; Wish Ko Lang! (GMA-7) 10.6%; SOCO (ABS-CBN) 10%; Failon Ngayon (ABS-CBN) 7.8%; PLDT MyDSL PBA 2014 Philippine Cup: Air 21 vs San Mig Coffee (TV5) 4.1%
24 Oras Weekend (GMA-7) 12.8%; TV Patrol Weekend (ABS-CBN) 10.2%; Aksyon Weekend (TV5) 3.8%
Evening:
Picture! Picture! (GMA-7) 17.2%; Bet On Your Baby (ABS-CBN) 15%; Showbiz Police (TV5) 3.1%
Vampire Ang Daddy Ko (GMA-7) 20.4%; Wansapanataym (ABS-CBN) 15.7%; Pinoy Explorer (TV5) 5.6%
Magpakailanman (GMA-7) 19.3%; MMK: Ang Tahanan Mo (ABS-CBN) 18.6%; Tropa Mo Ko Unli (TV5) 7.4%
Celebrity Bluff (GMA-7) 21.5%; Banana Split: Extra Scoop (ABS-CBN) 11%; Killer Karaoke: Pinoy Naman (TV5) 7.2%; Juan Direction (TV5) 3.5%
Kapuso Movie Night: Seoul Raiders (GMA-7) 15.1%; The Bottom Line (ABS-CBN) 3.6%; Sports Unlimited (ABS-CBN) 1.7%; What's Up Doods (TV5) 1.7%
Walang Tulugan (GMA-7) 3.5%; O Shopping (ABS-CBN) 1%; Spin Nation (TV5) 1.1%; Pilipinas News Weekend (TV5) 1.7%
---
January 19, 2014 (Sunday)
Morning:
Jesus The Healer (GMA-7) .4%; Balitang 60 (TV5) .5%
In Touch with Dr. Charles Stanley (GMA-7) .4%; The Healing Eucharist (ABS-CBN) 3.6%; Misa Nazareno (TV5) 1.3%
Scooby-Doo! Mysetry Inc. (GMA-7) 2.5%; Swak na Swak (ABS-CBN) 2.8%; Power to Unite with Elvira (TV5) .8%
Super Book (GMA-7) 5.3%; Paddle Pop Elemagika (GMA-7) 6.2%; Pororo (GMA-7) 6.2%; Salamat Dok (ABS-CBN) 2.2%; Yin Yang Yo! (TV5) 1.6%; Kick Buttowski (TV5) 3%
Toriko (GMA-7) 7%; X-Men (ABS-CBN) 1%; The Marvelous Misadventures of Flapjack (TV5) 3.8%
Aha! (GMA-7) 6.7%; Marvel Blade (ABS-CBN) 1.3%; Regular Show (TV5) 4.8%
Born Impact (GMA-7) 8.2%; Matanglawin (ABS-CBN) 3.5%; Powerpuff Girls Z (TV5) 4.7%
Kapuso Movie Festival: Little Nicky (GMA-7) 13.8%; NBA 2013-2014 Season: Golden State Warriors vs New Orleans Pelicans (ABS-CBN) 3.2%; Sym-Bionic Titan (TV5) 4.6%; Generator Rex (TV5) 3.9%; Philip Lifestyle Guy (TV5) 1.2%
Afternoon:
ADVERTISEMENT - CONTINUE READING BELOW
Sunday All Stars (GMA-7) 11.4%; ASAP 19 (ABS-CBN) 8.9%; Sunday Sineplex: Harry Potter and the Chamber of Secrets (TV5) 6.8%; Video Incredible (TV5) 5.7%
True Horror Stories (GMA-7) 12%; GMA Blockbusters: Johnny English (GMA-7) 14%; Luv U (ABS-CBN) 7.9%; Buzz ng Bayan (ABS-CBN) 7.9%; PLDT MyDSL PBA 2014 Philippine Cup: Alaska Aces vs Barako Bull (TV5) 3.1%
iBilib (GMA-7) 10.3%; 24 Oras Weekend (GMA-7) 11.3%; TV Patrol Weekend (ABS-CBN) 9.7%; PLDT MyDSL PBA 2014 Philippine Cup: Barangay Ginebra vs Talk n Text (TV5) 7.2%
Evening:
Kap's Amazing Stories (GMA-7) 14.7%; Goin' Bulilit (ABS-CBN) 12.4%
Pepito Manaloto: Ang Tunay na Kuwento (GMA-7) 22.9%; Home Sweetie Home (ABS-CBN) 14.7%; Who Wants to be a Millionaire (TV5) 7.2%
Kapuso Mo, Jessica Soho (GMA-7) 29.5%; Rated K: Handa na ba Kayo? (ABS-CBN) 14.7%; Wow Mali Pa Rin! (TV5) 6.9%
Imbestigador (GMA-7) 24.8%; Gandang Gabi Vice (ABS-CBN) 17.1%; The Mega and the Song Writer (TV5) 1.9%
Sunday Night Box Office: Cop Land (GMA-7) 13.7%; Sunday's Best: The Three Musketeers (ABS-CBN) 6.8%; Sunday Sineplex: Jackass 3D (TV5) 1.9%; Pilipinas News Weekend (TV5) .5%
Diyos at Bayan (GMA-7) 1.7%; O Shopping (ABS-CBN) 1.6%
--
January 20, 2014 (Monday)
Morning:
Aha! Replay (GMA-7) 1.1%; Sports Unlimited Replay (ABS-CBN) .4%; Word of the Lourd (TV5) 0%; Reaksyon Replay (TV5) .2%
Unang Hirit! (GMA-7) 5.4%; Umagang Kay Ganda (ABS-CBN) 3.6%; Good Morning Club (TV5) .9%
Detective Conan (GMA-7) 5%; Pokemon (GMA-7) 6.4%; Kris TV (ABS-CBN) 5.6%; Jungle Junction (TV5) 1.9%; Phineas and Ferb (TV5) 2.6%
Doraemon (GMA-7) 8.8%; Ultraman Mebius (ABS-CBN) 2.7%; Domo (ABS-CBN) 3.1%; Gargoyles (TV5) 2.1%
Inuyasha (GMA-7) 9.8%; Kuroko's Basketball (ABS-CBN) 2.6%; Domo (ABS-CBN) 3%; Naruto Shippuden (ABS-CBN) 3.5%; Oggy and the Cockroaches (TV5) 3.3%
Flame of Recca (GMA-7) 9%; Shaman King (GMA-7) 9.4%; Kusina Master (GMA-7) 6.6%; Crazy Love (ABS-CBN) 4.3%; Johnny Bravo (TV5) 3.6%; Adventure Time (TV5) 4.9%
Tunay Na Buhay (GMA-7) 8.4%; Minute To Win It (ABS-CBN) 8.7%; Ben 10 Ultimate Alien (TV5) 4.8%
ADVERTISEMENT - CONTINUE READING BELOW
The Ryzza Mae Show (GMA-7) 11.8%; Be Careful With My Heart (ABS-CBN) 17.1%; Likeable Or Not (TV5) 3.3%
Afternoon:
Eat Bulaga! (GMA-7) 18.5%; It's Showtime (ABS-CBN) 12.8%; NCAA S89 Women's Volleyball: AU vs SSC-R (TV5) 1.4%
Villa Quintana (GMA-7) 14.2%; Magkano Ba Ang Pag-ibig (GMA-7) 12.1%; Kapamilya Blockbusters: My Amnesia Girl (ABS-CBN) 8.8%; NCAA S89 Women's Volleyball: CSB vs UPHSD (TV5) 1.6%
The Borrowed Wife (GMA-7) 12.6%; Galema: Anak ni Zuma (ABS-CBN) 7.3%; Showbiz Police: Una sa Eksena (TV5) 2.9%; News 5 (TV5) 2.3%
Tale of Arang (GMA-7) 12%; Bistado (ABS-CBN) 7.5%; Princess Hours (ABS-CBN) 9%; T3 Reload (TV5) 4.7%
Evening:
Prinsesa ng Buhay Ko (GMA-7) 14.4%; Annaliza (ABS-CBN) 14.2%; Aksyon (TV5) 7.2%
24 Oras (GMA-7) 23%; TV Patrol (ABS-CBN) 19.6%; Let's Ask Pilipinas (TV5) 6%; Madam Chairman (TV5) 5.8%
Adarna (GMA-7) 19.3%; Honesto (ABS-CBN) 24.4%; PLDT MyDSL PBA 2014 Philippine Cup: Alaska Aces vs Meralco Bolts (TV5) 6.9%
Kapuso Primetime Cinema: Live Free or Die Hard (GMA-7) 22.3%; Got to Believe (ABS-CBN) 23.6%; Maria Mercedes (ABS-CBN) 16.2%; When A Man Falls in Love (ABS-CBN) 12.7%; Demolition Job (TV5) 5.1%
A 100-Year Legacy (GMA-7) 14.1%; Bandila (ABS-CBN) 7%; Pilipinas News (TV5) 3%
Saksi (GMA-7) 8.4%; I-Witness (GMA-7) 5.2%; Banana Nite (ABS-CBN) 4.5%; Reaksyon (TV5) 1.7%
The Tim Yap Show (GMA-7) 2.9%; The Medyo Late Night Show with Jojo A. (GMA-7) 1.9%; O Shopping (ABS-CBN) 1.5%
----
January 21, 2014 (Tuesday)
Morning:
I-Witness Replay (GMA-7) 1.1%; Mutya ng Masa Replay (ABS-CBN) .8%; Reaksyon Replay (TV5) .2%
Unang Hirit! (GMA-7) 5.2%; Umagang Kay Ganda (ABS-CBN) 4%; Good Morning Club (TV5) 1.2%
Detective Conan (GMA-7) 5.7%; Pokemon (GMA-7) 7.2%; Kris TV (ABS-CBN) 6.2%; Jungle Junction (TV5) 2%; Phineas and Ferb (TV5) 3%
Doraemon (GMA-7) 10.2%; Ultraman Mebius (ABS-CBN) 2.9%; Domo (ABS-CBN) 2.7%; Gargoyles (TV5) 1.8%
Inuyasha (GMA-7) 8.7%; Kuroko's Basketball (ABS-CBN) 3.2%; Domo (ABS-CBN) 3.6%; Naruto Shippuden (ABS-CBN) 4.1%; Oggy and the Cockroaches (TV5) 2.8%
Flame of Recca (GMA-7) 8.5%; Shaman King (GMA-7) 8.3%; Kusina Master (GMA-7) 6%; Crazy Love (ABS-CBN) 5.3%; Johnny Bravo (TV5) 3.3%; Adventure Time (TV5) 4.4%
ADVERTISEMENT - CONTINUE READING BELOW
Tunay Na Buhay (GMA-7) 7.6%; Minute To Win It (ABS-CBN) 9.1%; Ben 10 Ultimate Alien (TV5) 4.3%
The Ryzza Mae Show (GMA-7) 12.1%; Be Careful With My Heart (ABS-CBN) 16.4%; Likeable Or Not (TV5) 3.5%
Afternoon:
Eat Bulaga! (GMA-7) 17.7%; It's Showtime (ABS-CBN) 12.1%; Sine Ko 5ingko: She's Out of My League (TV5) 4.2%
Villa Quintana (GMA-7) 12.4%; Magkano Ba Ang Pag-ibig (GMA-7) 12.1%; Kapamilya Blockbusters: Home Along Da Riles Da Movie (ABS-CBN) 9.5%; Sine Ko 5ingko: The Brave One (TV5) 5.6%
The Borrowed Wife (GMA-7) 12.2%; Galema: Anak ni Zuma (ABS-CBN) 7.2%; Showbiz Police: Una sa Eksena (TV5) 3.5%; Face The People (TV5) 6.7%
Tale of Arang (GMA-7) 11.9%; Mutya ng Masa (ABS-CBN) 6.2%; Princess Hours (ABS-CBN) 9.8%; T3 Reload (TV5) 6.4%
Evening:
Prinsesa ng Buhay Ko (GMA-7) 15.8%; Annaliza (ABS-CBN) 15.9%; Aksyon (TV5) 8.2%
24 Oras (GMA-7) 23.5%; TV Patrol (ABS-CBN) 20.8%; Let's Ask Pilipinas (TV5) 7.2%; Madam Chairman (TV5) 6.8%
Adarna (GMA-7) 20%; Honesto (ABS-CBN) 25.4%; PLDT MyDSL PBA 2014 Philippine Cup: San Mig Coffee vs Talk n Text (TV5) 8.8%
Kapuso Primetime Cinema: The Grudge 3 (GMA-7) 17.8%; Got to Believe (ABS-CBN) 25.1%; Maria Mercedes (ABS-CBN) 18.1%; When A Man Falls in Love (ABS-CBN) 13.4%; Numero (TV5) 4.3%
A 100-Year Legacy (GMA-7) 13.3%; Bandila (ABS-CBN) 6%; Pilipinas News (TV5) 3.2%
Saksi (GMA-7) 9.2%; Reporter's Notebook (GMA-7) 9.2%; Banana Nite (ABS-CBN) 3.9%; Reaksyon (TV5) 2.1%
The Tim Yap Show (GMA-7) 2.5%; The Medyo Late Night Show with Jojo A. (GMA-7) 1.7%; O Shopping (ABS-CBN) .9%; PLDT MyDSL PBA 2014 Philippine Cup: Barako Bull vs Petron Blaze (TV5) 1.9%
---
January 22, 2014 (Wednesday)
Morning:
Reporter's Notebook (GMA-7) .9%; My Puhunan Replay (ABS-CBN) .7%; Reaksyon Replay (TV5) .3%
Unang Hirit! (GMA-7) 4.5%; Umagang Kay Ganda (ABS-CBN) 3.9%; Good Morning Club (TV5) 1%
Detective Conan (GMA-7) 6.1%; Pokemon (GMA-7) 7.7%; Kris TV (ABS-CBN) 5.3%; Jungle Junction (TV5) 2.3%; Phineas and Ferb (TV5) 2.2%
Doraemon (GMA-7) 11%; Ultraman Mebius (ABS-CBN) 2.9%; Domo (ABS-CBN) 2.7%; Gargoyles (TV5) .9%
ADVERTISEMENT - CONTINUE READING BELOW
Inuyasha (GMA-7) 9.4%; Kuroko's Basketball (ABS-CBN) 2.9%; Domo (ABS-CBN) 2.8%; Naruto Shippuden (ABS-CBN) 3.1%; Oggy and the Cockroaches (TV5) 2.8%
Flame of Recca (GMA-7) 8.5%; Shaman King (GMA-7) 9.3%; Kusina Master (GMA-7) 6.8%; Crazy Love (ABS-CBN) 5.2%; Johnny Bravo (TV5) 3.3%; Adventure Time (TV5) 4.2%
Tunay Na Buhay (GMA-7) 8.1%; Minute To Win It (ABS-CBN) 10.4%; Ben 10 Ultimate Alien (TV5) 4.1%
The Ryzza Mae Show (GMA-7) 12.3%; Be Careful With My Heart (ABS-CBN) 17.1%; Likeable Or Not (TV5) 3.7%
Afternoon:
Eat Bulaga! (GMA-7) 16.5%; It's Showtime (ABS-CBN) 12.8%; Sine Ko 5ingko: Dark Storm (TV5) 3.6%
Villa Quintana (GMA-7) 12%; Magkano Ba Ang Pag-ibig (GMA-7) 11.7%; Kapamilya Blockbusters: A Secret Affair (ABS-CBN) 9.9%; Sine Ko 5ingko: Doomsday Prohecy (TV5) 4.2%
The Borrowed Wife (GMA-7) 12.6%; Galema: Anak ni Zuma (ABS-CBN) 8.1%; Showbiz Police: Una sa Eksena (TV5) 2.9%; Face The People (TV5) 6.1%
Tale of Arang (GMA-7) 11.8%; My Puhunan (ABS-CBN) 7.2%; Princess Hours (ABS-CBN) 8.6%; T3 Reload (TV5) 6.3%
Evening:
Prinsesa ng Buhay Ko (GMA-7) 14.2%; Annaliza (ABS-CBN) 14%; Aksyon (TV5) 7.2%
24 Oras (GMA-7) 21.5%; TV Patrol (ABS-CBN) 19.4%; Let's Ask Pilipinas (TV5) 6.4%; Madam Chairman (TV5) 6.8%
Adarna (GMA-7) 17.9%; Honesto (ABS-CBN) 23.9%; PLDT MyDSL PBA 2014 Philippine Cup: Alaska vs Ginebra (TV5) 10.6%
Kapuso Primetime Cinema: Batman Begins (GMA-7) 19.9%; Got to Believe (ABS-CBN) 25%; Maria Mercedes (ABS-CBN) 18.9%; When A Man Falls in Love (ABS-CBN) 14%; History with Lourd (TV5) 2.9%
A 100-Year Legacy (GMA-7) 14.7%; Bandila (ABS-CBN) 7.5%; Pilipinas News (TV5) 2.1%
Saksi (GMA-7) 10.2%; Born To Be Wild (GMA-7) 5.8%; Banana Nite (ABS-CBN) 4.7%; Reaksyon (TV5) 1.3%
The Tim Yap Show (GMA-7) 3.1%; The Medyo Late Night Show with Jojo A. (GMA-7) 1.8%; O Shopping (ABS-CBN) 1%; PLDT MyDSL PBA 2014 Philippine Cup: Global Port vs Rain or Shine (TV5) .8%
---
January 23, 2014 (Thursday)
Morning:
Born To Be Wild Replay (GMA-7) .8%; Tapatan Ni Tunying Replay (ABS-CBN) .8%; Astig (TV5) .1%; Reaksyon Replay (TV5) .5%
ADVERTISEMENT - CONTINUE READING BELOW
Unang Hirit! (GMA-7) 4.5%; Umagang Kay Ganda (ABS-CBN) 3.2%; Good Morning Club (TV5) .9%
Detective Conan (GMA-7) 6.1%; Pokemon (GMA-7) 8.4%; Kris TV (ABS-CBN) 5.6%; Jungle Junction (TV5) 2.2%; Phineas and Ferb (TV5) 2.9%
Doraemon (GMA-7) 11.5%; Ultraman Mebius (ABS-CBN) 3.2%; Domo (ABS-CBN) 3.6%; Gargoyles (TV5) 2.3%
Inuyasha (GMA-7) 11%; Kuroko's Basketball (ABS-CBN) 3.5%; Domo (ABS-CBN) 3.1%; Naruto Shippuden (ABS-CBN) 3.6%; Oggy and the Cockroaches (TV5) 3.4%
Flame of Recca (GMA-7) 10.2%; Shaman King (GMA-7) 10.6%; Kusina Master (GMA-7) 7.1%; Crazy Love (ABS-CBN) 5.2%; Johnny Bravo (TV5) 4.1%; Adventure Time (TV5) 5.5%
Tunay Na Buhay (GMA-7) 7.4%; Minute To Win It (ABS-CBN) 8.7%; Ben 10 Ultimate Alien (TV5) 5.4%
The Ryzza Mae Show (GMA-7) 11.8%; Be Careful With My Heart (ABS-CBN) 16.8%; Likeable Or Not (TV5) 3.7%
Afternoon:
Eat Bulaga! (GMA-7) 18.7%; It's Showtime (ABS-CBN) 12.7%; Sine Ko 5ingko: The Truman Show (TV5) 4.5%
Villa Quintana (GMA-7) 13.1%; Magkano Ba Ang Pag-ibig (GMA-7) 12.7%; Kapamilya Blockbusters: Ang Tanging Ina (ABS-CBN) 10.6%; Sine Ko 5ingko: The Happening (TV5) 6.6%
The Borrowed Wife (GMA-7) 12.7%; Galema: Anak ni Zuma (ABS-CBN) 7.6%; Showbiz Police: Una sa Eksena (TV5) 3.2%; Face The People (TV5) 5.8%
Tale of Arang (GMA-7) 11.5%; Tapatan Ni Tunying (ABS-CBN) 6.1%; Princess Hours (ABS-CBN) 8.3%; T3 Reload (TV5) 6.3%
Evening:
Prinsesa ng Buhay Ko (GMA-7) 15.1%; Annaliza (ABS-CBN) 13.5%; Aksyon (TV5) 8.1%
24 Oras (GMA-7) 22.1%; TV Patrol (ABS-CBN) 20.8%; Let's Ask Pilipinas (TV5) 7.2%; Madam Chairman (TV5) 7.6%
Adarna (GMA-7) 19.3%; Honesto (ABS-CBN) 25.9%; Obsession (TV5) 4.8%
Kapuso Primetime Cinema: The Omen (GMA-7) 20.2%; Got to Believe (ABS-CBN) 27%; Maria Mercedes (ABS-CBN) 21.3%; When A Man Falls in Love (ABS-CBN) 14%; Asia's Next Top Model (TV5) 2.4%; Dayo (TV5) 1.2%
A 100-Year Legacy (GMA-7) 14.3%; Bandila (ABS-CBN) 6.3%; Pilipinas News (TV5) 1.4%
Saksi (GMA-7) 10.5%; Alisto! (GMA-7) 6.8%; Banana Nite (ABS-CBN) 4.3%; Reaksyon (TV5) 1.1%
The Tim Yap Show (GMA-7) 3.4%; The Medyo Late Night Show with Jojo A. (GMA-7) 2.4%; O Shopping (ABS-CBN) 1.5%
ADVERTISEMENT - CONTINUE READING BELOW
---
TOP TEN PROGRAMS:
January 17, 2014 (Friday)
DAYTIME:
Eat Bulaga! (GMA-7) - 19.4%
Be Careful With My Heart (ABS-CBN) - 17.1%
Villa Quintana (GMA-7) - 13.3%
The Ryzza Mae Show (GMA-7) - 12.1%
Magkano Ba Ang Pag-ibig? (GMA-7) - 11.9%
It's Showtime (ABS-CBN) - 11.3%
GMA Blockbusters: Fantastic Man (GMA-7) - 10.7%
Doraemon (GMA-7) - 9.4%
Minute To Win It (ABS-CBN) - 8.9%
Flame of Recca (GMA-7) - 8.6%
PRIMETIME:
Honesto (ABS-CBN) - 23.1%
Got to Believe (ABS-CBN) - 22.3%
24 Oras (GMA-7) - 20.6%
Kapuso Primetime Cinema: The Hangover (GMA-7) - 20.4%
Adarna (GMA-7) - 18.7%
TV Patrol (ABS-CBN) - 17.8%
Maria Mercedes (ABS-CBN) - 17.1%
Bubble Gang (GMA-7) - 16%
Annaliza (ABS-CBN) - 13.7%
Prinsesa ng Buhay Ko (GMA-7) - 13.5%

January 18, 2014 (Saturday)
DAYTIME:
Eat Bulaga! (GMA-7) - 17.8%
24 Oras Weekend (GMA-7) - 12.8%
Wish Ko Lang! (GMA-7) - 10.6%
It's Showtime (ABS-CBN) - 10.5%
TV Patrol Weekend (ABS-CBN) - 10.2%
SOCO (ABS-CBN) - 10%
The Singing Bee (ABS-CBN) - 9.7%
Startalk (GMA-7) - 9.5%
Maynila 14 (GMA-7) - 9.1%
Sabado Sinerama: Kung Fu Hustle (TV5) - 8.8%
PRIMETIME:
Celebrity Bluff (GMA-7) - 21.5%
Vampire Ang Daddy Ko (GMA-7) - 20.4%
Magpakailanman (GMA-7) - 19.3%
MMK: Ang Tahanan Mo (ABS-CBN) - 18.6%
Picture! Picture! (GMA-7) - 17.2%
Wansapanataym (ABS-CBN) - 15.7%
Kapuso Movie Night: Dragon: Seoul Raiders (GMA-7) - 15.1%
Bet On Your Baby (ABS-CBN) - 15%
Banana Split: Extra Scoop (ABS-CBN) - 11%
Tropa Mo Ko Unli (TV5) - 7.4%

January 19, 2014 (Sunday)
DAYTIME:
GMA Blockbusters: Johnny English (GMA-7) - 14%
Kapuso Movie Festival: Little Nicky (GMA-7) - 13.8%
True Horror Stories (GMA-7) - 12%
Sunday All Stars (GMA-7) - 11.4%
24 Oras Weekend (GMA-7) - 11.3%
iBilib (GMA-7) - 10.3%
TV Patrol Weekend (ABS-CBN) - 9.7%
ASAP 19 (ABS-CBN) - 8.9%
Born Impact (GMA-7) - 8.2%
Buzz ng Bayan (ABS-CBN) / Luv U (ABS-CBN) - 7.9%
PRIMETIME:
Kapuso Mo, Jessica Soho (GMA-7) - 29.5%
Imbestigador (GMA-7) - 24.8%
Pepito Manaloto: Ang Tunay na Kuwento (GMA-7) - 22.9%
Gandang Gabi Vice (ABS-CBN) - 17.1%
Kap's Amazing Stories (GMA-7) / Home Sweetie Home (ABS-CBN) / Rated K: Handa Na Ba Kayo? (ABS-CBN ) - 14.7%
Sunday Night Box Office: Cop Land (GMA-7) - 13.7%
Goin' Bulilit (ABS-CBN) - 12.4%
Who Wants to be a Millionaire (TV5) - 7.2%
Wow Mali Pa Rin! (TV5) - 6.9%
Sunday's Best: The Three Musketeers (ABS-CBN) - 6.8%

January 20, 2014 (Monday)
DAYTIME:
Eat Bulaga! (GMA-7) - 18.5%
Be Careful With My Heart (ABS-CBN) - 17.1%
Villa Quintana (GMA-7) - 14.2%
It's Showtime (ABS-CBN) - 12.8%
The Borrowed Wife (GMA-7) - 12.6%
Magkano Ba Ang Pag-ibig? (GMA-7) - 12.1%
Tale of Arang (GMA-7) - 12%
The Ryzza Mae Show (GMA-7) - 11.8%
Inuyasha (GMA-7) - 9.8%
Shaman King (GMA-7) - 9.4%
PRIMETIME:
Honesto (ABS-CBN) - 24.4%
Got to Believe (ABS-CBN) - 23.6%
24 Oras (GMA-7) - 23%
Kapuso Primetime Cinema: Live Free or Die Hard (GMA-7) - 22.3%
TV Patrol (ABS-CBN) - 19.6%
Adarna (GMA-7) - 19.3%
Maria Mercedes (ABS-CBN) - 16.2%
Annaliza (ABS-CBN) - 14.2%
A 100-Year Legacy (GMA-7) - 14.1%
Prinsesa ng Buhay Ko (GMA-7) - 14%

January 21, 2014 (Tuesday)
DAYTIME:
Eat Bulaga! (GMA-7) - 17.7%
Be Careful With My Heart (ABS-CBN) - 16.4%
Villa Quintana (GMA-7) - 12.4%
The Borrowed Wife (GMA-7) - 12.2%
Magkano Ba Ang Pag-ibig? (GMA-7) / The Ryzza Mae Show (GMA-7) / It's Showtime (ABS-CBN) - 12.1%
Tale of Arang (GMA-7) - 11.9%
Doraemon (GMA-7) - 10.2%
Princess Hours (ABS-CBN) - 9.8%
Kapamilya Blockbusters: Home Along Da Rile Da Movie (ABS-CBN) - 9.5%
Minute To Win It (ABS-CBN) - 9.5%
PRIMETIME:
Honesto (ABS-CBN) - 25.4%
Got to Believe (ABS-CBN) - 25.1%
24 Oras (GMA-7) - 23.5%
TV Patrol (ABS-CBN) - 20.8%
Adarna (GMA-7) - 20%
Maria Mercedes (ABS-CBN) - 18.1%
Kapuso Primetime Cinema: Diary of a Wimpy Kid (GMA-7) - 17.8%
Annaliza (ABS-CBN) - 15.9%
Prinsesa ng Buhay Ko (GMA-7) - 15.8%
When A Man Falls in Love (ABS-CBN) - 13.4%

January 22, 2014 (Wednesday)
DAYTIME:
Be Careful With My Heart (ABS-CBN) - 17.1%
Eat Bulaga! (GMA-7) - 16.5%
It's Showtime (ABS-CBN) - 12.8%
The Borrowed Wife (GMA-7) - 12.6%
The Ryzza Mae Show (GMA-7) - 12.3%
Villa Quintana (GMA-7) - 12%
Tale of Arang (GMA-7) - 11.8%
Magkano Ba Ang Pag-ibig? (GMA-7) - 11.7%
Minute To Win It (ABS-CBN) - 10.4%
Kapamilya Blockbusters: A Secret Affair (ABS-CBN) - 9.9%
PRIMETIME:
Got to Believe (ABS-CBN) - 25%
Honesto (ABS-CBN) - 23.9%
24 Oras (GMA-7) - 21.5%
Kapuso Primetime Cinema: Batman Begins (GMA-7) - 19.9%
TV Patrol (ABS-CBN) - 19.4%
Maria Mercedes (ABS-CBN) - 18.9%
Adarna (GMA-7) - 17.9%
A 100-Year Legacy (GMA-7) - 14.7%
Prinsesa ng Buhay Ko (GMA-7) - 14.2%
Annaliza (ABS-CBN) / When A Man Falls in Love (ABS-CBN) - 14%

January 23, 2014 (Thursday)
DAYTIME:
Eat Bulaga! (GMA-7) - 18.7%
Be Careful With My Heart (ABS-CBN) - 16.8%
Villa Quintana (GMA-7) - 13.1%
Magkano Ba Ang Pag-ibig? (GMA-7) / The Borrowed Wife (GMA-7) It's Showtime (ABS-CBN) - 12.7%
The Ryzza Mae Show (GMA-7) - 11.8%
Tale of Arang (GMA-7) / Doraemon (GMA-7) - 11.5%
Inuyasha (GMA-7) - 11%
Shaman King (GMA-7) / Kapamilya Blockbusters: Ang Tanging Ina (ABS-CBN) - 10.6%
Flame of Recca (GMA-7) - 10.2%
Minute To Win It (ABS-CBN) - 8.7%
PRIMETIME:
Got to Believe (ABS-CBN) - 27%
Honesto (ABS-CBN) - 25.9%
24 Oras (GMA-7) - 22.1%
Maria Mercedes (ABS-CBN) - 21.3%
TV Patrol (ABS-CBN) - 20.8%
Kapuso Primetime Cinema: The Omen (GMA-7) - 20.2%
Adarna (GMA-7) - 19.3%
Prinsesa ng Buhay Ko (GMA-7) - 15.1%
A 100-Year Legacy (GMA-7) - 14.3%
When A Man Falls in Love (ABS-CBN) - 14%
Source: AGB Nielsen Philippines