"Christmas is for kids."
"Hindi masaya ang mga palabas ng MMFF."
"I don't think malaki ang kikitain nila…"
"RIP MMFF."


These are some comments from moviegoing PEPsters who are used to watching comedy and superhero films from big movie outfits during the annual Metro Manila Film Festival (MMFF).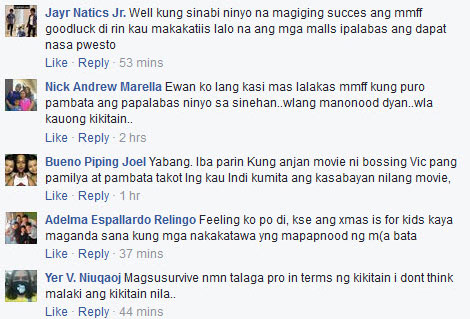 These formulaic but kid-friendly film entries have traditionally dominated the entries in the Filipino-films-only festival, which runs for 14 days every Christmas season, from December 25-January 7.
These entries have also generally raked in the most money for the past seven years.
Based on MMFF's official records (gathered by PEP during its investigation of the MMFF 2015 scandal), the film fest's nationwide box-office returns rose from P4.4 million in MMFF 2009 to P1.02 billion in MMFF 2015.


MMFF 2009: P439,550,979.30
MMFF 2010: P540,508,031.60
MMFF 2011: P625,075,580.75
MMFF 2012: P781,978,248.72
MMFF 2013: P999,302,183.21
MMFF 2014: P999,076,310.74
MMFF 2015: P1,018,106,945.90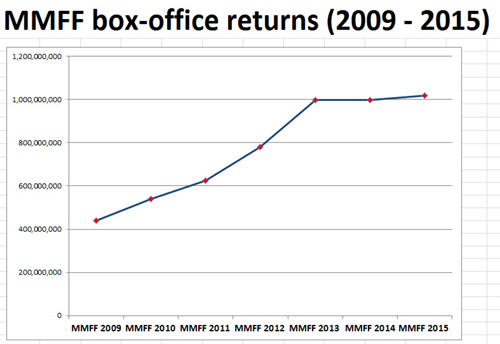 Divide the nationwide gross in half and you come up with the estimated box-office return from Metro Manila theaters, according to PEP's interview last January 2016 with former MMDA Chairman and MMFF Over-all Chairman Emerson Carlos.
READ: Computation of MMFF proceeds, MMFF 2015 Special Report Chapter 9

Based on previously published reports in PEP, here are the top four highest grossing MMFF entries from 2009 to 2015:
MMFF 2009: Ang Panday; I Love You Goodbye; Ang Darling Kong Aswang; Shake Rattle & Roll XI.
MMFF 2010: Si Agimat at Si Enteng Kabisote; Ang Tanging Ina Mo; Dalaw; Shake Rattle & Roll XII

MMFF 2011: Enteng ng Ina Mo; Ang Panday 2; Segunda Mano; Shake Rattle & Roll XIII

MMFF 2012: Sisterakas; One More Try; Si Agimat, Si Enteng Kabisote at Si Ako; Shake Rattle & Roll XIV
MMFF 2013: My Little Bossings; Girl Boy Bakla Tomboy, Pagpag: Siyam Na Buhay; Kimmy Dora: Ang Kiyemeng Prequel
MMFF 2014: The Amazing Praybeyt Benjamin; Feng Shui 2; My Big Bossing; English Only Please
MMFF 2015: Beauty and The Bestie, My Bebe Love, #WalangForever; Haunted Mansion

However, the MMFF 2015 scandal gave rise to major changes in festival rules.

This year, "artistic excellence" became a major criteria in selecting the eight official entries, instead of "commercial viability."
At the press announcement of MMFF 2016's Magic 8, Selection Committee Vice Chair Joy Belmonte said that the top eight entries were chosen based on "artistic excellence, quality, and technical excellence."



Asked if the presence or absence of big stars in the aspiring film entries was considered, MMFF Selection Committee Chair Nicanor Tiongson—a former MTRCB chair, Manunuri member, University of the Philippines professor emeritus, and author—said that this was not a deciding factor.
Tiongson elaborated, "Basta ang kinonsider talaga, yung kalidad ng pelikula sa kabuuan. Kung meron siyang superstars, fine, kung wala, fine.
"In other words, walang prejudice dapat sa isang pelikula dahil lamang wala siyang [big stars].
"Yung question kanina na commercial viability, hindi yun primary sa aming [basis]."
READ: MMFF officials deny snubbing big franchise films


PEP FORUM. The Philippine Entertainment Portal (PEP.ph) writers and editors weigh in on the impact of MMFF 2016's Selection Committee decision to drastically veer away from traditional comedy and superhero flicks that have long dominated the MMFF.


READ: MMFF 2016 boldly touted to be "renaissance in Philippine cinema"
KAREN PAGSOLINGAN, MANAGING EDITOR: "This year's entries have leveled the playing field.
"Budding producers are given the chance to secure a slot on the basis of having met all the requirements and of producing a good film.
"It has also given the non-TV-affiliated film outfits the chance to capture viewership through quality, and not simply through heavy publicity and promotions.
"Most of all, it's a first step towards changing viewers' perceptions.
"One of the challenges, however, is making sure that Filipinos will not resist this change.
"How does the MMFF counter the negativity that greeted the selection, and detractors saying, 'Malungkot ang Pasko ngayon.'
"Another important question: what to do with the films that don't make money? Are they going to be pulled out of cinemas as well?
"In the meantime, let us hope these good intentions won't lead to unintended consequences."


ERWIN SANTIAGO, ASSOCIATE EDITOR: "This is a bold move on the part of the MMFF 2016 Selection Committee: prioritizing quality films over commercial films.
"On the one hand, it is commendable because of the effort to change the viewing habits of Filipino moviegoers. It is a way to introduce a different genre in a viewing public that has been so used to watching formulaic movies (rom-com, comedy, fantasy).
"However, it will alienate viewers who enjoy commercial films and do not want to be reminded of the problems and situations reflected in serious films.
"I hope, in the coming years, the MMFF and film companies can find a way to balance quality and entertainment that will suit the taste of most Filipino viewers."



JOCELYN DIMACULANGAN, GUIDE SECTION EDITOR. "For years, we have been used to watching commercial films that have fallen into the trap of being formulaic.
"It has become a cycle, fueled by the continued patronage by Pinoy moviegoers and the desire of producers to fill up the demand.
"This year's MMFF attempts to break this cycle, albeit in a most radical way. As with all revolutions, this 'reelvolution' is difficult and tedious to execute.
"In the long run, this move will benefit the new generation of moviegoers.
"The youth of today will grow up to be the scriptwriters, directors, and producers who are exposed to high-quality films deserving of being called MMFF entries."



ROMMEL LLANES, MULTIMEDIA SECTION EDITOR: "I wish for this festival's success, first of all, but the reality is, Pinoys will still look for films that will satisfy their appetite for wanton escapism.
"I just hope Filipino moviegoers will appreciate this year's entries. I really, really want all of these films to be watched, talked about, and succeed.
"It's high time Pinoys get to watch quality films."



ARNIEL SERATO, LEAD CORRESPONDENT. After the shakedown of last year's Metro Manila Film Festival, MMFF 2016's official entries can be considered a breakthrough in Philippine cinema.
"One can say that most of the official entries veered from traditional movie plots solely aimed at entertaining and eliciting laughter from moviegoers.
"Although the MMFF Selection Committee made an unpopular decision, I think the eight chosen films were carefully selected based on a set of criteria that is clearly centered on bringing back the old glory of what Filipino quality films should be: masterfully crafted, well-written, and perfectly executed.
"Now, let's give it a try. And if this formula fails, well, we can always try again."



NERISA ALMO, SENIOR STAFF WRITER: "I see the list of official entries for MMFF 2016 as a challenge to movie producers and screenwriters to create quality output for moviegoers.
"I agree with many PEPsters who said 'hindi masaya ang MMFF this year' or 'hindi kikita ang MMFF ngayon tulad ng dati.'
"Aminin naman natin, Filipinos got used to watching 'commercial' movies during Christmas season as a form of family bonding.
"However, most of those movies, in my opinion, are just temporary entertainment. I think it's about time Pinoys are offered more sensible movies—something we would want to watch over and over, something we can be proud of, something worth every peso.
"Like Professor. Nicanor Tiongson said, 'Ang faith ko is that audiences now are no longer bakya.'
"P.S. In case Pinoys demand the bringing back of the kind of movies of past MMFF years, and if this festival is still during the Christmas season, I suggest they make it just a plain film festival with no awards night."



BERNIE FRANCO, SENIOR STAFF WRITER. "It is good news to the local film industry to come up with better films.
"It is, in a way, the first step to bringing back the glory of Philippine cinema of previous decades. The era when our films earned international recognition, when films were unforgettable to film enthusiasts, both young and old.
"However, the sudden change of lineup in MMFF might be a bit abrupt for the Filipino audience.
"Like families, for instance, that have become used to watching 'commercial' movies at Christmastime, going to movie houses in December is a habit as much as it is bonding time.
"I agree with creating two separate film festivals—one for indie, one for commercial movies.
"This way, the two festival cater to different audiences! Besides, an additional festival is good for the film industry also."



NIKKO TUAZON, STAFF WRITER. "Change has come. I am glad that the MMFF is staying true to its mission: 'Celebrate Filipino artistic excellence, promote audience development, and champion the sustainability of the Philippine film industry.'
"MMFF definitely levels the playing field among independent producers and mainstream film outfits with its new policy.
"This new selection policy, in turn, challenges film producers to create quality content, deviate from those cliché plots, and stop producing mutations of their previous film franchise.
"Hopefully, MMFF will continue to take this path, and that more Filipinos will be open-minded enough to support these kinds of films."



JAMES PATRICK ANARCON, STAFF WRITER. "I'm happy that festival-worthy movies are now competing for the MMFF.
"But then, for my part, I would want to see entertaining but light films for the Christmas season.
"I'm not saying that the entries this year are not entertaining, it's just, for me, they seem to be quite heavy and what I look forward to watching during the Christmas/rest break are those that can really bring fun and enjoyment.
"But who knows, we might enjoy these films! It's too early to tell as of now.
"But at least, in this aspect, we are stepping up. But as much as we are trying to improve the 'quality' of films that we have, I am hoping that we also do not dumb down and describe other films as 'basura', etc. because, at the end of the day, it's all about the taste of the audience."



FRANCESCA GANAL, STAFF WRITER. "From a personal standpoint, I'm glad that MMFF took the risk because it has once again brought up discourse on what is 'quality entertainment.'
"Perhaps it'll help producers of the big film franchises to reevaluate their direction and shift their focus on developing more engaging and thoughtful scripts, rather than going with the usual by-the-numbers popcorn flicks.
"While entertainment is still primarily based on personal preference, the industry should be able to open to audiences all its options—and that should include indie films.
"It is all trial-and-error on the part of the MMFF to elevate the public's taste, but I am glad they finally tried to offer people something new, and I hope people will gain newfound appreciation for film."



(To stay updated about the latest news about the MMFF, visit http://www.pep.ph/guide/mmff)