Rurouni Kenshin star Takeru Satoh summed up their Manila visit best when he told Filipino fans, "It's really fun being in the Philippines."

PEP.ph (Philippine Entertainment Portal) had the chance to ask the stars and director of Rurouni Kenshin: Kyoto Inferno during the public press conference held at the Glorietta Activity Center recently.

Speaking through an interpreter, the actor who plays a former assassin named Kenshin Himura expressed his amazement over the warm reception shown by Filipinos.

"It's really beyond my imagination that all of you are here. And the reception that you have shown us and the movie. It's really very surprising, shocking."

Takeru was accompanied by co-stars Emi Takei (who plays Kamiya Kaoru), Munetaka Aoki (who plays Sanosuke Sagara) and director Keishi Otomo.

They had the chance to interact with their fans called otakus (the term used by animé fans to call themselves).

During their brief stay, the stars and the director were able to attend the August 6 premiere night held at SM Megamall.

(View photos: Rurouni Kenshin: Kyoto Inferno stars grace Manila premiere)


They were also recognized as Cultural Friendship Ambassadors for linking Filipino and Japanese cultures.

(Read: Rurouni Kenshin stars honored as "Cultural Friendship Ambassadors")


Emi was unable to attend the August 7 press conference but Takeru and Munetaka were able to join director Keishi to talk about this period film set in the early Meiji era of Japan.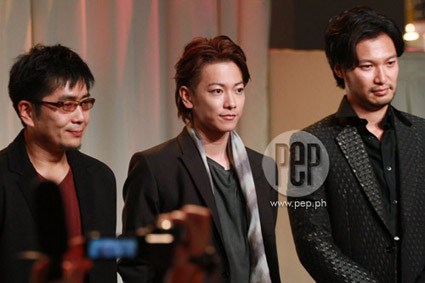 (L-R) Director Keishi Otomo, Takeru Satoh and Munetaka Aoki



Here are 10 things that the stars and the director shared about their Manila visit and the Rurouni Kenshin movie and its two sequels (Kyoto Inferno and The Legend Ends):


1. They were impressed by Filipino hospitality.

Munetaka thrilled the crowd when he said, "Mahal ko kayo! I'm very, very excited to be here… I'm not sure [if we will be here] for the next film but I'm very happy! Astig person! Enjoy the film. Thank you very much. Maraming salamat po! (He reads out loud the notes written on his hand) Astig! Magandang gabi po! And mahal ko kayo!"

Director Keishi said he would not forget the warm welcome they received in the Philippines.

"It's really a very surprising reception and, of course, we hope that you will support our movie. This welcome you've given us, I am going to bring this back to Japan.

"The cast and the crew of this movie really worked hard – we put our lives on the line for this movie and we hope that you really enjoy it. I will certainly bring back this experience to Japan and tell everybody about it."

For his message, Takeru told the jampacked crowd:

"It's my first time to come to the Philippines. I'm glad I came. I am now in love with the Philippines."


2. Injuries are commonplace, even losing a tooth.

For the actor playing Samurai X, Takeru admitted that he got injured a lot of times while shooting so he didn't specify any particular incident.

Munetaka, who plays Sanosuke, pointed at his front tooth as he revealed, "I lost a tooth! But I don't mind because I'm Sanosuke!"


3. Expect bloody scenes and an epic battle with Shishio.

Both stars were asked to name what they consider the most fun thing about doing the fight scenes in the movie.

Munetaka couldn't choose among the fight scenes of Sanosuke but he admitted, "I liked it when I was hit! When I was bloody! I like that. I'm so excited to fight. Sanosuke!"

Takeru pointed out: "My favorite battle scene would have to be in The Legend Ends. It's the last fight scene I had. That's really the part where I bring out everything and it was the toughest scene I had. That is also the final scene where I fought Shishio and that is something that they definitely have to watch for."



4. Action films are universal.

Takeru believes that action films have a way of overcoming communication barriers.

"We created the movie thinking that action goes beyond countries and cultures… Action movies has one language and everyone can appreciate it. In creating this action movie, we were also able to show the delicate intricacies of Japanese culture-the tradition, the way we see things in that era. We wanted people to appreciate and understand that."


5. Munetaka Aoki loves being called "astig."

The charismatic Munetaka wrote down key Tagalog phrases on his fist so he would remember them while adressing their Pinoy fans.

He says about his character in the movie, "Sanosuke is a street fighter and he is very passionate and protective, and a reliable person. I love him very much."

He disclosed that Filipinos have referred to him as "astig" and "astig person," which makes him very, very happy.




6. Takeru Satoh now asks himself WWKD (What Would Kenshin Do)?

When asked how he personally connects to the story of Rurouni Kenshin, Takeru explained his philosophy: "I always ask myself, if I'm not sure about my decision, what would Kenshin do? If it's Kenshin, what would he do? He's now like a mentor to me and someone I respect and look up to. I refer to him my decisions in life."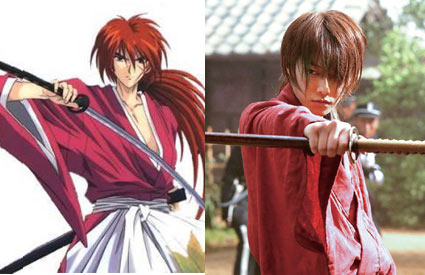 The anime version and live-action version of Rurouni Kenshin (aka Samurai X)



7. Kenshin's reverse-edge sword is not just for defending the weak.

Director Keishi stressed the importance of Kenshin's reverse-edge sword when he explained: "I admire Kenshin so much because his sakabato, the reverse-bladed sword he's carrying with him all the time, it's actually a constant reminder of his past. For him to always have with him that dark past and use that as a reminder for him as he moves forward in his life, I find that very, very admirable of him."


8. Takeru hopes their movie will increase demand for more Japanese films.

"I hope Rurouni Kenshin would pave the way for the showing of more Japanese movies in the Philippines. I really hope I can come back again soon. For this wish to happen, we need your help. I am looking forward to meeting you all again."


9. Rurouni Kenshin director dares Hollywood to make its own version of Samurai X.

As soon as the stars and the director were asked how they would feel if Hollywood decides to do an English-language remake of Rurouni Kenshin, the crowd at Glorietta started booing.

Takeru pointed at the crowd as he said: "Everybody's reaction is probably our reaction."

Munetaka gestured by making a cross sign on his cheek: "Is it no or… scar?"

Director Keishi simply said, "I would say go ahead, try it! I dare you!"


10. Will the stars return in September for Rurouni Kenshin: The Legend Ends?

During the Philippine premiere, Takeru answered, "I want to come back!"

As for Munetaka, he exclaimed: "It's up to you guys!"


Rurouni Kenshin: Kyoto Inferno is set to open in Philippine cinemas on August 20. Its sequel, The Legend Ends, will open on September 24.