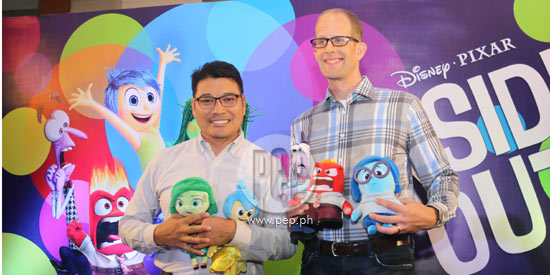 ---


Can we expect a Disney Pixar movie about Filipino food?

For Inside Out directors Pete Docter (of Up fame) and Cavite-born Ronnie del Carmen, they jokingly talked about a "tasty" animated movie depicting delicacies of the Philippines.

Ronnie is the first Filipino to co-direct a Pixar movie.

He shares original story credits with Pete for the Disney Pixar movie Inside Out, which is scheduled to be screened in Philippine cinemas by August 19.

During a fun-filled press conference held earlier today, August 7, at Makati Shangri-la Hotel, Pete and Ronnie candidly talked about their movie Inside Out.

This film, which took five years to create, depicts what goes on in the mind of an 11-year-old girl named Riley.

The personified emotions--Joy (Amy Poehler), Anger (Lewis Black), Disgust (Mindy Kaling), Fear (Bill Hader) and Sadness (Phyllis Black)--interact and have conflicts with each other as Riley adjusts to life in a new city.

During their Manila press conference, the Pixar directors were asked: if they were given a chance to do an animated film about the Philippines, what would they choose to do?

Pete and Ronnie looked at each other and smiled before answering the question.

The American director looked at his Inside Out co-director and said with a smile, "I'd have to rely on Ronnie since all I know is eating."

Ronnie, who has been working at Pixar since the year 2000, quipped, "I'll have to look forward to Ronnie's next movie that is about bibingka and kalamay [rice cakes].

"Animated, though, it might be really tasty."

Pete laughed along with the crowd gathered at the Isabela function room of Makati Shang.

The University of Santo Tomas alumnus pointed out, "There are lots of stories here in the Philippines.

"I've been telling people about the lore that we have and also the weather. That would be fantastic to do."

Pete recalled that Ronnie has already done a short film about his childhood in Cavite.

"Ronnie has already boarded [done a storyboard] a beautiful piece about growing up.

"I've never been to your hometown but it really captures this amazing feeling what that is like. [It's a] great personal story.

"That's what we try to do in all our films, whether cars or bugs, we try to put ourselves into them so they appeal to us and hopefully, they appeal to you."


(Read: Cavite-born Ronnie del Carmen co-directs Pixar film Inside Out; slated to attend Manila premiere)


FILIPINO COMMUNITY IN PIXAR. It took the filmmakers five years to create Inside Out, which is considered one of the best reviewed movies so far.

In fact, during it world premiere at the prestigious 68th Cannes Film Festival, Inside Out was given an 8-minute standing ovation.

Pete Docter, who is one of the first employees of Pixar, notes that producing animated movies such as these rely heavily on teamwork and the creativity of animators who have released memorable movies such as Up, Monsters, Inc., and WALL•E.

"Pixar is a very collaborative place," Pete disclosed.

"There's a team of 270 amazingly talented artists who worked on this film and everyone of them contributed in some way."

Aside from Ronnie, there are plenty of Filipino animators in Pixar.

They have actually formed a small group called Pixnoys who bond together by sharing meals together and organizing outreach programs.

"We have a small group of people at Pixar whom we call Pixnoys.

"We get together to eat... "On afternoons, we would have salo-salo and we'll have potluck and bring food in.

"We also hold charity events and we hold auctions so we can donate to charities for typhoon relief here.

"It's a very active and friendly group."




ADVERTISEMENT - CONTINUE READING BELOW



MOVING SEQUENCES FROM PINOY FILMMAKER. If you were one of those moved to tears by the sentimental opening montage of the animated film Up, then you've seen the handiwork of Ronnie.

Pete narrated, "You know that beginning part of the movie [Up] where we see Carl and Ellie fall in love and live together, that's four-and-a-half minutes of Ronnie boarding."

Pinoys clapped for the down-to-earth Ronnie who served as story supervisor on Finding Nemo and as storyboard artist on Ratatouille and WALL-E.

For his work on the Oscar winning WALL-E, Ronnie was nominated for another ANNIE for Storyboarding in an Animated Feature Production.