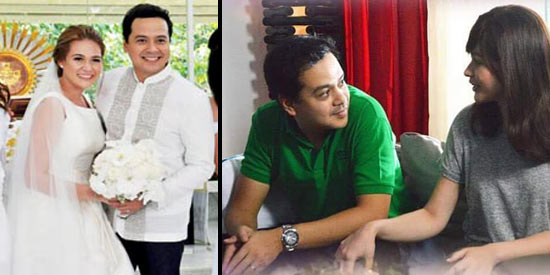 ---


Second chances are nods to optimism. It's for us fallible humans, and brave souls who refuse to let setbacks interrupt their pursuit of happiness.
In other words, second chances are not for the timid, but for those who believe in rainbows after the storm.
This is what John Lloyd Cruz (as Engineer Popoy Gonzales) and Bea Alonzo (Architect Basha Eugenio) depict with a part-pathos, part joy, in Star Cinema's newest box office hit, A Second Chance.
It's all sweetness and light at the start, with Popoy and Basha's eyes all aglow over their wedding the next day. The kilig factor carries moviegoers from one feel-good post-wedding scene to another.



NO FAIRY TALE. Alas, marriage, like life, is no fairy tale. The magic wears off, and you end up staring at the man or woman you married and asking yourself, "What have I done to deserve this spouse?"
ADVERTISEMENT - CONTINUE READING BELOW
This oh-so-familiar situation hooks moviegoers the way fishing bait lures marine creatures.
Married couples know the accusations and counter-accusations, the tears and other signs of a crumbling union so well. Single moviegoers witness these encounters over and over at home – with mom and dad, or tito and tita as main characters.
What sets A Second Chance apart, however, is the way John Lloyd and Bea kiss passionately, playfully tease each other in their love nest's closet, and break down as if it's the end of the world when their worst selves take over.
Your heart breaks when John Lloyd's voice croaks in utter defeat. You want to wipe the tears from that pretty face when a hurt Bea looks at a downcast Popoy.
You've got to give it to John Lloyd and Bea for maximizing your capacity for compassion, and squeezing tear ducts dry.
Thank goodness director Cathy Garcia-Molina didn't ask her actors to erupt in ear-splitting cries of despair or thrash about like persons possessed at the height of their characters' problems.
ADVERTISEMENT - CONTINUE READING BELOW
Thank goodness Garcia-Molina inserted light moments to ease the sobbing scenes and ease the mounting tension.
A joke here, some gentle ribbing there, even a child's innocent but uncalled-for words keep moviegoers from clenching their fists and stilling the beat of their hearts for prolonged moments.
Basha wears sexy lingerie in time for Popoy's arrival from work one night. But he shows up drunk in the arms of drinking buddies, and the mounting sensuality goes pfft.
You don't expect heated sexy scenes in a John Lloyd-Bea film. However, there are naughty moments between the two as they enjoy their "honeymoon period."

You might even imagine even sexier thoughts whenever you hear the word "traffic."

You expect to get lost in a sea of romantic emotions sans the sexual tensions that go with it.



HUGOT LINES. And so, you have hugot lines you can repeat like a mantra and pass on to your lover, friend, or anyone you want to impress, educate, or simply regale with swoon-worthy lines.
ADVERTISEMENT - CONTINUE READING BELOW
A soon-to-be-married couple can borrow Popoy's vow to Basha: "Pangako mamaya huling beses na nating maghihiwalay. Ito na ang huling gabi na merong ikaw at ako. Simula bukas ang meron na lang ay tayo. Tayo habang buhay. Hindi ka na matutulog ng mag-isa at hindi ka na gigising ng wala ako sa tabi mo. At itong mga kamay na ito, hindi ka na bibitawan, ha?"
A loving wife moaning over her husband's errors can take a cue from Basha: "Gusto na kitang iwan ngayon, Poy. Gustong gusto ko na. Pero hindi ko gagawin, kasi nangako ako na kahit ang hirap hirap mong mahalin, mamahalin kita. Kahit na nasasaktan ako, susubukan ko pa. Kasi nangako ako. I promised to love you even if it hurts and to love you more when it hurts."
A husband and wife celebrating their anniversary can repeat Basha's words to Popoy: "You are my what was, what is and what will be."
ADVERTISEMENT - CONTINUE READING BELOW
Like any marriage however, A Second Chance is not perfect.
You can't claim "cinematic license" when Popoy and Basha merely stare at the blood on the latter's hands after a client rejects their housing proposal.
The logical, and realistic thing to do, is to stop staring and rush to the nearest hospital to save an innocent life.
This is the movies, yes, but the audience can suspend their disbelief only so much.
Still, moviegoers don't seem to mind. A Second Chance continues to make a killing at the tills.
Its insights on love, marriage and forgiveness, plus that enduring John Lloyd-Bea magic make A Second Chance a movie people wait in long lines outside cinema houses for.
A Third Chance should be in the works by now.

Considered the sequel of the 2007 movie One More Chance, A Second Chance has been graded B by the Cinema Evaluation Board.


PEPsters, what can you say about the movie, A Second Chance?

Share your thoughts in the comments section below.


Ed's Note: The "PEP Review" section carries the views of individual reviewers and does not necessarily reflect the views of the PEP editorial staff.


(Read: A Second Chance, starring John Lloyd Cruz and Bea Alonzo, earns P325 million in one week)
ADVERTISEMENT - CONTINUE READING BELOW
�