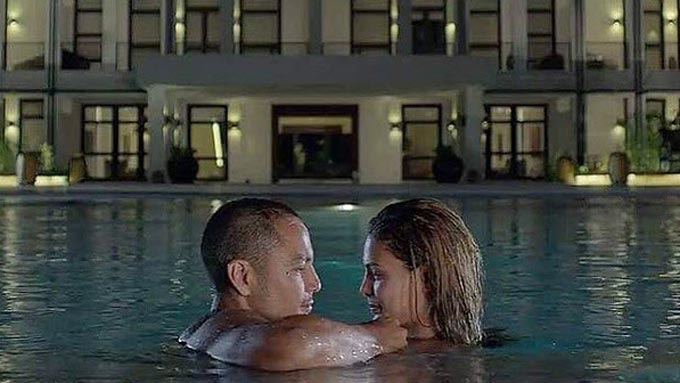 ---

Derek Ramsay differentiates The Escort from other sexy-themed movies he did in the past.

During the grand press conference for this movie produced by Regal Films, Derek pointed out, "In other movies, it's always two girls fighting over one guy. Or some sort of adultery is involved."

However, in this movie directed by Enzo Williams, Derek says his character Xyrus falls in love with Yassi, the character of Lovi Poe.

Their situation becomes complicated because of Gary (played by Christopher de Leon).

Derek pointed out, "It seems like Gary is a third party but the two people who are wildly in love here are Yassi [played by Lovi Poe] and Xyrus [played by Derek].

"Gary thinks he is in love with Yassi because he is used to getting everything that he wants because he is rich.

"But the real drama here is between Xyrus and Yassi."



ON LOVE SCENE JEAN GARCIA. Derek also has steamy love scenes with Jean Garcia for this movie, which will open in cinemas on November 2.

The hunk actor was tapped to take charge in his daring love scene with Jean.

"Si Jean, matagal nang artista but when she told me, I was like 'What?!" okay.' Ako ang magli-lead? You're the well-known actress, the veteran actress with all the experience.

"Parang na-pressure ako and I have to make her feel comfortable.

"At the end of our scene, she hugs me and tells me, 'Thank you so much. I feel so safe and comfortable with you.'"

How different is his love scene with Lovi Poe and Jean Garcia?

"There is a point in the process of making the movie na nagkaproblema kami kasi mas naging hot pa ang scene namin ni Jean kaysa sa love scene namin ni Lovi.

"That's because the environment is different and Lovi is supposed to be a virgin.

"What does a virgin really know about having sex?

"We had to put in more effort...and extra passionate."


(Read: Jean Garcia on love scene with Derek Ramsay: "Ako yung aggressive, ako yung nakapatong sa kanya!")



ON LOVI POE. Derek mentioned that he negotiated to do a different sexual position with Lovi for The Escort.

"Ganun kapalaban si Lovi," said the actor about his leading lady's willingness to do the sensitive scene.

"I'm very open to expressing your opinion. My opinion was I didn't think it was appropriate. I didn't think that it would be good for Lovi to be seen doing a scene like that.

"The scene was doggy style but violent. I was really pounding into her and it was supposed to be a scene in the head ni Gary na nagse-sex kami."

Did he and Lovi shoot that controversial sex position?

"No. I spoke to the director [Enzo Williams] and I told him, 'I honestly feel that this is not appropriate.

"Our director said, 'Derek, I respect your opinion and what is your suggestion?' I suggested a different position and he said okay.

"Lovi said, 'Thank you! Thank you!' She didn't ask me to do it. I just went out of my way to do it."

Derek says Lovi would have done the sensitive scene if he did not talk with their director.

"She was going to do it if no one spoke up. Ganun siya kapalaban!"



ADVERTISEMENT - CONTINUE READING BELOW