It took three years before the boys of South Korean pop-rock band CNBLUE came to Manila to rock one of the biggest concert venues in the Philippines.
Thousands of Filipino BOICEs went to see Jung Yong Hwa (lead vocals, rhythm guitar), Lee Jong Hyun (lead guitar, vocals), Lee Jung Shin (bass guitar, vocals) and Kang Min Hyuk (drums) perform their chart-topping hits last Saturday, June 15, for the Blue Moon: the CNBLUE World tour at the SMART Araneta Coliseum.
(READ: CNBLUE will hold their Blue Moon tour at the Smart Araneta Coliseum this Saturday)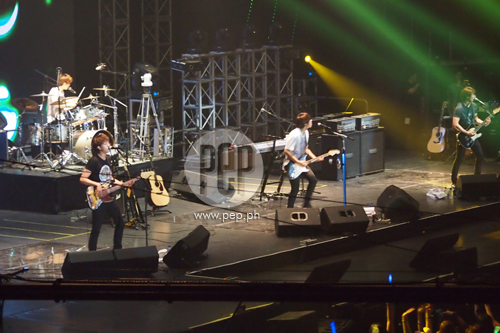 Organized by Pulp Live Productions, the concert was almost sold out. The local producers even had to open another section for those with a limited budget.
CNBLUE captivated fans with their electrifying music and skills in playing instruments. Screams and shouts from Filipino BOICEs filled the Big Dome as they waved light sticks and banners to show support for the band.
The concert started with their performances of "Where You Are," "Get Away," and "One Time" before they greeted their fans and introduced themselves in Tagalog.
The members of CNBLUE engaged their fans in between their performances by talking to them in English, Filipino and Korean. Yong Hwa expressed his gratitude for those who came as he told the crowd, "We are very happy to be here!"
Min Hyuk revealed that he likes lechon (roast pig) and that he was able to see the colorful Pinoy jeepney. Jung Shin asked the audience in Korean if they understand him, the audience said yes and he responded "daebak!" (means "awesome" in Korean). The group promised that they will go back to the Philippines.
Video Uploaded on Youtube by Hilary Ann Diaz
CNBLUE slowed the concert down a bit with their performances of "More Than You," "Love Light" and "Feeling." Other songs they performed include "La La La," "Intuition," I'm A Loner" and "I'm Sorry."
The night was filled with laughter when Yong Hwa mistakenly said "Singapore" and instead of "Philippines" during his spiel towards the end of their "You've Fallen For Me" performance.
Video Uploaded on Youtube by MsBlackSoshi
Min Hyuk, Jung Shin and Jong Hyun surprised their leader and spoke in Tagalog towards the end of the show.


Min Hyuk said that a member will be having a special day next Saturday. The 21-year-old drummer continued, "Wag n'yo sabihin ang pangalan. Wag n'yo sabihin ang pangalan, ha? [Do not say his name. Do not say his name, ok?]"
Jung Shin took out a piece of paper and said, "Alam n'yo yung sinasabi namin! Kantahin natin siya! Kantahin natin siya! [You know what we are saying! Let's sing him a song! Let's sing him a song!]"



Lastly, Jong Hyun instructed concertgoers to sing the "Happy Birthday!" song for Yong Hwa. "Kantahin natin yun. Yung sabi kanina. Sabay sabay tayo lahat, a! Sabay sabay, a! [Let's sing it! What we were saying a while ago. All together, okay? All together!]"
Yong Hwa looked dumbfounded the entire time the other boys spoke in Tagalog. He was completely surprised when people started singing the birthday song. The 23-year old frontman of CNBLUE sincerely thanked their fans and screamed, "I love Philippine!"




Video Uploaded on Youtube by lamielsunga
CNBLUE also performed "Hey You!," "Love Girl," "Love" and ended the night with "Try Again, Smile Again."
After the concert, Yong Hwa posted this message on his Twitter account: "Hello, I'm Yonghwa! I love Philippines, I love Philippines, I love Philippines!!!!!!!!!!!!!!! Thank you for the birthday greetings. It's an unforgettable night! Here's a hot cheer!"

http://t.co/htipZPwt3R
pic.twitter.com/1KPCNtc41K
— CNBLUE (@CNBLUE_4)
June 15, 2013
Kpop group CNBLUE will perform in Beijing, China on June 29 and Kuala Lumpur, Malaysia on August 24.


(View photos of Blue Moon: 2013 CNBLUE World Tour)