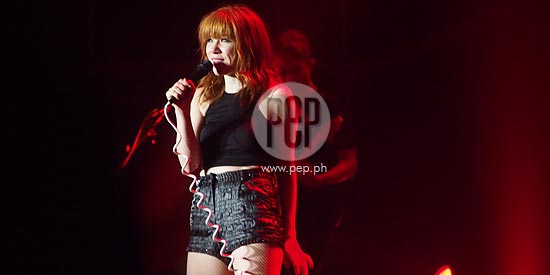 ---

Carly Rae Jepsen threw an hour-long pop-retro party filled with dancing during her one-night-concert at the Big Dome last night, August 7.
Many fans accepted the challenge of dressing up as crazy as possible for Jepsen's concert, which made the night even more exciting.
Carly sang songs from her Kiss album that earned 4x multi-Platinum award here in the Philippines. The Canadian singer performed songs such as "Good Time" and "Tonight I'm Getting over You."


Of course, her performance of "Call Me Maybe" was one of the highlights of Manila show.
"Mahal ko kayo," the 27-year-old singer said to her Filipino fans after hyping up the crowd with her opening song, "This Kiss."
When Carly introduced her next song "Sweetie" she asked, "Who among you showed up with a boyfriend or a girlfriend?" Some concertgoers were seen raising their hands.
But a resounding cheer erupted when Carly asked: "Who among you showed up single?"


Looks like most people that night were single, allowing them to relate with the spiels given by Carly that night.
ADVERTISEMENT - CONTINUE READING BELOW
She continued, "Look to your left, look to your right. I have a feeling I can play cupid tonight!"
After playing cupid, she went on to give her rendition of "Almost Said It." She reminisced about the creation of this song by narrating: "I wrote this song about this boy who I was too shy to tell him that I love him…"
Carly again shared another sad story about her love life with her Filipino supporters, "I dated this guy once and every time I think everything's doing perfectly, I woke up and realized that he was gone, because he was usually with his friends. Do you feel sorry for me? This is a sad song called, 'Tug of War.'"
Carly asked the audience to tag photos of her on Twitter, "Mention me on Twitter, it's my name @carlyraejepsen and tweet photos of me on stage and I promise you, after the show I'll retweet you, okay?"
ADVERTISEMENT - CONTINUE READING BELOW
She introduced her bandmates who said two-liner Filipino words like, "Magandang gabi," "Kamusta kayo?" "Salamat po," and "Mahal kita." Hearing the Pinoy greetings made the crowd scream and clap to show their appreciation.
In the middle of her performance, a technical problem suddenly occurred when the sounds were cut off. Carly remained calm despite the glitch and fans kept on screaming, "Carly! Carly! Carly!" to show their support for the singer.
When the sound system was fixed, Carly joked, "I thought I'm gonna do a tap dance to entertain you."
During her August 6 press conference with the Manila press, Carly dared her fans to wear wild outfits and those that were selected would have the chance to go up on stage with her.

(Read: Carly Rae Jepsen says her hit song "Call Me Maybe" turned her life upside down)


Before Carly performed her last song, she fulfilled her promise by choosing four concertgoers to sing and dance with her onstage. One of the four lucky people was radio jock, Karen Bordador, who capped her night with Carly singing, "Call Me Maybe."
ADVERTISEMENT - CONTINUE READING BELOW
Among the celebrities spotted at the concert were Bb. Pilipinas Universe 2013 Ariella Arida with date Ervic Vijandre, Star Magic talent Jane Oineza (who attended with her sister Noemi) and Aryana star Ella Cruz.