Six of the hottest international pop rock acts came together for the In The Mix music festival in Manila on Thursday night, August 18.

The 1975, Third Eye Blind, Panic! at The Disco, James Bay, Elle King and Twin Pines heated up the stage of the SM Mall of Asia Arena for the one-night-only event.


Check out highlights of their performances below:


THE 1975. British rock band The 1975 fulfills their promise to return to the Philippines via the In The Mix music festival. This is the band's second time in Manila, following their solo show at the SM Mall of Asia Arena back in January 2015.
Read: Matt Healy of The 1975 says during Philippine concert: 'We're bigger in this country than we are in our own f*cking country.'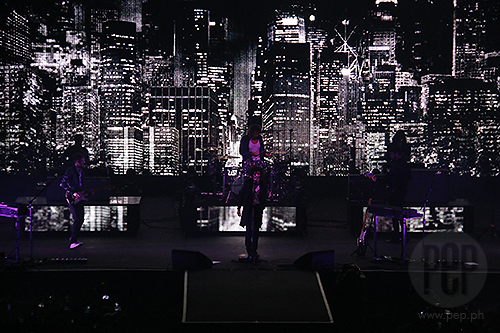 Matt Healy, Adam Hann, Ross MacDonald, and George Daniel delivered their finest pop rock performances during their 17-song set list composed heavily of tracks from sophomore album I Like It When Your Sleep, For You Are So Beautiful Yet So Unaware Of It.
Bright pink lights permeated the arena with the four band members standing at their stations. The band's stage had a simplistic design that relies heavily on LED walls and neon pink-colored stage lights.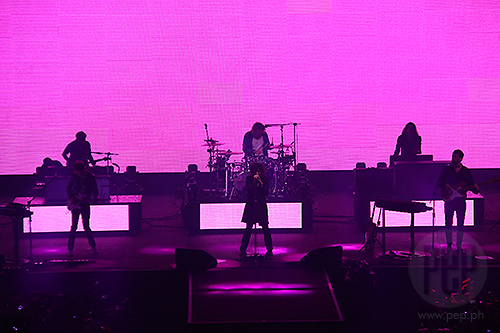 The band roused audiences with their opening song "Love Me," the first single released from the album. Midway through the song, Matt greeted their fans, "How are you feeling Manila?"
The band also performed "UGH!," "Loving Someone," "She's American," and "A Change of Heart," which all came from their second album.
After performing a couple of songs, Matt thanked Filipino fans for giving them a warm welcome. He said, "We're so far away at home but we feel very at home, so thank you!"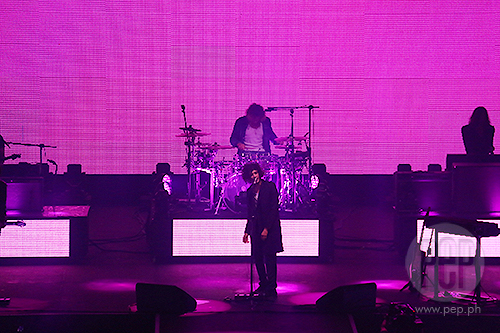 They continued their set by performing songs from their self-titled debut album including "Heart Out," "An Encounter," "So Far (It's Alright)."
The 1975 also performed "fallingforyou," "Somebody Else," "Robbers," "You," and "Paris."
The four-member rock band hyped the crowd with an upbeat song titled "Girls," followed by "If I Believe You."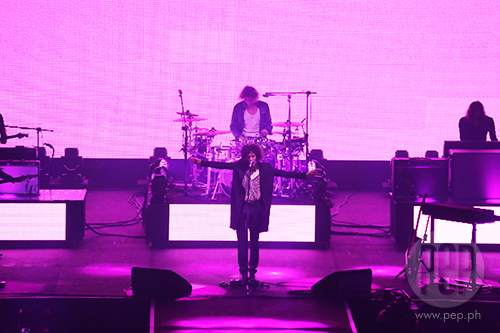 Matt isn't as chatty to their fans unlike their previous visit but the band vocalist did not forget to express his gratitude to fans for their unwavering support.
He told the crowd, "Thank you so much for coming to us, Manila."
Towards the end of their set, The 1975 performed crowd favorites "Chocolate" and "The Sound."
"We'll see you soon," Matt promised before ending their set with the song "Sex."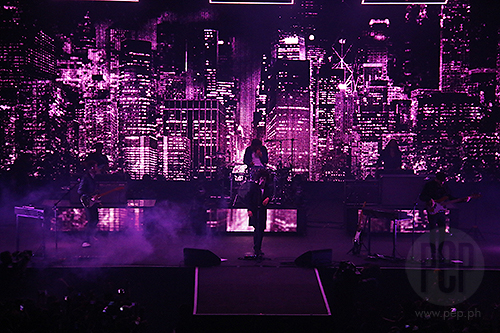 PANIC! AT THE DISCO. After 8 long years, Panic! At The Disco finally made their way back to Manila! This is the band's second time in the Philippines after their solo show at the Araneta Coliseum back in August 2008.
The band—composed of Brendon Urie, Dallon Weekes, Kenneth Harris, and Dan Pawlovich—was formed in 2004 in Las Vegas, Nevada.
The band kicked off their set with "Don't Threaten Me With A Good Time,' from their 2016 album Death of a Bachelor, followed by "Vegas Lights" from their 2013 album Too Weird to Live, Too Rare to Die!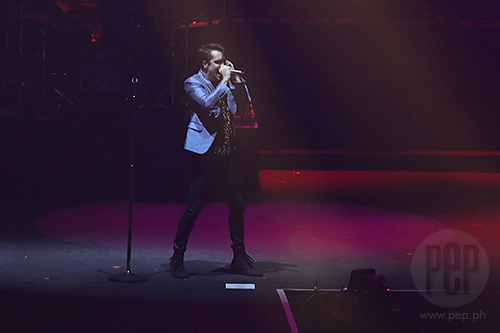 The crowd sang along as band vocalist Brendon Euri belted out one of their earlier hits "The Ballad of Mona Lisa" from their 2011 album Vices & Virtues.
Brendon was awed by the support of their Filipino fans and promised to put a "good show" for them. He told audiences, "We're putting out a good show and thank you very much for being here with us tonight!"
Their set continued with "Time to Dance, "Emperor's New Clothes," and "Nine in the Afternoon."



Loud cheers filled the arena when Brendon introduced their next song. He told the crowd, "We're gonna do a song from a band called Queen."
Concertgoers sang along as the band performed their version of the classic rock hit "Bohemian Rhapsody."
This was followed by their performances of "Golden Days," "Miss Jackson," and "Crazy=Genius."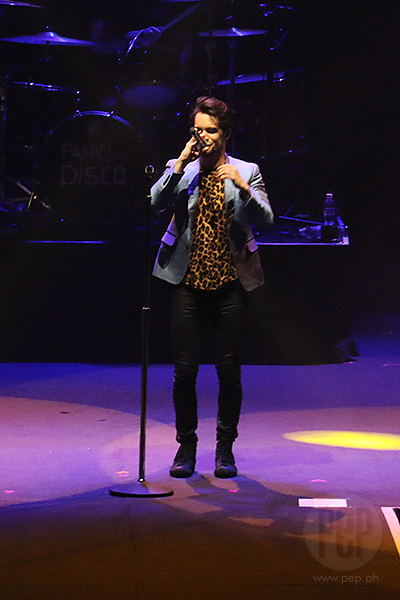 Midway through their set, Brendon felt the heat and stripped off his blazer and shirt. Before proceeding to their next song, he expressed his gratitude for fans who supported him in his journey with Panic! At The Disco for over 12 years.
He said, "What's crazy to me is it's taken us so long to come back here, but that aside, what's even more crazy to me is I've been doing Panic! At The Disco for 12 years now! It's crazy! That's absolutely insane! Thank you so much for hanging out with us tonight."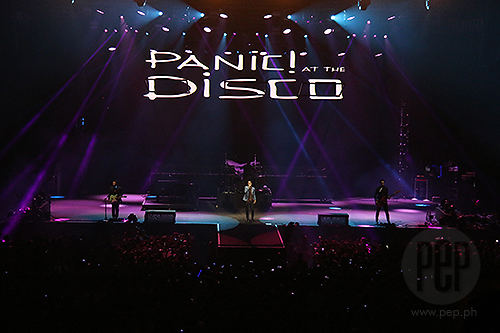 The band went on to perform one of their biggest hits "I Write Sins Not Tragedies" followed by "This Is Gospel."
The band also rendered their version of Journey's "Anyway You Want It" and ended their set with "Victorious."




JAMES BAY. English singer-songwriter James Bay also performed for his Filipino fans at the In The Mix music festival. This is the 25-year-old singer's first time in Manila. James took the stage wearing a jacket featuring the colors of the Philippine flag.
Some of the songs he performed at the concert include "Craving" followed by "When We Were On Fire." Both songs are included in his 2015 album Chaos And The Calm.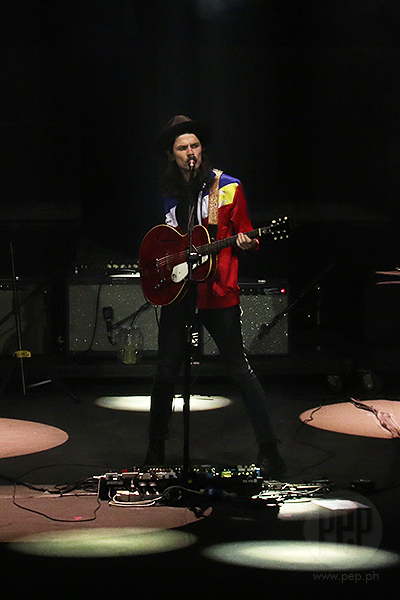 After a few songs, James greeted the crowd, "Manila, mabuhay! How are you doing? Are you singing with me tonight or what?"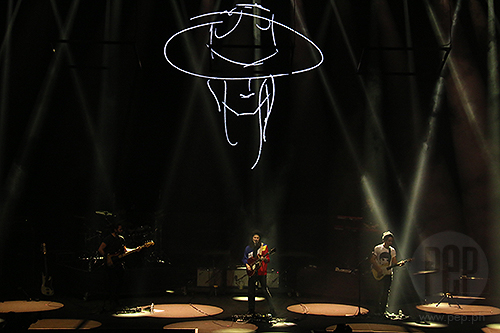 James continued his set with "If You Ever Want To Be In Love." The fans sang along as he perform the chorus of the song that goes: "I'll come around, If you ever want to be in love, I'm not waiting, but I'm willing if you call me up, If you ever want to be in love, I'll come around."
James invited the audience to sing louder and said, "You sound pretty good, Manila! I bet you can do it louder, though!"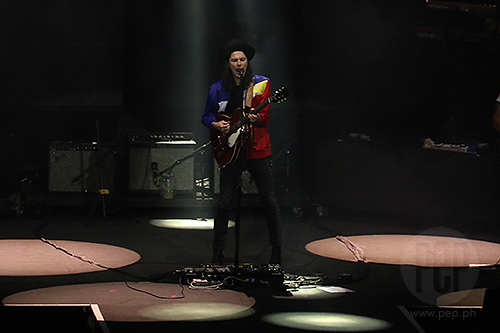 James also performed the song "Need A Sun To Break" and the crowd favorite "Let It Go," which peaked at the 16th spot on Billboard Hot 100 chart.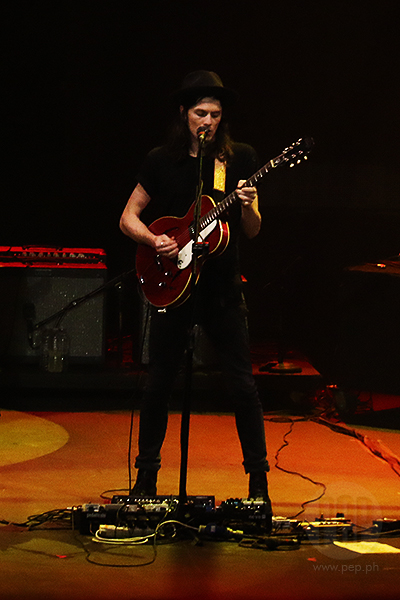 Towards the end of his set, James performed "Best Fake Smile" and "Get Up While You Can." The singer-songwriter also delivered his version of Tina Turner's "Proud Mary." He ended his set with the song "Hold Back The River."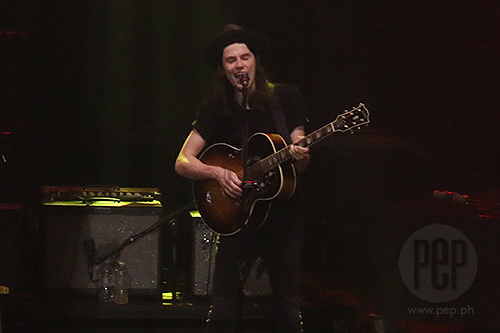 Before entering the venue, VIP concertgoers were given free LED wristbands that change colors and are synchronized with the band's performance. Attendees from the other sections of the venue were able to buy their own LED wristbands on sale that night.