New York City based DJ duo The Chainsmokers—Alex Pall and Andrew Taggart—proved they're no one-trick ponies after their successful sold-out concert in Manila.
Hundreds of Filipino revelers gathered and danced the night away at SM Mall of Asia Arena in Pasay City, on Friday night, August 19, while listening to the American DJ's latest EDM remixes. This is Alex and Andrew's second time to visit the Philippines after their 2014 #SELFIE tour at a super club in Resorts World Manila.
Read: The Chainsmokers on Liza Soberano: 'She's like a hot chick!'
In an interview with PEP.ph (Philippine Entertainment Portal) and select members of the press, the duo both agreed that the Manila leg of their concert is one of their most anticipated shows.
Alex admitted, "To come back, after seeing how well our singles have all done here, it's really an exciting feeling... This is probably like the most anticipated shows we've ever played. Ever probably. I'm almost positive about that."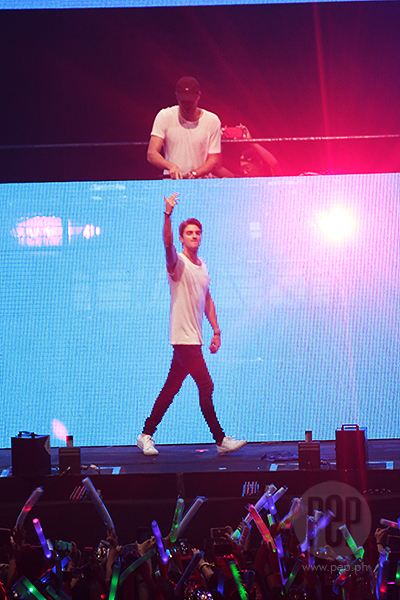 The Chainsmokers treated their fans to over two hours of remixes of their chart-topping songs and current EDM hits. Their set started around 11:30 p.m. and ended around 1:30 a.m. Some original songs they played at the concert include "Waterbed," "Inside Out," and "New York City."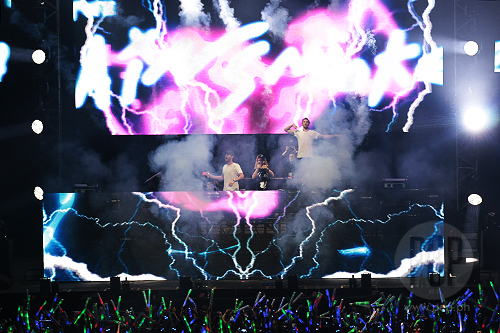 The concert party continued with their songs "Let You Go," "Good Intentions," and "Until You Were Gone."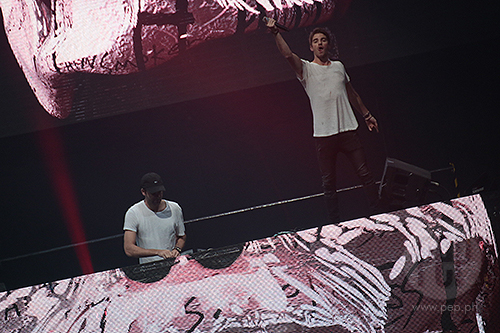 Aside from their original tracks, The Chainsmokers also remixed club favorite tracks including Avicii's "Waiting For Love," Dmitri Vegas & Like Mike's "Higher Place" and "Mammoth," Zara Larsson's "Never Forget You," David Guetta's "Just One Last Time," and Lukas Graham's "7 Years."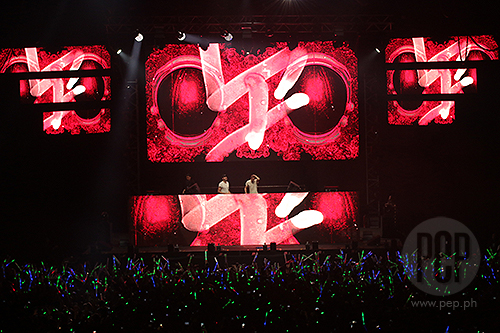 Rainbow colored lights illuminated the whole arena as the crowd continued singing and dancing along to every song The Chainsmokers played on their set list.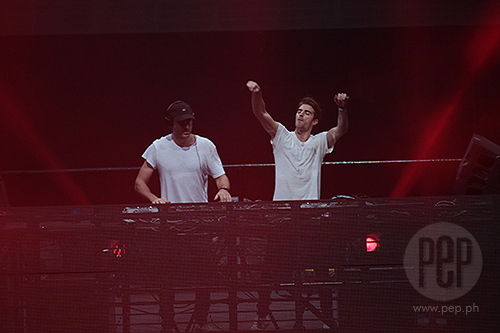 At one point of the concert, Alex and Andrew paused to express their gratitude to Filipino fans for their unwavering support. Andrew told the crowd, "I got to give a shout out to this entire country because we came out with #Selfie before like we were ready to be known and everyone thought we're a one-hit wonder except for you guys."
"And you guys we're like the first people to hear 'Roses' and be like, 'This is a [expletive] smash song!'
He continued, "Philippines, we love you! You got our [expletive] backs, and we've got yours!"
Andrew later admitted to having a few shots of vodka to hype himself up before the show started.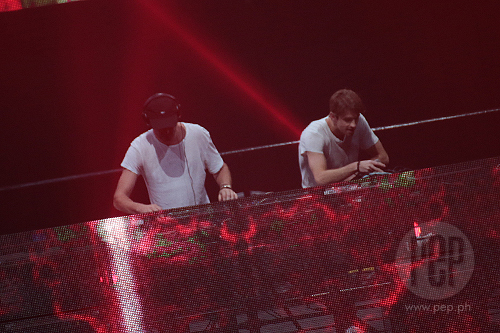 Alex and Andrew were overwhelmed by how the crowd sang along to each of their songs.
Andrew told Pinoys, "This is so unbelievable. You guys are [expletive] amazing. You guys love us more than United States loves us! That's [expletive] insane." He added, "You guys made me feel super special. It's lit!"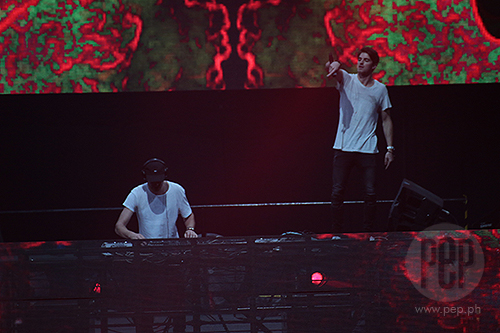 The Chainsmokers also gave their own flavor on their remix of Coldplay's "Yellow" and The Killers' "Mr. Brightside."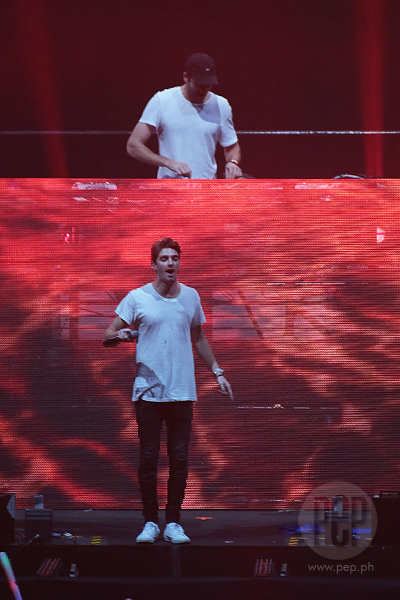 Halfway through their set, Andrew introduced their next song by recalling how they wrote it.
He narrated, "So one night on my tour last fall, me and the others got really drunk and we were listening to Blink 182 and Fall Out Boy... and we're like damn, these dudes just like tell it like how it is and that's insane! Why don't we write a song about that? And then, we wrote a song about [expletive] my ex-girlfriend and regretted immediately."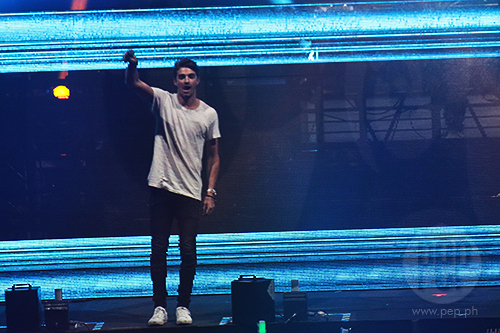 Fans cheered the loudest upon hearing Andrew's anecdote giving them a clue on what song they'll perform next. Later, the DJs blasted the arena with their latest hit song "Closer" featuring Halsey. While Alex mixed the beats, Andrew performed the song "Closer" live.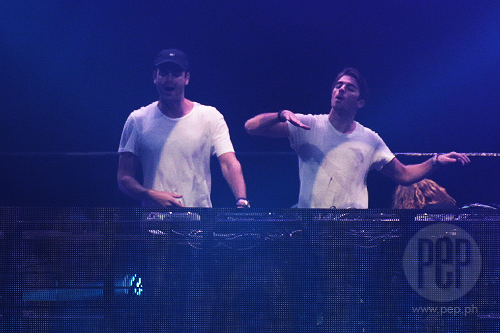 The fans sang along as the duo played their latest song "Closer." Before moving on to their next remix, Andrew and Alex were overwhelmed by the audience's reaction to their music and told them, "That was the most insane time we've ever played 'Closer.' And we played at Madison Square Garden in New York City with Halsey last weekend, that [reaction] was crazier."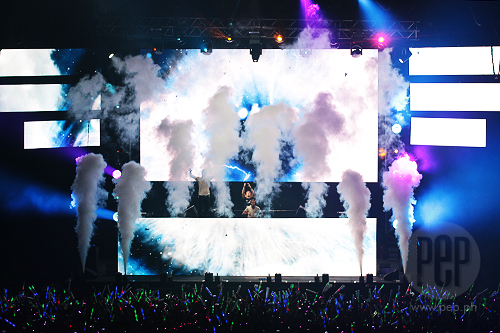 The Chainsmokers also played their 2016 hit song "Don't Let Me Down" which is also a crowd favorite.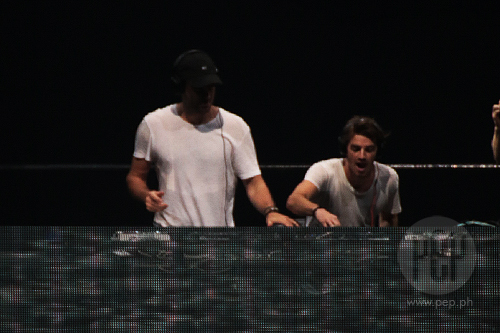 The Chainsmokers also played their song titled "Kanye." The duo said the song wasn't about rapper Kanye West but about not being affected by what others say.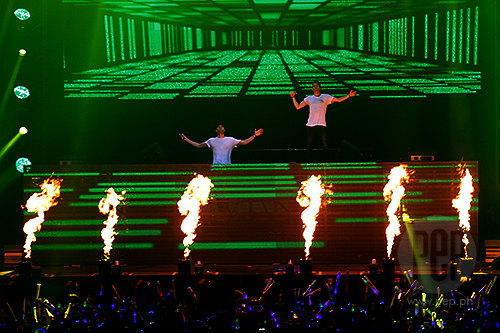 The night wouldn't be complete with them playing their biggest hit "Roses."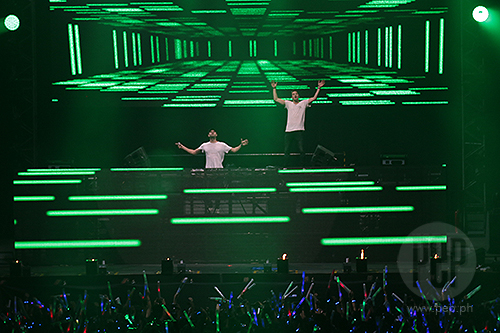 THANK YOU @TheChainsmokers FOR KILLING IT! #TheChainsmokersMNL ????? pic.twitter.com/qo7vHwhhWe

— MMI LIVE (@mmilive) August 20, 2016