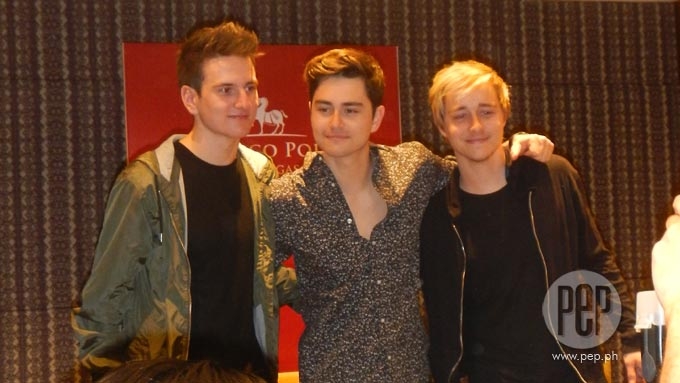 IMAGE Mari-An Santos
---
The band Before You Exit returns to Manila once again to entertain their Filipino fans. Composed of brothers Connor, Riley, and Toby McDonough, the band is all set to perform tonight, February 24, at the KIA Theatre in Cubao.
THE PHILIPPINES: A SPECIAL PLACE. The boys have always had a special place in their hearts for the Philippines. They have been here several times in the past, with their latest visit held in 2016.
Connor: "Every time we come here, it's the most welcoming vibe for us and we have such a great relationship with all of our fans. It's become such a special place for us."
Riley: "The very first memory we had, we didn't know if anyone had ever heard about us here at all. We had a meet and greet and I remember walking into the mall and heard all these screams and I remember thinking 'That can't be for us! I remember looking over and seeing a sea of people and wondering: 'What is going on? What is this?' I just remember being escorted out. It was so surreal."
ADVERTISEMENT - CONTINUE READING BELOW
Toby: "Even last year at the Arena show with The Vamps. The energy is not like anywhere else. It's all just really high energy. And it goes a long way."

(Read: Before You Exit member says about Filipino concertgoers: "They've set the bar very high.")

Jetlagged because of their flight from the U.S., the boys had quite a scare a week ago, when Toby had appendicitis.
Connor: "It was definitely a scary moment. We were worried they weren't going to..."
Toby: "For a second there, the doctor said I couldn't go."
Connor: "Fortunately, the surgery went great and pretty quickly after that, he was doing well. We're glad he's here."
The eldest Connor was asked during the press conference about working and touring with his younger brothers.
Connor: "There are pros and cons. It's great because we're always together and always able to work on things. For all of our music, it's easy to go into the other person's room. But at the same time, you're also always together. It's frustrating. But the pros definitely outweigh the cons. We get along pretty well."
ADVERTISEMENT - CONTINUE READING BELOW
LOVE LIFE QUESTIONS. The handsome boys could not dodge questions about their relationship status. Are they all single? They joked:
Toby: "We don't know anymore."
Connor: "We're not even sure."
When asked for the qualities that they look for in a girl, they turned serious.
Riley: "I think a lot of times it's about the connection. Whatever you bond over and talk about and obviously, be attracted to their personality."
Toby: "Someone who is supportive of music too. Honestly, you don't go about your day looking for features. You just have natural interactions and see how you connect with the person."
Connor: "Most important for me would be somebody who understands our career as well, knowing that we have pretty busy schedules and we're not really working your average 9-to-5 jobs. We work at midnight, sometimes, we're gone for a few months, it's important that somebody who really understands that."
ADVERTISEMENT - CONTINUE READING BELOW
At one point, the funny boys asked each other questions while waiting those from the Philippine media.
Toby: "What kind of underwear do you wear?"
Riley: "Calvin Klein."
The McDonoughs admit to being influenced by a variety of musicians such as ZZ Top, Led Zeppelin, Red Hot Chili Peppers, John Mayer, Twenty One Pilots, to name a few.
They cannot wait to perform live once again for their energetic Filipino audience.
Riley: "Every show, we're trying to make it more exciting, we just want to make sure everybody has a great time, everyone's jumping around, might be an unexpected cover in there. It's going to be so much fun, we can't wait."
Toby: "Old songs, new songs. We're bringing everything to the table."
Riley: "When we played in January [last year], we actually played a shorter set. This time will be a full headline show, a lot of our music. It's going to be so fun. We've been running the whole set during the last few days while we were in the States and just getting the vibe."



---
Stories We Are Tracking
---
ADVERTISEMENT - CONTINUE READING BELOW