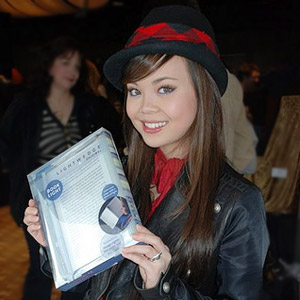 ---

She plays "villainess" Ashley Dewitt in Hannah Montana,one of the msot popular teen shows in the United States. And she happens to be an adorablePinay. Her name: Anna Maria Perez deTagle.
In an interview aired on Kapuso Mo, Jessica Soho lastJanuary 31, Anna Maria disclosed that her parents are full-blooded Filipinos.Born in the United States in 1990, Ana Maria made her first trip to the Philippinesat a tender age of two. She and the family currently reside in Los Angeles,California and frequently visit Manila. One relative who is very close to her heart is her Lola Jing Pichay.
This gifted teenager is the granddaughter of "Reyna ngKundiman" Sylvia La Torre, who became popular during the 1960s. "My grandmotherhas influenced me," admits Anna. "My grandmother was my first vocal coach. Andshe taught me my first Filipino song, 'Bahay Kubo.' She influenced me to dowhat I do."

Acting is definitely in her blood. Aside from having a famous grandmother,Anna's father, Archie Perez de Tagle, is a retired Philippine actor and formerTV host. Her mother is Evelyn Enriquez.

Anna then impressed Jessica by singing a few lines of the popular song "Ikaw."The GMA-7 TV host asked her, "How does it feel to make it here in Hollywood?"

"I am so honored and blessed to be where I am today," was Anna Maria's warm andsincere reply. Her unique musical artistry coupled with her sweet personalityopened doors for her in Hollywood.
Anna considers world-class Filipino performer Lea Salonga asher idol. She points out that Lea has a "unique and has a flawless voice,"which is why Anna wants to be like her.
ADVERTISEMENT - CONTINUE READING BELOW
Being able to penetrate Hollywood gave her opportunities tomeet and interact with a lot of popular celebrities like teen star Miley Cyrusand the Jonas Brothers—all of whom she considers as friends. She says of thefemale Hollywood teen star: "Miley Cyrus is so amazing. She's a big ball of energy."
How about the Jonas Brothers? She says with a smile: "They're hot. They're all cute, gentlemen.Nick is cute. Kevin is adorable and Joe is hot...they're all like mybrothers."
Anna Maria played the character of Ella in the 2008 DisneyChannel Original Movie Camp Rock and reports say a sequel is in thepipeline.

Web reports say that Anna will soon star in Fame, an updated version ofthe 1980 musical. The film revolves around students of the New York Academy ofPerforming Arts. Kevin Tantroin will direct this movie, which requires castmembers to be a quadruple threat: act, sing, dance, and play an instrument.
Anna Maria will portray Joy in this film where she will bejoined by Kay Panabaker and Asher Book. The movie is scheduled to be releasedby Lakeshore Entertainment by September 2009.