Former Disney star Anna Maria Perez de Tagle walked down the aisle dressed like a princess to wed Fil-Am aerospace engineer Scott Douglas Kline Jr.
Their wedding took place on June 29, 2019, at Cathedral of Our Lady of the Angels, an architectural landmark in Los Angeles where Broadway star Lea Salonga also got married.
The Hannah Montana and Camp Rock actress wore a silk organza ball gown with an 8.5-meter train and a 10-meter veil created by the Filipino designer Oliver Tolentino, who has a boutique in posh Beverly Hills, California.
In an interview done by Janet Nepales for gmanetwork.com, Oliver revealed that Anna Maria wanted to look like a royalty on her special day, and he was told, "Tito, I want a princess wedding gown!"
In addition to the bride's elaborate trail and veil, Oliver's creation was embellished with hand-stitched Alençon lace and 5,000 Swarovski crystals.
It took the designer five long months to finish the gown.
It was also on the same interview that Anna Maria related, "When he first revealed the finished version, I was in awe.
"It was literally the dream gown I had always imagined myself walking down the aisle in.
"I absolutely loved it!"
A tiara adorned with rhinestones completed her "princess bride" look.
ANNA MARIA AND SCOTT'S LOVE STORY
Though both Anna Maria and Scott grew up in the U.S., the two had a Pinoy-style courtship.
In the article published by ABS-CBN, she remembered being flattered by his chivalrous and old-fashioned way of "super ligaw."
Understandable, because her parents, Evelyn Enriquez and former Philippine TV personality Archie La Torre Pérez de Tagle, instilled in her the Filipino values.
Her paternal grandmother, Sylvia La Torre, the Queen of Kundiman no less, also made sure that Anna Maria would not forget her Filipino roots even if she was born and grew up in the United States.
In fact, she was taught a number of Filipino songs—one of them was "Bahay Kubo"—by her Mamacita (how she calls her grandmother) when she was a kid.
Back to Anna Maria and Scott's love story, the courtship began two years ago.
The two hit it off after they were set up by Anna Maria's cousin.
For their first date, they went to Disneyland Resort in Anaheim, California.
As the day ended, Scott surprised Anna Maria with a bouquet of flowers then drove her home.
"Very formal, very Filipino," she revealed in her interview.
How could she not fall for him? Things happened very quickly.
Scott proposed to Anna Maria at 11:11 a.m. on 11/11/2018, with "an absolutely stunning white and pink diamond heart-shaped ring in front of his and my family/friends."
The proposal took place at the California State Polytechnic University, where he finished his aerospace engineering degree.
Part of the Fil-Am Disney star's Instagram post read:
"He takes me through the rose garden as well as the George and Sakaye Aratani Japanese Garden and walks me to a bridge overlooking a beautiful Koi pond.
"That's when I realized...OMG!
"He poured his heart out to me and asked me THE question with an absolutely stunning white & pink diamond heart-shaped ring in front of his and my family/friends.
"I exclaimed, 'YES!'
"Let the wedding planning begin!"
View this post on Instagram
ANNA MARIA AND SCOTT'S HAPPILY EVER AFTER
In another Instagram post, Anna Maria expressed her gratitude to everyone who attended their wedding.
Her grandmother Sylvia, one of the original Pinoy music icons of yore, sang an operatic rendition of the song "Ave Maria" for her apo and grandson-in-law.
The bride also prepared a song number.
Anna Maria's Instagram caption wrote, "Surprised my husband during our wedding ceremony with a song- My Heart Belongs to You- with my dear Godspell castmate, @ericmkrop. Watch him try to fight back his tears as I emotionally sing this beautiful piece to him. I don't know how I did it without crying myself. Swipe to hear the whole song. Video by @letsmakeamemory.
#HappilyEverKline."
Also present at the event as her maid of honor was Uzo Aduba, one of the stars of Netflix's Orange Is The New Black.
Uzo and Anna have been close friends since they co-starred in the broadway musical Godpsell back in 2011.
Uzo also wore an Oliver Tolentino creation—a "purple silk chiffon hand-draped gown featuring a two-tone bodice."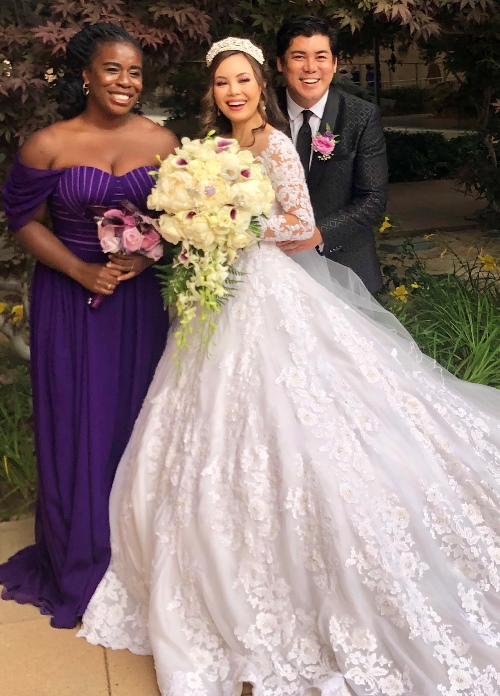 Among Anna Maria's bridesmaids were international dancer Alex Welch and pop singer Jules Aurora.
All the bridesmaids donned purple silk gowns by Pia Gladys Perey.
Oliver Tolentino and business partner Andrew Carruthers were among the 16 principal sponsors at the wedding of Anna Maria and Scott.
After the church ceremony, the newlyweds and their guests went to the Hilton Hotel in Glendale for the wedding reception.
Anna Maria stepped into her party in a fully embroidered ivory tulle ball gown, also created by Oliver.
Close peers and the dads of the couple gave heartwarming speeches.
And the new husband and wife regaled their guests with a song-and-dance performance.
Is she still going to be visible in the Hollywood scene after the wedding?
Scott, whose work is totally out of the realm of entertainment, is not one to douse his wife's passion for acting.
Anna Maria told ABS-CBN, "He's very supportive of my career, but if I ever do decide to take a break because of kids, he's supportive of that also.
"But I still plan to still act, sing. We are still living in L.A. so we'll be fine with that."
Besides doing musicals in broadway, Anna Maria will also appear as Georgia Morales in the 2019 upcoming film, The Message.