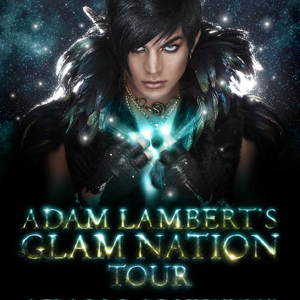 ---
Get ready as BlueDream Entertainment brings you the most glamorous concert event of the year. The Glam Nation Tour: Adam Lambert Live in Manila!
Be at the SM Mall of Asia Concert Grounds on October 10, 2010, 8 pm. Feel the energy and watch the flamboyant 2009 American Idol runner up rock and turn the country into Glam Night with his high-octane voice and exhilarating stage presence.
Born on January 29, 1982, in Indianapolis, IN, Adam grew up singing in San Diego, CA. As a 10-year-old kid, he was introduced to music by his dad, who loved classic hits from the 1960s, psychedelic tunes from the 1970s and new wave singles from the 1980s. Adam's love for music and formal vocal training made him a shoe-in for show biz. He scored a role performing in the musical Wicked's ensemble and was even asked to step up as an understudy (the person who fills in when the main actor is sick) for one of the main roles in the play.
Aside from the theater, his rock band, Citizen Vein, honed his singing talents and stage presence. And, despite the fear of being "too out there," he joined the Season 8 of the top-ranking reality talent show American Idol, wowing the whole world with his rendition of the songs "Rock with You" by pop icon Michael Jackson and "Bohemian Rhapsody" by rock legend Queen. He was named the runner-up for the season and, today, his album For Your Entertainment, debuted in No. 3 at the Billboard Album Charts, selling over 600,000 copies worldwide. His single "Whataya Want From Me" by Pink and Max Martin reached the top of numerous charts like Hot 100, Pop Songs, and Hot Dance Club Play.
Adam Lambert brought the The Glam Nation Tour drama to a sold-out concert series, including a two-night stint at New York City's Nokia Theatre and sweeping the east to west coasts of America. Lambert aimed for spectacle with video screens, backup dancers and extravagant costumes and makeup. But as cool as the lasers were, all the bells and whistles were no match for the glam-pop star's vocal fireworks, which were in top-notch condition. His pitch-perfect pipes proved to be the real star of the show.
ADVERTISEMENT - CONTINUE READING BELOW
Pulling liberally from his debut For Your Entertainment, the singer whipped concertgoers into a frenzy while performing "Strut," Lady Gaga-leftover "Fever" and current single "If I Had You." Yet he also managed to maintain the crowd's attention even as he slowed things down for an extended acoustic set that featured a stripped-down take on his biggest hit, "Whataya Want From Me."
REMEMBER THE DATE. 10-10-10 shall mark another breakthrough in the Philippine concert scene as he entertains Filipinos with a spectacular mix of music, drama and theatrical ingenuity. The Glam Nation Tour: Adam Lambert Live in Manila will be held at the SM Mall of Asia Concert Grounds.
Tickets are priced at VIP P6,310, Gold P4,510, Silver P3,610, Bronze P1,810 and General Admission P640. Buy your tickets now at any TicketWorld Outlet (call 891-9999) or SM Ticket Outlet (call 470-2222). For VVIP limited seats please call 750 0791, 09175874462
EARLY BIRD PROMO. Get 10% off if you buy Adam Lambert Glam Nation Tour tickets from August 25 to September 14.