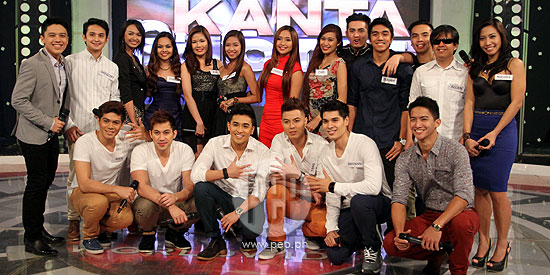 ---
Twenty-four hopefuls will battle it out for a recording contract and one million pesos in TV5's newest singing competition, Kanta Pilipinas.
With its tagline "Kanta Mo, Kwento Mo, Kapatid," the show, which aired its pilot episode last February 9, will extensively feature the back stories of the contestants.
The show will be hosted by singer-songwriter Rico Blanco. Maestro Ryan Cayabyab and Asia's Nightingale Lani Misalucha are the two main judges of the competition.
The show's catchy theme song was performed by no less than Lea Salonga.
Thirteen of the twenty-four finalists of Kanta Pilipinas were present during the press launch last February 4 at Broadway Centrum. The contestants are composed of two duos and a group of five, while the rest are solo singers.
Get to know more about the thirteen contestants:
1. Allan Gonzales is visually impaired after suffering eye cancer. Undaunted, he continues to pursue his passion for music.
Musical influence: Gary Valenciano
2. Chadleen Lacdo-o is the singing ambassador of Operation Smile, which gives worldwide medical assistance to children impaired with cleft lip and palate.
Musical influence: Beyoncé
3. Siblings Nicole and Carlo David are the children of internationally-acclaimed jazz vocalist Mon David.
Musical influence: APO Hiking Society and their dad
4. Timothy Pavino is a Filipino-American who opted to stay in the country to care for his cancer-stricken grandmother.
Musical influence: Ryan Cayabyab
5. 5AZ1 is composed of (L-R) Bryan, Mick, Yang, Rex, and John who were brought together by their love for music.
Musical influence: Boys II Men, The Wanted
6. JB Landrito (L) and Daniel Gorospe (R) have been tagged as the quirky duo among the bunch.
Musical influence: Justin Timberlake, Jay Durias
7. Isaiah Antonio gained his share of online fans after uploading a musical parody of the "Amalayer" incident.
Musical influence: Maroon 5, John Mayer, Rico Blanco, Bamboo
8. Zari Bilon is so intent on pursuing a singing career that she made voice lessons her priority instead of regular schooling.
ADVERTISEMENT - CONTINUE READING BELOW
Musical influence: Alicia Keys, Lady Gaga
9. Jeniffer Maravilla was a member of the singing trio Nu Born Divas, which became a finalist of Talentadong Pinoy. She is now out to prove her worth as a solo performer after learning that her former groupmates got a new member and joined another talent search.
Musical influence: Lani Misalucha
10. Thara Jordana is half-Spanish, half-Cebuana. When she was 15, her parents separated and her father had another family. She became closer to her stepmother than with her real mom.
Musical influence: Sarah Brightman
11. Pia Diamante likes to impersonate Jessa Zaragoza and Ruffa Mae Quinto. When she was young, her dad left their family for another woman and she has since taken it upon herself to be responsible for her family.
Musical influence: Beyoncé, Lani Misalucha
12. Roshelle Mercedis is a single mother who came from a broken family.
Musical influence: Engelbert Humperdinck, Adele
13. Gregory Llamoso is a self-confessed old soul who listens to jazz.
Musical influence: Frank Sinatra, Michael Bublé, Tony Bennett