Viewers have known for a long time that one area where ABS-CBN leads is in its drama series.
ABS-CBN has so mastered the continuing television drama that it owns even the term eventually coined for this: teleserye.
To this day, the term teleserye has stuck and become part of the local entertainment industry lexicon.
Because ABS-CBN pioneered in producing drama shows, many of its outputs in this genre, from the late 1990s to the early 2000s, have become iconic, breaking records in the TV ratings game.
In 2008, ratings provider AGB Nielsen released a long list of highest-rating Filipino TV shows of all time. An updated version of this list was released in 2012.

For teleseryes, AGB set the bar at a 40-percent-and-above rating for a single episode.
Of the 60 highest-rating shows on the AGB Nielsen list, 31 aired on ABS-CBN, with 11 of these network-produced teleseryes.
Here is The PEP List of 11 ABS-CBN TELESERYE EPISODES that are in AGB Nielsen's ranking of the highest rating in the Philippines.
Esperanza
Starring: Judy Ann Santos, Wowie de Guzman
Airing: February 17, 1997 to July 30, 1999
All-time high rating: 67.0% (1997)
Esperanza is Judy Ann Santos's follow-up project after the big success of Mara Clara, her teleserye with Gladys Reyes. It is also her first solo title role as a dramatic teen actress.
This teleserye follows the story of Esperanza (Judy Ann), a young woman in search of her real family, from whom she was separated as a child. Esperanza becomes romantically involved with Anton (Wowie de Guzman), whose real identity is that he is the missing son of a powerful mayor.
In a March 2019 exclusive interview, Judy Ann revealed to PEP.ph that she was nervous when Esperanza was first offered to her as her next project after Mara Clara.

She was particularly scared because, in the new show, she would no longer be with Gladys, who played the mean Clara to her good Mara and helped keep the series on the air for five years.

She told herself, "'Paano kaya ito, matatawid ko ba? Ma-a-accept ba ng tao na hindi kasama ni Mara si Clara?'"
Explaining, she said, "It's totally different, e, at saka mas matapang iyong character na Esperanza, e. Api din siya, pero lumalaban siya.
"Umpisa pa lang, first week pa lang, nakipag-away na siya, so ibang-iba talaga."
Esperanza proved to be another big success and a winner at the ratings.
Esperanza, in fact, holds the record for the highest-rating teleserye, for an episode in 1997, which registered a formidable 67 percent. This data, provided by AGB Nielsen, is also the third-highest recorded rating of all time of any Filipino TV program.
Like Mara Clara, Esperanza was also turned into a movie in 1999 by Star Cinema, the film arm of ABS-CBN.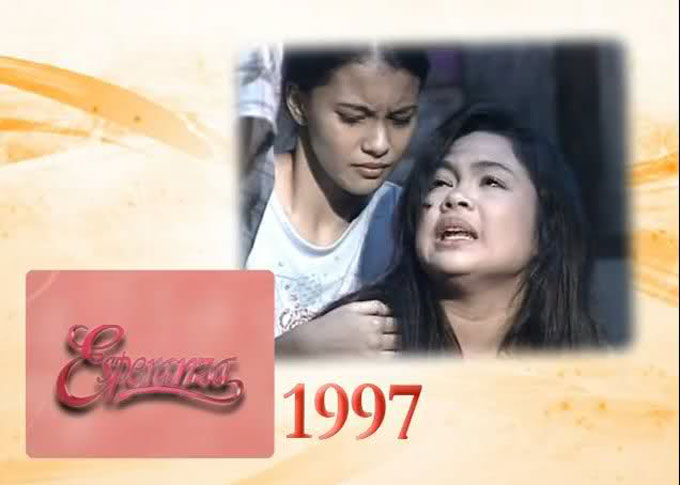 Pangako Sa 'Yo
Starring: Kristine Hermosa, Jericho Rosales, Eula Valdes, Jean Garcia
Airing: November 13, 2000 to September 20, 2002
All-time high rating: 64.9% (2002)
It was in 2000 when ABS-CBN introduced the word teleserye, after Star Cinema began producing full-length drama series.
Teleserye would thereafter stay as the official term for all continuing drama shows produced in the Philippines.
Pangako Sa 'Yo tells the story of Amor (Eula Valdes), a woman scorned who loses her daughter in a Payatas landslide. Thinking her daughter is dead, she vows to take revenge on her rich former boyfriend, Eduardo Buenavista (Tonton Gutierrez). For his part, Eduardo believes the lies of his mother, Donya Benita (Liza Lorena), and marries Claudia (Jean Garcia).
Amor does not know that her daughter is alive and would grow up to be Yna (Kristine Hermosa), who works as a maid at the Buenavista mansion. Yna would fall in love with Angelo (Jericho Rosales), son of Eduardo and Claudia. But when Claudia learns about this, she makes Yna's life a living hell.
Years later, Amor returns as the rich Amor Powers. She is ready to get back at Eduardo and Claudia, and everyone else who had once made her life miserable. When she meets Yna, she forms an unexpected bond with her, although she still does not know that they are mother and child.
The series made the love team of Kristine Hermosa and Jericho Rosales very popular, which had been tested first in the weekly series, Ang Munting Paraiso. The series also made a formidable tandem out of Eula Valdes and Jean Garcia as bida-kontrabidas.
Pangako Sa 'Yo was a massive hit during its run from 2000 to 2002. It registered an all-time high rating of 64.9 percent in its final episode on September 20, 2002. This rating is recorded as the fourth-highest rating of any Filipino TV program of all time, and the highest-rating finale of any teleserye.
Pangako Sa 'Yo reached worldwide popularity. It was successfully distributed in 14 countries: China, Malaysia, Singapore, Indonesia, Cambodia, Thailand, Kenya, Ghana, Cameroon, Tanzania, Namibia, Zambia, Botswana, and Uganda.

In 2013, Cambodia did a remake of the show.
In 2015, ABS-CBN produced its own remake of Pangako Sa 'Yo, with Kathryn Bernardo as Yna and Daniel Padilla as Angelo. Jodi Sta. Maria reprised the role of Eula Valdes, and Angelica Panganiban, the role of Jean Garcia.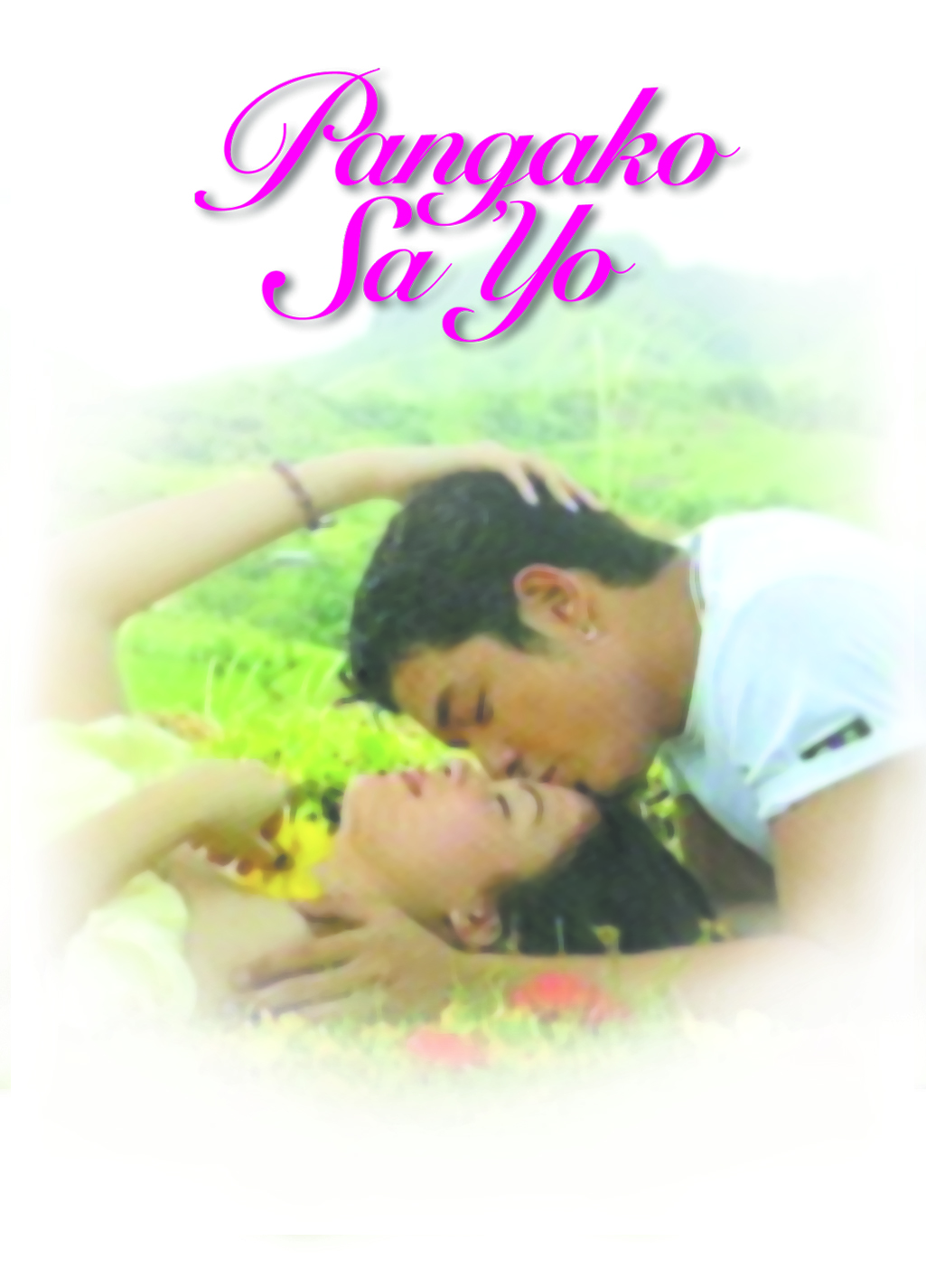 Mula sa Puso
Starring: Claudine Barretto, Rico Yan, Diether Ocampo
Airing: March 10, 1997 to April 9, 1999
All-time high rating: 53.7% (1997)
Mula sa Puso is the first teleserye to top-bill Claudine Barretto. It would also be her first teleserye with Rico Yan, a boy who would figure prominently in her personal life. This is the first directorial job of the late Wenn V. Deramas for a drama series.
Mula sa Puso is about Olivia "Via" Pereira (Claudine), the heiress of Don Fernando Pereira (Juan Rodrigo). On the night of her 18th birthday, Via is kidnapped and nearly killed, but a knight in shining armor comes in the person of Gabriel (Rico), who saves her from the kidnappers.
It tunrs out that the kidnapping was orchestrated by Via's aunt, Selina Matias (Princess Punzalan), who has been plotting to take over the wealth of the Pereiras. Via also discovers the truth about her mom, Magda (Jaclyn Jose), who happens to be Gabriel's adoptive mother.
Via has now fallen in love with Gabriel, but Don Fernando is against the relationship. He wants Via to end up with her childhood friend, Michael (Diether Ocampo).
Mula sa Puso is known for twists and turns not usual at the time for a drama series. This includes a bus-explosion scene that leads viewers into believing that Via, who is inside the bus, has been killed. A week later, Via resurfaces as Ella.

The scene also features the now-iconic evil laugh of Selina, portrayed by Princess Punzalan.
Mula sa Puso got its all-time high rating for a single episode in 1997, at 53.7 percent. The episode ranks as the 19th all-time highest rating Filipino TV show, under an AGB Nielsen survey.
Star Cinema produced a movie version of Mula sa Puso with a shortened storyline, but still featuring some of its iconic scenes.
In 2011, ABS-CBN did a remake of Mula sa Puso, with Lauren Young as Via, JM de Guzman as Gabriel, and Enrique Gil as Michael.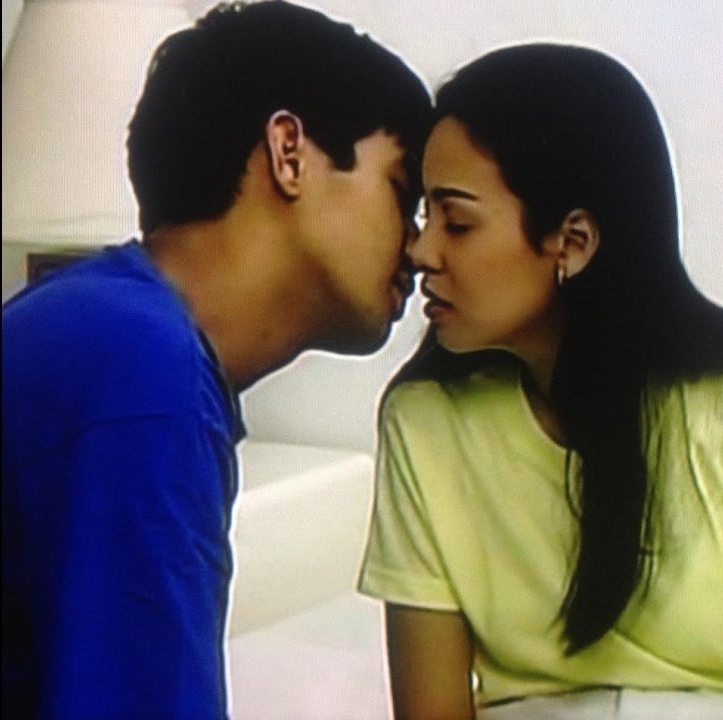 Basta't Kasama Kita
Starring: Judy Ann Santos, Robin Padilla
Airing: May 26, 2003 to September 10, 2004
All-time high rating: 52.5% (2004)
Basta't Kasama Kita is ABS-CBN's first action-drama series, with Judy Ann Santos and Robin Padilla in the lead roles.
The series follows Princess (Judy Ann), a law graduate who signs up with the National Bureau of Investigation (NBI) as a rookie agent. She meets Ambet Katindig (Robin), who is paired with her when she joins the squad of the NBI EAGLES (Elite Agents of Government Against Lawless Elements of Society). Despite their clashes because of conflicting work ethic, the two fall in love.
Basta't Kasama Kita made history in Philippine television with its September 10, 2004 finale. It was the first teleserye to air a live finale, with Judy Ann and Robin shooting their last scene at the Luneta Park.
Basta't Kasama Kita's live final episode is also its highest-rating episode, receiving a rating of 52.5 percent. It ranks 22nd on AGB Nielsen's highest-rating Filipino TV shows.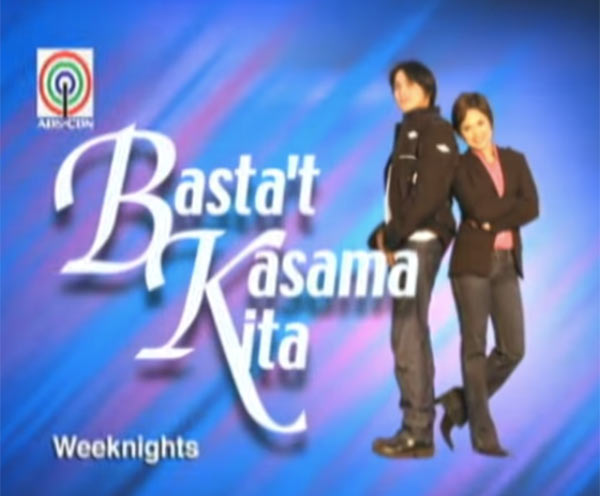 Marina
Starring: Claudine Barretto
Airing: February 23 to November 11, 2004
All-time high rating: 50.8% (2004)
Marina, top-billed by Claudine Barretto, is the first fantaserye in the Philippines. ABS-CBN introduced the term fantaserye to television for its teleseryes with elements of fantasy.
Marina is about Cristina (Claudine) who, at seven years old, is cursed to become a mermaid. Her mother Esther (Snooky Serna) sends her out to sea to live a peaceful life with Queen Istah (Sunshine Cruz), who names her Marina.
Marina, having the heart and mind of a mortal, yearns to have legs and to return to the mortal world. With the help of Istah, Marina offers a pearl necklace to Dugong (Malou de Guzman) in exchange for legs.
Now back in human form, Marina returns to the mortal world, but discovers that she turns into a mermaid under a full moon, and that only a true love's kiss can break the curse.
ABS-CBN's experiment with fantaseryes proved a big success. Marina earned top ratings, with its all-time high rating, according to AGB Nielsen, at 50.8 percent. Marina holds the 26th spot among the highest-rating Filipino TV shows of all time.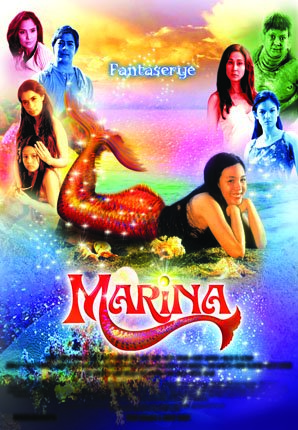 Sana'y Wala Nang Wakas
Starring: Kristine Hermosa, Jericho Rosales, Angelika dela Cruz, Diether Ocampo
Airing date: May 19, 2003 to July 9, 2004
All-time high rating: 49.3% (2003)
Sana'y Wala Nang Wakas is the follow-up project of Kristine Hermosa and Jericho Rosales after the success of Pangako Sa 'Yo.
It tells the love story of Ara (Kristine) and Christian (Jericho), two strangers who become stranded in an island after Ara accidentally falls off the ship and Christian saves her. Ara and Christian have no idea that, even before this, their lives were already intertwined. Ara's parents have a connection to Christian's miserable past.
In the series' second chapter, two new characters are added to complicate Ara and Christian's love affair: Mary Ann (Angelika dela Cruz) and Leo (Diether Ocampo).
Four lovers truly complicate the story, making the series even more popular, with viewers rooting for different team-ups: Ara and Christian, Ara and Leo, Mary Ann and Christian.
Because of the team-ups' popularity, ABS-CBN made history by taping two separate weddings for the show's finale—one with Kristine as bride and Jericho as groom; another with Kristine as bride and Diether as groom.
ABS-CBN followed this up with a text-vote promo where it allowed viewers to decide who would end up with whom in the final episode. In the end, the fans of Kristine and Jericho prevailed, and their wedding scene was aired as the last episode on July 9, 2004.
To give value to those who voted for Kristine and Diether's teleserye wedding, the Kapamilya network aired the alternate ending as a TV special the next day, July 10, 2004.
The final episode of Sana'y Wala Nang Wakas, on July 9, 2003, got a rating of 48.3 percent, while the TV special on July 10, 2003, got a rating of 34.6 percent.
Sana'y Wala Nang Wakas registered its highest rating for an episode in 2003, which registered an AGB rating of 49.3 percent, making the episode the 30th highest-rating TV episode in the Philippines.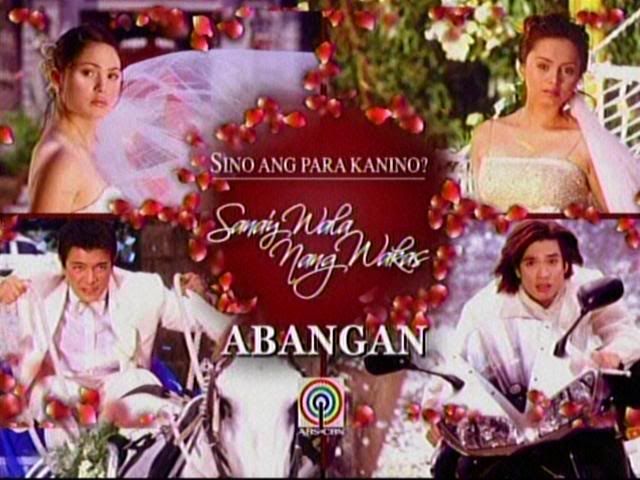 Bituin
Starring: Nora Aunor, Cherie Gil, Carol Banawa, Desiree del Valle
Airing: September 23, 2002 to May 23, 2003
All-time high rating: 48.7% (2003)
Bituin, dubbed the first musical teleserye, replaced Pangako Sa 'Yo on the prime-time block. It is also the first full-length drama series of Nora Aunor in ABS-CBN.
The story revolves around Laura (Nora), a loving sister to popular singer Carmela (Cherie Gil). However, Laura and Carmela's relationship becomes strained after Carmela suffers a miscarriage and she blames Laura for it.
Years later, Laura marries Badong (Michael de Mesa), a musician, and they have two children, Melody (Carol Banawa) and Bernadette (Desiree del Valle). Badong leaves Laura to work overseas, but he never returns.
Laura becomes penniless, and when Melody falls sick, Laura has to go to Carmela for help. Carmela tells Laura that she will give help, but only if she can adopt Bernadette. Laura, left with little choice, signs the adoption papers.
Years later, Carmela and Laura would live under the same roof, along with their daughters.
Not knowing they are sisters, Melody and Bernadette become close. Carmela urges Bernadette to become a singer, even if Bernadette cannot sing. Meantime, Melody, who is gifted with a singer's voice, is forbidden by Laura from singing. Melody starts resenting her mother because of this, especially when she finds out that Laura has secretly been giving Bernadette voice lessons.
Bernadette becomes a superstar singer by using Melody's voice and claiming it as hers. When Melody starts making a name for herself in the music industry, the war between the sisters becomes real.
One of the most remarkable scenes in Bituin is a big concert staged at no less than the Araneta Coliseum. Called "The Voice vs. The Supernova," the event features a showdown between the characters of Carol and Desiree.
That musical event is the highest-rating episode of Bituin, and registered an AGB-Nielsen rating of 48.7 percent. It is also the 32nd highest-rating single episode of any Filipino TV show.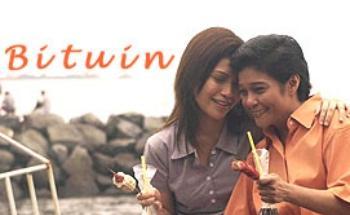 Saan Ka Man Naroroon
Starring: Claudine Barretto, Rico Yan, Diether Ocampo, Leandro Munoz
Airing: April 12, 1999 to March 23, 2001
All-time high rating: 46.8% (1999)
Saan Ka Man Naroroon is the follow-up teleserye of Claudine Barretto after the success of Mula sa Puso. This time, she plays the triplets Rosenda, Rosario, and Rosemarie, who are separated from each other.
After giving birth, Dolores (Cherry Pie Picache) is led to believe that the third among the triplets, Rosita, has died at childbirth. In fact, the child has been stolen by Arsenio (Nonie Buencamino), a doctor in love with Dolores. Arsenio raises Rosita in the United States and names her Rosemarie.
As children, Rosenda and Rosario compete for the attention of their parents Dolores and Juancho (Eric Quizon). In fact, their parents give more attention to Rosario because she is the sickly one. To make things worse, their aunt Violeta (Jackie Lou Blanco) deliberately makes Rosenda feel she is unloved by her parents, which makes Rosenda resent them.
In a family outing near a cliff, Rosario and Rosenda find themselves arguing, with Violeta watching nearby. Rosario ends up falling off the cliff, and Violeta and Rosenda then connive to make the others believe Rosario is dead. The audience, however, is made to know that Rosario is alive and being raised by Tilde (Caridad Sanchez).
The triplets grow up not knowing each other's existence in their lives, but fate brings them together.
Saan Ka Man Naroroon also features Diether Ocampo, Leandro Munoz, and Rico Yan, as the love interest of each of the triplets. This marks the last series together of real-life sweethearts Rico and Claudine, after ABS-CBN decides to pair Claudine with Carlos Agassi in her next show, Sa Dulo ng Walang Hanggan.
The highest rating that Saan Ka Man Naroroon recorded is 46.8 percent. An episode that aired in 1999 received this rating, becoming the 37th highest-rating single episode of any Filipino TV show, according to AGB Nielsen.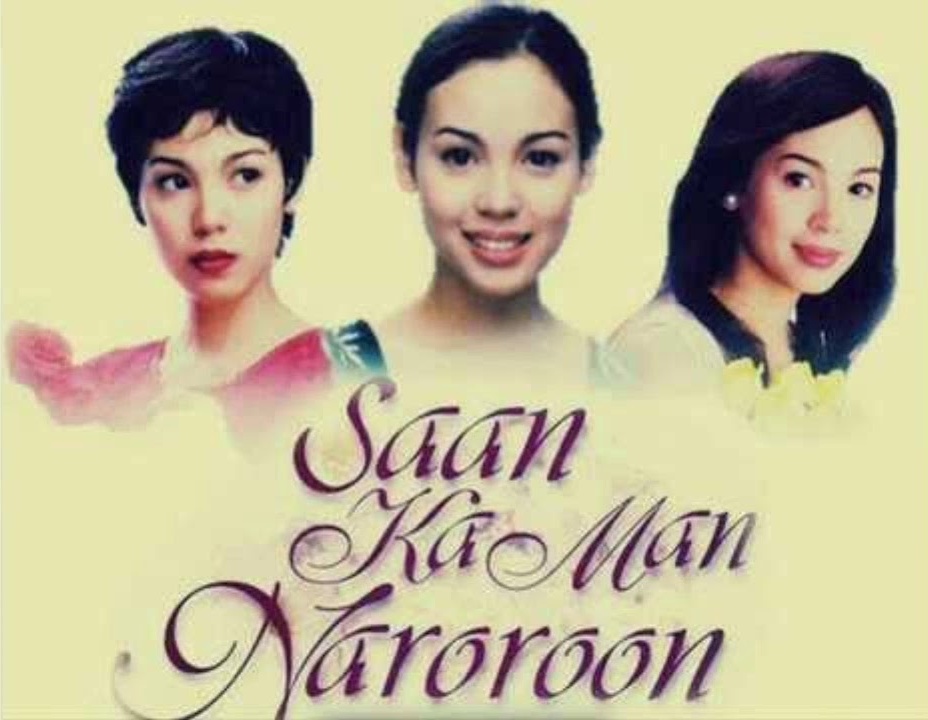 Mara Clara
Starring: Judy Ann Santos, Gladys Reyes
Airing: August 17, 1992 to February 14, 1997
All-time high rating: 45.1% (1994)
Mara Clara is the afternoon series of ABS-CBN that launched Judy Ann Santos as a dramatic lead and Gladys Reyes as a primera contravida.
The story starts on the night Almira del Valle (Beverly Vergel) and Susan Davis (Susan Africa) give birth at the same time and in the same hospital. Gary Davis (Eruel Tongco), who cannot forgive that Almira had left him for Amanthe del Valle (Juan Rodrigo), plots his revenge against the couple.
Gary gets his brother Kardo (Dan Fernandez), a member of the hospital staff, to switch their babies. Susan gives birth to twins; Almira gives birth to a daughter.
When Kardo switches the babies, he discovers one of the twins is dead, and exchanges the dead baby for Almira's daughter.
Amanthe, believing their baby daughter is dead, gets one of Gary's babies in exchange for money.
Years later, Almira and Amanthe raise Clara (Gladys) as their own. Clara, who always felt that Amanthe does not love her, grows up a rebellious and mean teenager.
Meantime, Mara (Judy Ann) grows up a loving daughter to Susan and Gary. However, Gary, resents Mara and makes her life miserable. It does not take long before Mara's and Clara's paths cross again. Susan applies as a maid at the del Valle household, and Amanthe takes Mara as his scholar.
Clara resents Mara and proceeds to bully and maltreat her. To make matters worse, Clara now feels that Amanthe loves Mara more than her.
Little do they know that the existence of a diary and a necklace will be key to unlocking the truth behind Mara's and Clara's real identities.
Mara Clara is still on record as the longest-running serye on Philippine television. It aired in ABS-CBN for five years.
The TV show started as a blocktimer in the afternoon slot from 1992 up to 1996.

In the middle of its run, in 1994, it recorded its highest rating of 45.1 percent. AGB Nielsen ranks this as the 42nd highest-rating single episode of any Filipino TV show.
Judy Ann would tell PEP.ph, in an exclusive interview in March 2019, that there were a couple of times when ABS-CBN was ready to pull the plug on the show.
She recalled, "There was a point that time na ilang beses na kaming liligwakin na sa ere, titigukin na kami kasi hindi nagre-rate.
"'Tapos siguro, may mga dalawang beses kaming pinatawag ni Ma'am Charo [Santos-Concio, channel boss] at that time para sabihin na, 'You have to end Mara Clara already,' and then nakikiusap kami na 'Please.'
"Nakikiusap kami na bigyan kami ng chance na mag-rate pa yung Mara Clara, i-extend lang nang konti pa. And then, magre-rate na naman kami. 'Tapos after a year, liligwakin na naman, may pa-meeting na naman."
In 1996, Mara Clara became a full-fledged network-produced show. ABS-CBN transferred it to the prime-time slot, sending it in direct collision with the hot Mexican telenovela MariMar airing in RPN-9.
Judy Ann remembered Mara Clara's new lease on life as both exciting and exhausting.

"Noong sinabi na sa amin na ililipat kami ng timeslot, itatapat kami kay MariMar, siyempre overwhelmed kami.
"Pero ito na yung napupuyat ka na kasi inaabot na ng hanggang two a.m. yung taping, dahil nga kailangan may dolly shot, may crane shot. Kinareer at nginarag ang buong taping namin!"
In its new timeslot, Mara Clara stayed on the air one more year, until February 1997, when it was replaced by Esperanza.
In 2010, ABS-CBN called Mara Clara the "Ina ng Pinoy Soap Opera," with the network producing a remake starring Kathryn Bernardo as Mara and Julia Montes as Clara.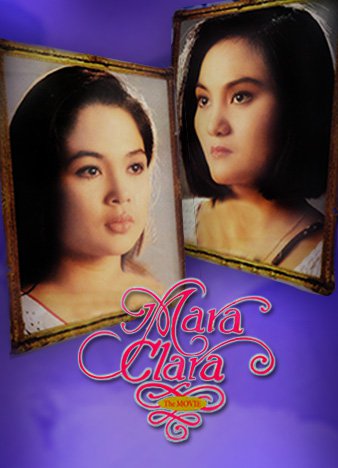 Krystala
Starring: Judy Ann Santos, Ryan Agoncillo
Airing: October 11, 2004 to April 22, 2005
All-time high rating: 43.1% (2004)
Krystala is dubbed the first "superserye" of ABS-CBN. Coming from the words superhero and teleserye, a "superserye" is a teleserye that tackles the story of a superhero.
In this show, Judy Ann is cast as Tala, a woman from the Madulom tribe who unearths a magical crystal stone containing the spirit of the diwata Luwalhati (Krystala).
The crystal transforms Tala into a superheroine garbed in gold and blue and named Krystala, who uses her powers to help people in need and to defeat monsters led by Harimon (Emilio Garcia).
Before transforming into Krystala, Tala would activate the crystal's powers by shouting, "Ako ang iyong sugo, si Tala!"
Judy Ann performed this superhero role at age 26.
In an exclusive PEP.ph interview, Judy Ann recalled, "Naalala ko with Krystala, when it was offered to me, ang una kong tanong, 'At 26, magta-tights pa ba talaga ako? Parang huli akong nag-tights, That's Entertainment pa, at saka sa bahay!' 'Hindi! Kaya mo yan!'
"Parang siyempre, nandoon yung pressure na 'Ano naman ang karapatan ko magpaka-superhero? Pero ano rin naman ang karapatan ko para kwestiyunin yung ino-offer sa akin ng ABS-CBN at that time kung nakikita nilang ako dapat ang gumanap?'
"Kung may nakikita silang something, ang dating sa akin noon, baka hindi ko lang siya tinitingnan. Baka pinipilit ko lang siyang hindi i-accept na kaya ko siyang itawid."
At the time of Krystala's premiere, ABS-CBN was struggling in the ratings game in Mega Manila, with GMA-7 winning.
Even then, the third episode of Krystala managed to register a high 43.1 percent rating, enough for it to stand as the 50th highest-rating episode for a Filipino TV show.
Krystala is also the first project where Judy Ann worked with Ryan Agoncillo, the man who would become her husband.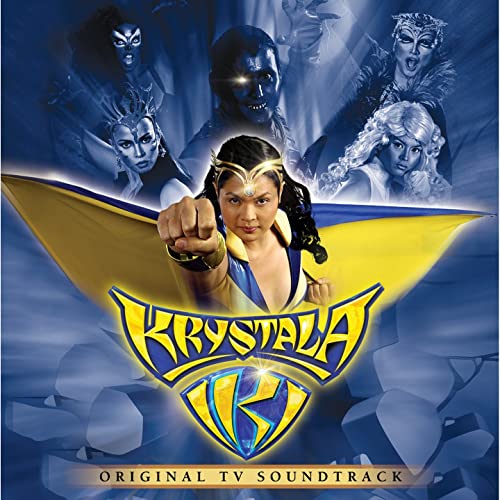 Sa Puso Ko, Iingatan Ka
Starring: Judy Ann Santos, Piolo Pascual
Airing: June 18, 2001 to February 14, 2003
All-time high rating: 42.7% (2003)
Sa Puso Ko, Iingatan Ka is the first team-up of Judy Ann Santos and Piolo Pascual, after fans and producers picked up on their chemistry in the shows Mara Clara and Esperanza, where Piolo mostly did kontrabida roles.

Piolo had to be killed in the afternoon series Marinella for him to focus on this series with Judy Ann.
Sa Puso Ko, Iingatan Ka is about Patricia Montecillo (Judy Ann), a woman striving to be a responsible daughter and sister. She meets Jordan Villamines (Piolo), a man who has her falling in love. Patricia and Jordan get married and experience the struggles and joys of marriage, while Patricia discovers the truth about her identity.
Sa Puso Ko, Iingatan Ka is Judy Ann's first mature role in a teleserye after Mara Clara and Esperanza.

Like Judy Ann's first two teleseryes, Sa Puso Ko, Iingatan Ka received high ratings during its run and achieved an all-time high 42.7 percent rating for an episode in 2003. It is also, by AGB Nielsen data, the 53rd highest-rating episode of any Filipino TV show.
The success of Sa Puso Ko, Iingatan Ka gave birth to the Judy Ann-Piolo love team, which was immediately tested in the film Bakit 'Di Totohanin in August 2001. The movie had a box-office gross of more than P100 million.