In a rare occasion, the former and the current Danaya Diana Zubiri and Sanya Lopez had a face-off in the November 9 episode of Encantadia.
This was when Pirena (Glaiza de Castro) returned to get her things after she was dethroned by her father Hagorn (John Arcilla) as the Queen of Lireo. Pirena was accompanied by Danaya (Sanya).
The new queen Lilasari (Diana) then entered the room and saw Danaya. She asked, "At ito, sino naman ito?"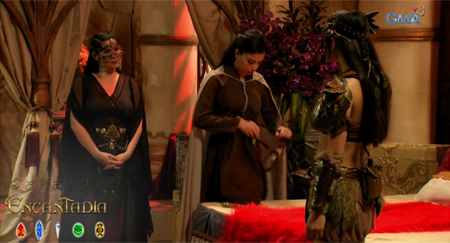 Danaya then stepped forward and introduced herself to Lilasari. "Ako lang naman ang bunsong anak ni Mine-a. Si Danaya."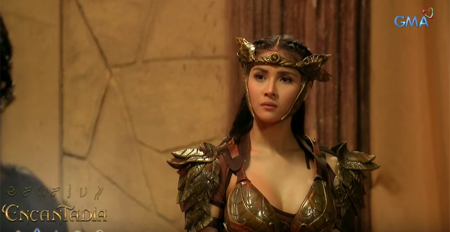 Lilasari and Danaya exchanged playful banter that had the former and current Sang'gres teasing each other.
Lilasari told her successor, "Danaya, kay gandang pangalan. Ngunit hindi ito nababagay sa 'yo."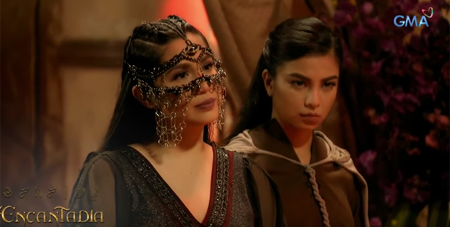 The keeper of the earth gem then asked her, "Bakit, sino ka din ba?"
Pirena then butted in, "Hindi mo pa pala batid. Siya ang ipinalit sa akin ng aking ama bilang bagong reyna."
Danaya then insulted both Pirena and Lilasari, "Batid kong siya na ang bagong reyna, Pirena.
"Ngunit hindi ko siya nais kilalanin dahil iisa lang ang aking reyna.
"At hindi kayong dalawa yun. Kung hindi ang aking kapatid na si Reyna Amihan."
Pirena and Lilasari then blurted out together, "Ashtadi!" which means "pasaway" in Nchan.
A fight ensued between Lilasari and Danaya that kept going until the former was able to get the latter's arnis stick.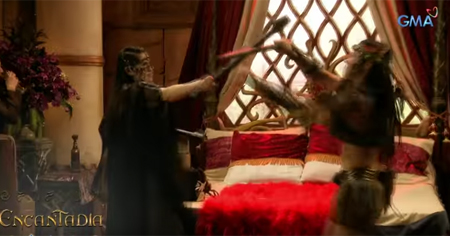 Lilasari then teased Danaya, "Tila hindi ka marunong gumamit nito."
It will be recalled that Diana used arnis sticks as her weapon when she played Danaya in the original 2005 version.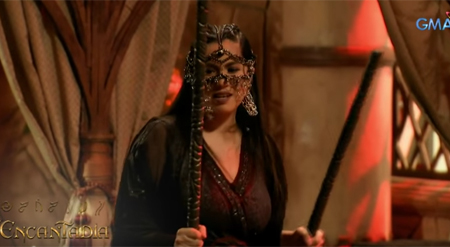 Pirena butted in and agreed with Lilasari by saying, "Hindi nga yata."
Danaya then blurted out, "Pashnea!"
The fourth Sang'gre then hurt Lilasari and beat her up with her arnis stick and was able to get back her weapon from the new queen.
Danaya told her, "Mas bagay pa rin sa akin ito. At lalong hindi ka nababagay dito sa Lireo."
But Lilasari answered, "Mas nauna ako sa 'yo rito!"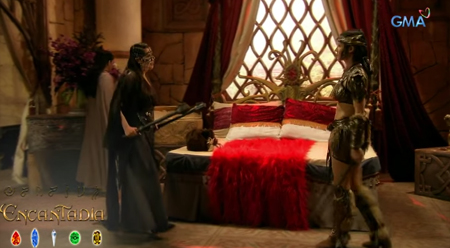 Danaya didn't let herself lose and told her, "Nauna ka nga, pero ako ang bago."
Lilasari then threatened Danaya, got her own arnis, and told the Sang'gre, "Tignan na lang natin kung sinong mas magaling sa atin!"
An arnis fight then ensued between the two as Pirena watched the two of them.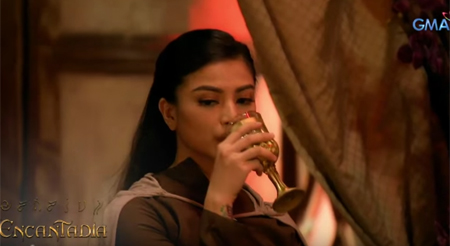 When Danaya attacked Lilasari from behind, the new queen got mad and almost removed her mask so she could turn Danaya into stone.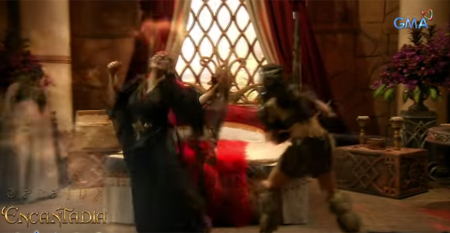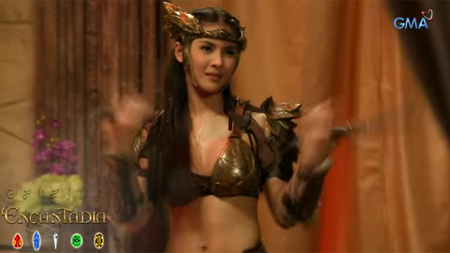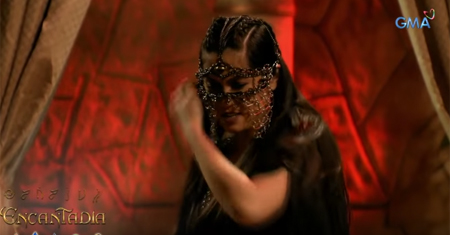 But before she can succeed, Pirena helped Danaya and both of them disappeared using their powers.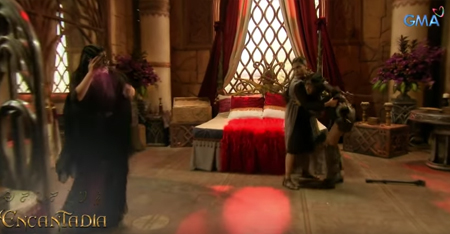 During the early parts of Encantadia's requel, Glaiza de Castro also had a short face-off with Sunshine Dizon, who played Pirena in the original version.
This time, Sunshine took on the role of Adhara, a new character in the series.
However, Adhara's character was killed because Sunshine had to prioritize her new afternoon drama series titled Ika-Anim na Utos.
Read: Sunshine Dizon's character dies in Encantadia; to star anew in infidelity TV show