No Sang'gre was killed in the January 23 episode of Encantadia 2016.
However, the #ApatNaSanggre episode presented more clues as to who might be killed on GMA-7's epic telefantasya.

A heartwarming reunion among the four Sang'gres Amihan (Kylie Padilla), Alena (Gabbi Garcia), Danaya (Sanya Lopez), and Pirena (Glaiza de Castro) happened at the start of the episode.
Pirena finally asked for forgiveness and admitted her shortcomings.
Amihan wholeheartedly accepted her sister's apology and even hugged her.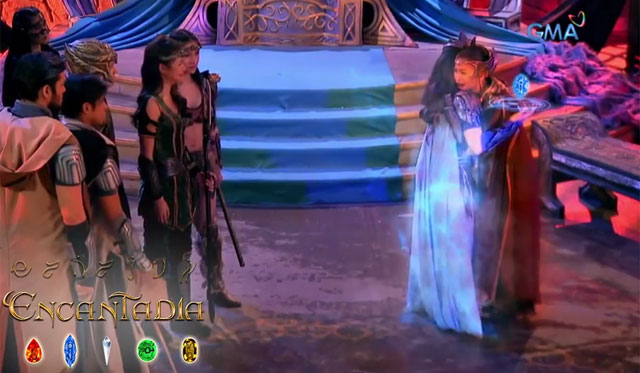 Pirena also returned the gem of water to its rightful keeper Alena, after she stole it from the latter.
Danaya, however, wasn't totally convinced of Pirena's change of heart. She told Pirena she won't ask her to leave yet since they need each other badly.
True enough, the Hadezars arrived at Lireo and started fighting with the Sang'gres, Ybrahim (Ruru Madrid), Lilasari (Diana Zubiri), Hitano (Pancho Magno), Aquil (Rocco Nacino), Muros (Carlo Gonzales), and the Lirean soldiers.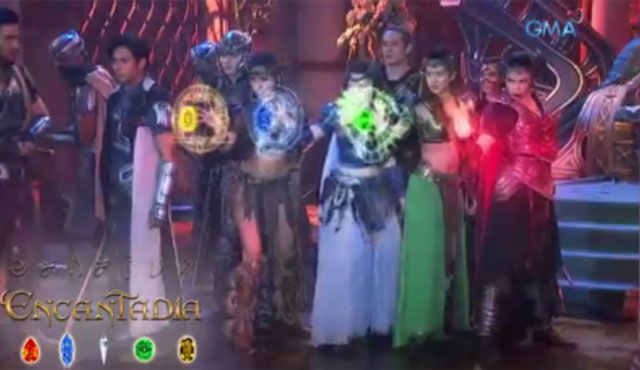 Since they are unable to kill the Hadezars, the Sang'gres flew to Sapiro.
Lira (Mikee Quintos) and Mira (Kate Valdez) were shocked to see Pirena with them. While Lira was happy by this development, Mira felt otherwise.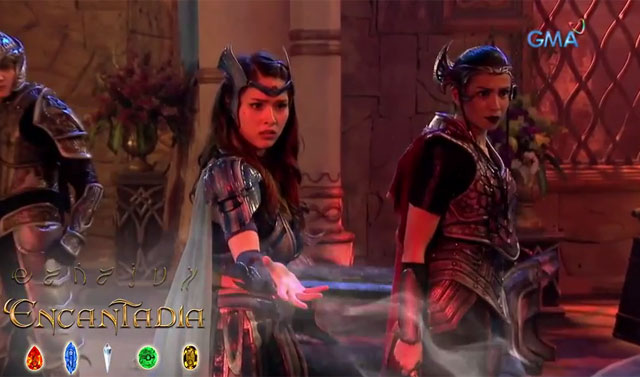 As a matter of fact, Mira was still mad at her mother and told Pirena that she cannot trust her again.
Later on, Aquil told Danaya that he is willing to sacrifice his life for Danaya's love. When they saw that Amihan overheard everything, Aquil corrected himself and said that he loves all the Sang'gres before leaving the two alone.
Danaya reminded her sister, "Hindi maaaring lagi na lang tayo tatakas kay Hagorn, may hangganan din dapat ang paghahabol nila sa atin."
Amihan confided to Danaya that she will proceed with her plan: she will sacrifice her life and fight with the Hadezars to save Encantadia.
Amihan explained, "Mangyayari lang yun kung madadaig natin sila. Madadaig lang natin sila kung isasagawa natin ang aking balak.
"Mas higit na mas madali yun kesa agawin natin kay Hagorn ang kanyang mga brilyante upang mapalakas tayo. Mahihirapan lang tayong gawin yun lalo na't nakapaligid sa kanya ang kanyang mga Hadezar."
Danaya then suggested that somebody must do it aside from her.
But Amihan contradicted: "Sino ang uutusan natin Danaya? Wala. Ako lang ang gagawa nito dahil ako ang reyna, at dahil tama ka Danaya, hindi maaaring palagi na lang tayong tatakas kay Hagorn. Kailangang magwakas ang kasamaan niya."
Based on her declaration, it seems like Amihan's decision is final. "Isasagawa na natin ang aking plano upang magawa ko ang aking tungkulin bilang reyna."
Amihan also asked Danaya to look after her daughter Lira once she dies. "Gagawin ko ito para sa Lireo, at para sa mga diwata. Hindi maaaring mapabagsak tayo, hindi maaaring matalo ang Lireo."
Little did they know that Alena overheard everything.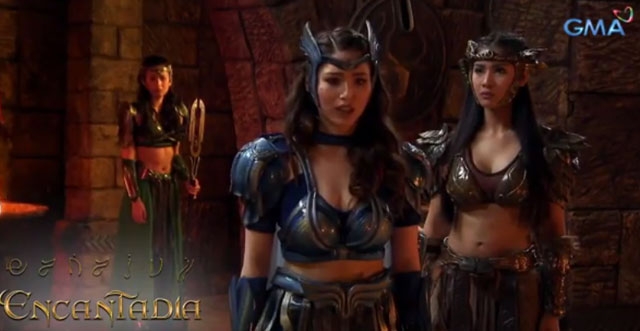 Danaya even tried to change Amihan's mind but the latter said, "Hindi ka maaaring tumutol. Utos ko sa 'yo ito bilang reyna!"
Just in time, Hagorn and his army of Hadezars arrived in Sapiro. Ybrahim and other Sapiryans faced him, but Hagorn asked for Amihan's presence.
When Ybrahim called Amihan, he told the Queen of Lireo that he will join her in facing Hagorn and the Hadezars but Amihan refused to accept his offer.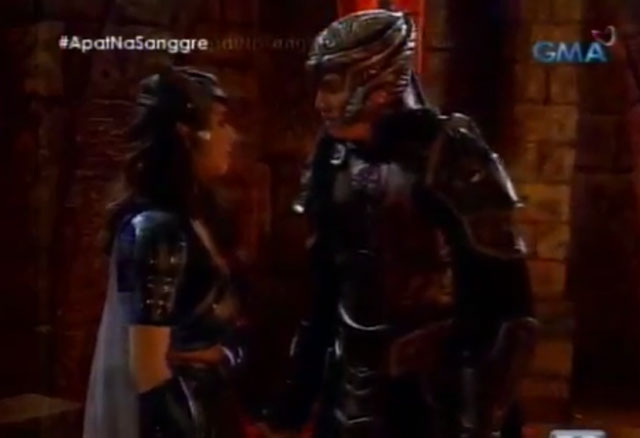 She touched his face tenderly as she said, "Ako lang ang haharap kay Hagorn. Huwag mo na akong alalahanin Ybrahim, mag-iingat ako."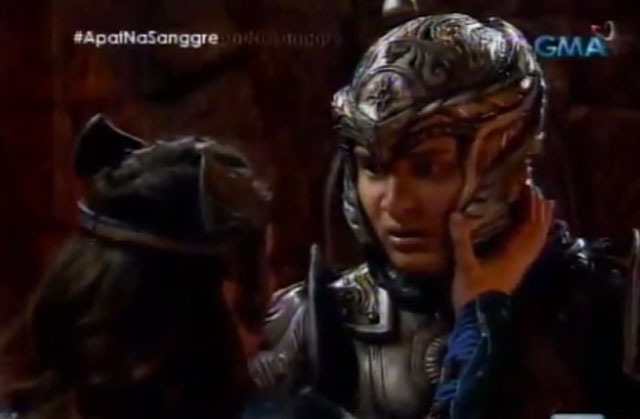 The Ybramihan tandem hugged each other.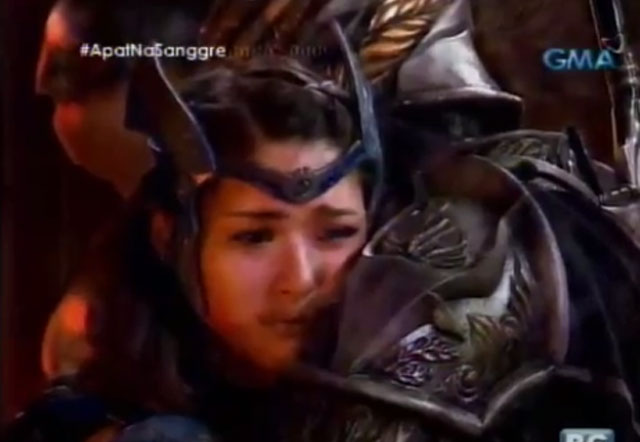 In the teaser for the January 24 episode, Cassiopea (Solenn Heussaff) was given a warning that a Sang'gre will die but she cannot see who among the four sisters would perish.
Alena also told Pirena what she overheard from Amihan and Danaya's conversation.
Amihan is also set to say her goodbye to Ybrahim and tell him that she loves him very much.
Meanwhile, Encantadia posted another teaser on their Facebook account indicating the death of a Sang'gre.



KANTAR NATIONWIDE. On January 23, PEP.ph (Philippine Entertainment Portal) reported that Kylie Padilla is pregnant with her child with Aljur Abrenica.

Did this result into a spike in the viewership of the Pinoy teleserye Encantadia?

Based on Kantar Media-TNS data, the Kapuso telefantasya showed steady performance compared to previous episodes.

On January 23, Encantadia was able to get a national TV rating of 25.6% while ABS-CBN's Ang Probinsyano got 37.8% nationwide.

This is not far from the rating it got last Friday, January 20. On that day, Encantadia registered 25.4% nationwide while Ang Probinsyano got 36.8%.

The January 19 rating of Encantadia was 23.8% while Ang Probinsyano got 37.3%.


AGB NUTAM. This Friday, January 27, AGB Nielsen released the Nationwide Urban Television Audience Measurement (NUTAM) ratings data for January 23.

On the day that Kylie's pregnancy was announced, Encantadia got 26.6%.

Ang Probinsyano, on the other hand, got a NUTAM rating of 24.4%.

This means Encantadia increased by 3.5 points compared to its previous episode.

On the January 20 episode, Encantadia got a rating of 23.1%.

Meanwhile, its Kapamilya counterpart, Ang Probinsyano, got 22.8%.

On January 19, Encantadia 2016 got a rating of 23.9% while Ang Probinsyano registered 23.6%.

To learn how GMA-7 deals with a crisis, read Part 1 of PEP's special report: