The creators of Encantadia lived up to their promise that the requel (remake + sequel) will differ greatly from the original version aired in 2005.
Director Mark Reyes and headwriter Suzette Doctolero came up with several plot deviations for this new version.
In September 2016, PEP.ph (Philippine Entertainment Portal) already listed down 10 deviations of the requel from its 2005 version when the series entered a new chapter.
Even though there were new tribes and characters introduced on the show, Encantadia often incorporated elements resembling those from the original version.
As GMA-7's epic telefantasya airs its finale this Friday, May 19, PEP lists down 10 more major changes that were not in the original version:


1. YbraMihan vs. AleBarro
In the beginning, Ybarro (Ruru Madrid) fell in love with Sang'gre Alena (Gabbi Garcia). However, it was later revealed that Ybarro is Ybrahim, the missing heir of the King of Sapiro. Ybrahim is destined to be the father of Sang'gre Amihan's (Kylie Padilla) daughter.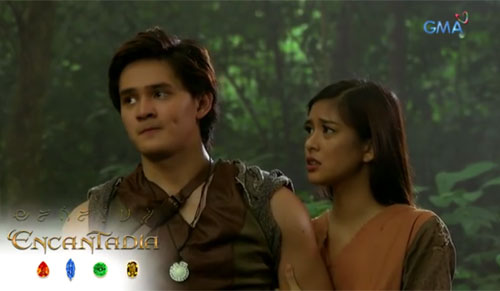 Ybarro later on disappeared while Alena was believed to be dead.
These same events also transpired in the original version with Dingdong Dantes as Ybarro/Ybrahim, Karylle as Alena, and Iza Calzado as Amihan.
However, in the 2005 version, Amihan and Ybarro did not fall in love with each other, and Alena and Ybarro experienced everlasting love until their death.
In the 2016 version, Alena temporarily became a turtle after being wounded in a battle with Hagorn. Her absence in Encantadia paved the way for a romance between Amihan and Ybrahim to take place.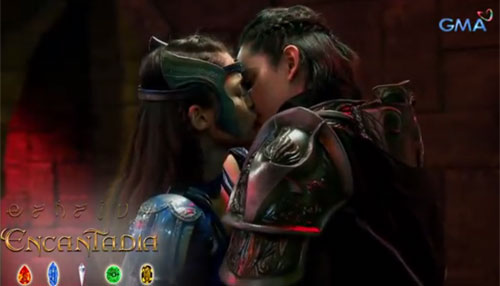 Unfortunately, Ybrahim and Amihan's romance ended abruptly when Amihan was killed by Hagorn.
Meanwhile, Alena had a new suitor, the Adamyan Memfes (Lance Serrano).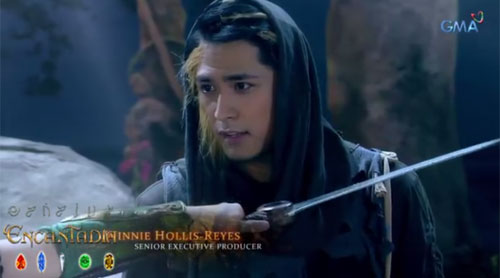 2. The death of Amihan
In the original version, Amihan (Iza Calzado) was killed by Asval (Bobby Andrews) after he stabbed her using the Kabilan (powerful sword in Encantadia). However, when she woke up in a dream, Amihan believed that it is not yet her time to die which is why her soul transported back to her body.
She later on saw her palm without lines, signifying that she is now bound to make her own destiny.
In this new version, Amihan (Kylie Padilla) was killed by Hagorn (John Arcilla) when she sacrificed herself for the greater good of the kingdom.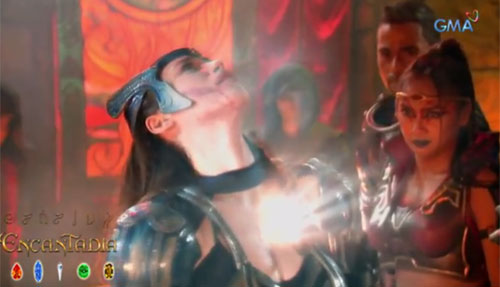 It was believed that Amihan had to be killed in the show because Kylie was pregnant in real life and she could no longer perform strenuous fight scenes.
After her death, Amihan found herself in Devas and asked Bathalang Emre for her to return as an ivtre to kill Hagorn's camp.
Emre showed Amihan her palm without lines, saying that she will now create her own destiny.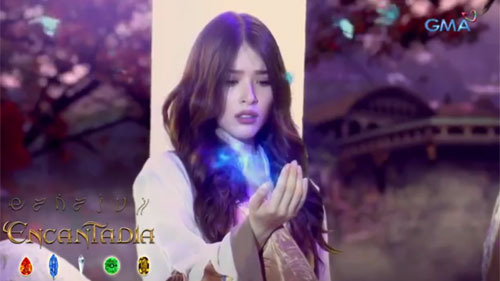 Amihan then returned to Encantadia together with Kahlil (Avery Paraiso) as ivtres to kill the Hadezars and restore peace in the kingdom.
After Amihan finished her mission, she returned to Devas and saw that her family are still suffering because of her death.
Amihan then decided that her ivtre must return to Encantadia through a Sarkosi or reincarnation. After eating a fruit, her spirit returned to Encantadia inside the body of a Punjabwe named Ariana (Arra San Agustin).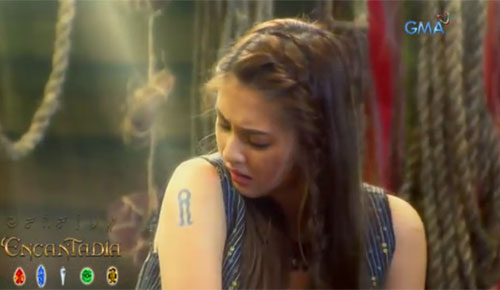 3. The death and resurrection of Pirena
Pirena (Glaiza de Castro) died when the curse of Bathalumang Ether took an effect on her. This was after she killed her father Hagorn (John Arcilla).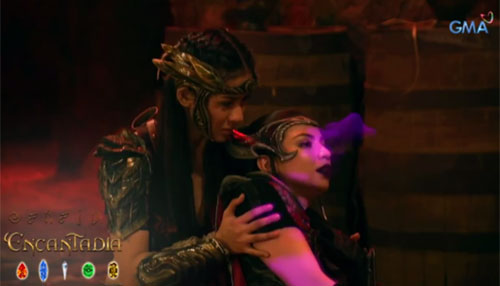 Prior to this, when Pirena was still treated as an enemy in Lireo, she asked powers from Bathalumang Ether.
The Bathaluman gave her powers with the condition that she will die once she kills her father.
However, after a battle between Bathalang Emre and Ether, the latter revoked her curse and brought Pirena back to life.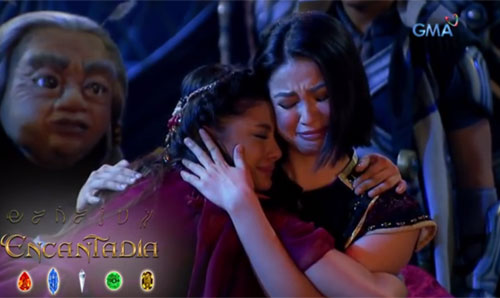 In the 2005 version, Pirena (Sunshine Dizon) was killed by Asval (Bobby Andrews). Since she did not release the fire gem, Encantadia was deprived of light and heat.
Unlike the 2016 version wherein she died because of her father, Pirena was brought back to life because of the touch of Hagorn (Pen Medina).


4. DanQuil's love story
Danaya (Sanya Lopez) and Aquil (Rocco Nacino) fell in love with each other despite their different status in life. Danaya is a Sang'gre while Aquil is a Lirean warrior.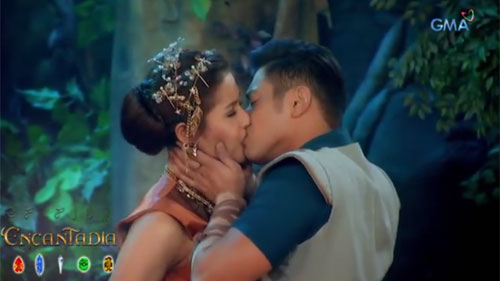 However, their love story was cut short after the death of Amihan (Kylie Padilla) and Danaya was crowned as the new Hara (Queen) of Lireo.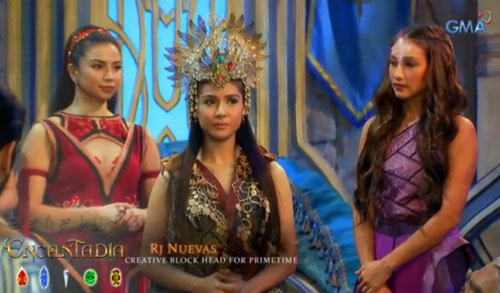 It is a rule in Encantadia that a Hara is not allowed to fall in love since she should only devote her time and responsibility to taking care of the kingdom.
Danaya suffered from being a queen since she had to suppress her love for Aquil.
In the original version, Danaya (Diana Zubiri) and Aquil (Alfred Vargas) had a blooming romance until Aquil was killed in the final war.
Since Aquil died, there was no more hindrance for Danaya to be crowned as the new Queen of Lireo.


5. Pirena and Azulan's love affair
After years of being alone and eventually finding peace at becoming the Hara of Hathoria, Pirena (Glaiza de Castro) found her love interest: the Punjabwe Azulan (Marx Topacio).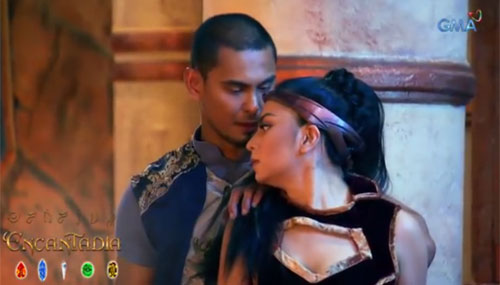 They had a cat-and-dog relationship when Azulan was new in Lireo. Eventually, the two fell in love.
However, Pirena set aside her feelings by fighting with Hagorn and recovering from the loss of her daughter Mira (Kate Valdez).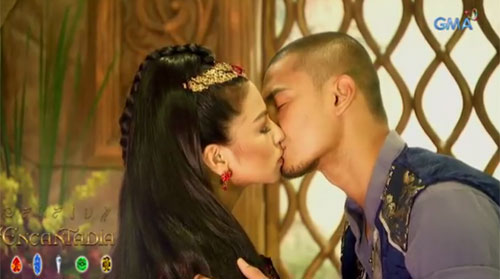 In the first version, Pirena never had a love interest. Instead, the Punjabwe Azulan (Jay-R) showed affection and fondness for Amihan (Iza Calzado).


6. The return of Etherians
In the original version, the four Sang'gres travelled back to the ancient Encantadia after the last Sang'gre Cassandra (Ella Guevarra) was lost. The four Sang'gres attempted to destroy the Ginintuang Orasan so that the evil Queen Avria (Francine Prieto) won't succeed in her century-old plans.
After Etheria's downfall for the second time, Avria and her Herans got resurrected when Cassandra broke a crystal ball and wounded her. The blood from Cassandra's wound revived the Herans.
In the new version, Avria (Eula Valdes) was brought back to life by Bathalumang Ether by using the blood of a diwata. Ether also used the corpse of Agane (Rochelle Pangilinan) to house the soul of Andora.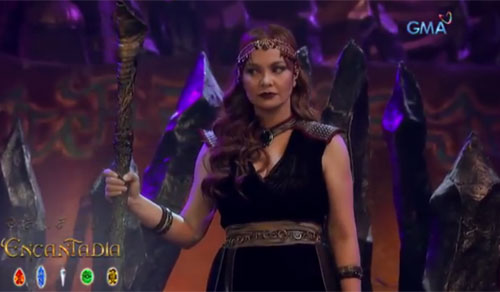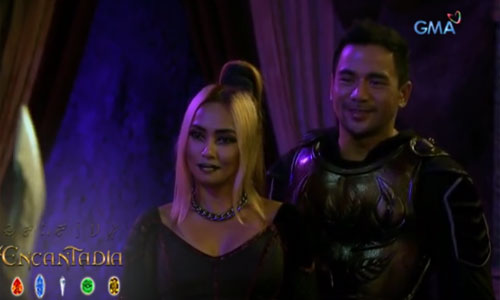 Avria then used the Ginintuang Orasan to bring back other Herans Odessa (Sheree) and Juvila (Jinri Park).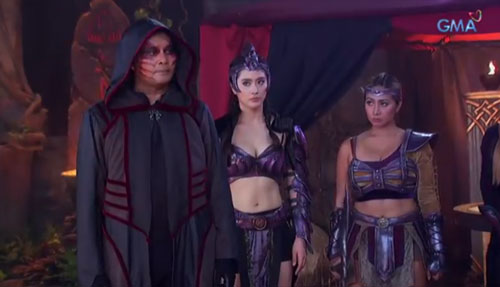 7. Ynang Reyna Mine-a's return
Years after her death, Reyna Mine-a (Marian Rivera) was brought back to life by Ether and Arde to use her to fight against the Sang'gres. Mine-a then became the Mashna (head) of the Etherian warriors.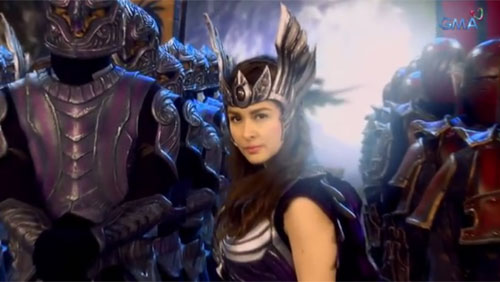 However, her memories were erased, which is why she did not recognize her daughters and even tried to kill them.
Imaw tried to help Mine-a remember her daughters through the use of her powerful "tungkod." But Mine-a wouldn't believe him.
When Hagorn (John Arcilla) instructed Mine-a to kill her daughters, she realized that Hagorn could be fooling her and that the Sang'gres are indeed her daughters.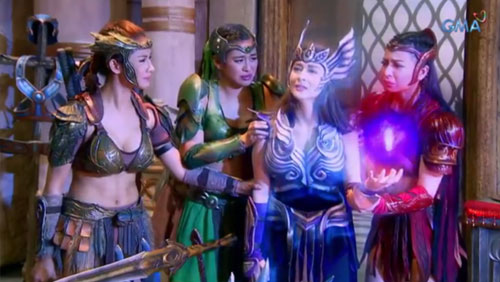 In the end, Mine-a decided to kill herself as a sacrifice for her children to be safe.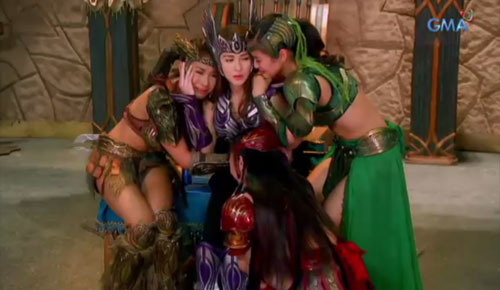 In the original version's third chapter, Mine-a (Dawn Zulueta) returned from Devas to warn her daughters about an impending danger in the kingdom.
She gave a crystal ball to Cassandra as a toy.
It was later revealed that Ether only disguised as Mine-a so that she can give the crystal ball to Cassandra and eventually revive the other Herans.


8. The death of Mira
Mira (Kate Valdez) met a tragic death when Asval's (Neil Ryan Sese) army captured her and Lira (Mikee Quintos) from the turf of the trainee-guardians of the gems.
Asval first tortured Mira and stabbed her at the back. She was then killed when Asval slashed her neck.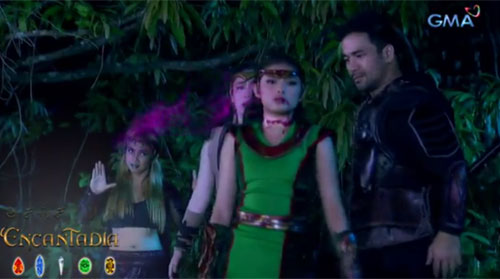 However, in the last few episodes of Encantadia, Bathalang Arde revived her for Hagorn (John Arcilla) to use her and Lira as captives.
In the original version, Mira (Yasmien Kurdi) was also stabbed to death by Asval (Bobby Andrews) while Pirena (Sunshine Dizon) was trying to save her.


9. The death and resurrection of Lira
In the new version, Lira (Mikee Quintos) was killed by Asval (Neil Ryan Sese) through several gunshots, after they captured her along with the other tagapangalaga.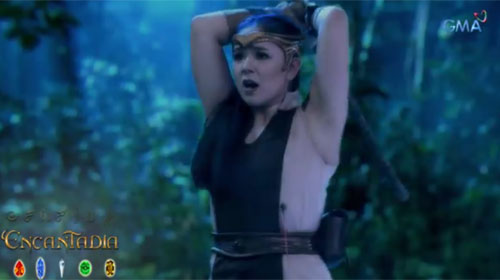 Her love interest, Wahid (Andre Paras) was also killed.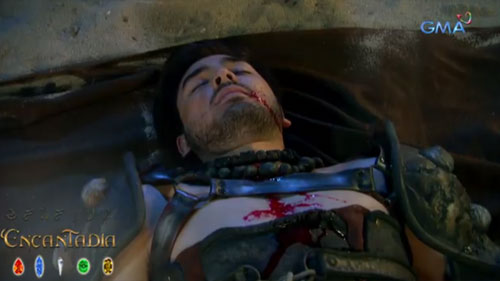 She was later on brought to life by Arde along with her cousin Mira by Bathalang Arde.
In the 2005 version, Lira (Jennylyn Mercado) was about to be proclaimed as the new Queen of Lireo. However, she refused since she wanted to stay in the mortal world to be with her one true love, Anthony (Mark Herras).
When Anthony died of old age, Lira asked Cassiopea (Cindy Kurleto) to grant her the sleep of mortals.
Years after, while Lira is in Devas, she felt that her daughter Cassandra (Ella Guevarra) needed a mother's love. She then returned to Encantadia without Bathalang Emre's consent and took care of Cassandra. Amihan (Iza Calzado) later on asked them to stay in the mortal world so that they wouldn't get involved in the war in Encantadia.


10. The Tagapangalagas and other new characters
Setting itself apart from the 2005 version, Encantadia 2016 introduced a lot of major characters aside from those already mentioned in PEP's previous list.
One of those is Lilasari, played by Encantadia 2005 actress Diana Zubiri. Originally an enemy, she has the power to turn a diwata into stone by looking at her face.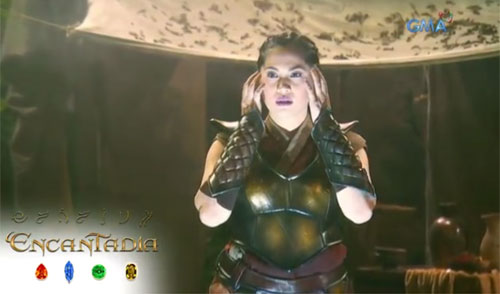 Lilasari later on conceived a daughter with Hagorn named Deshna (Inah De Belen). Deshna was later on called to be the new guardian of the fire gem.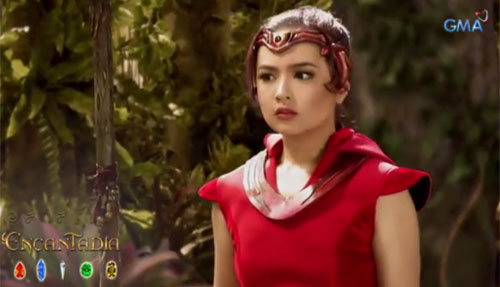 The human child Paopao (Yuan Francisco) returned to the mortal world. However, when he grew up as a teen (Phytos Ramirez), he was called to return to Encantadia and serve again as the guardian of the fifth gem.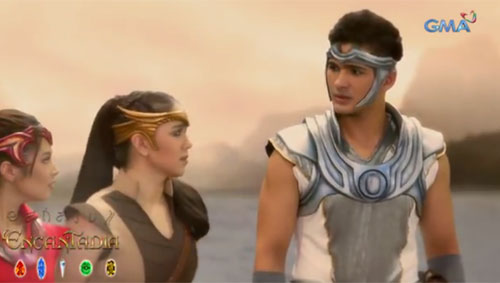 Later in the story, the lambana Muyak (Klea Pineda) also resurfaced (now in human form) to become the new guardian of the air gem.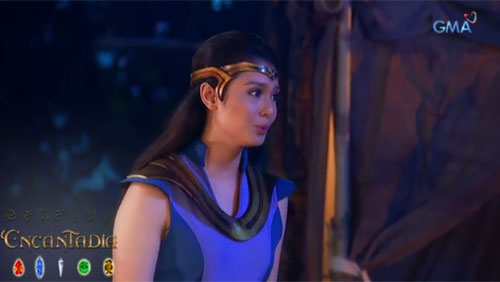 New Bathalas were also introduced such as Bathalang Keros (Ian De Leon) and Bathalumang Haliya (Valeen Montenegro).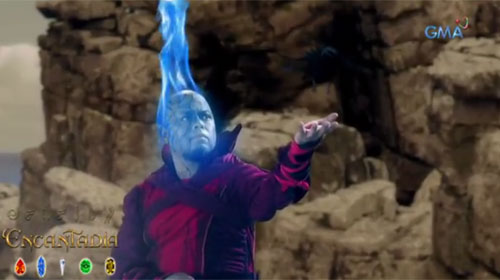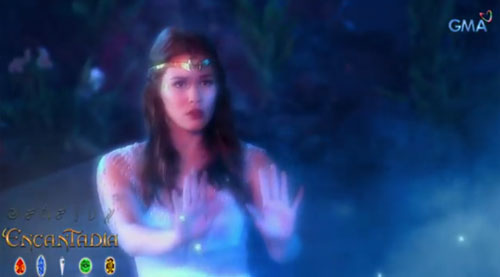 The father of Mira (Ken Alfonso) also returned as an ivtre and his identity was revealed as Gamil.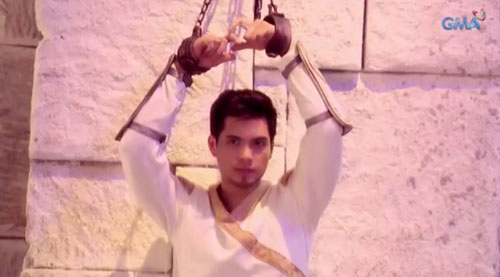 As Encantadia's requel comes to an end this Friday, May 19, viewers will have to see if this version will also deviate from the show's original ending aired eleven years ago in 2006.


To view the part one of this list, read: 10 deviations of Encantadia 2016 from original version

PEPsters, what can you say about the changes made in Encantadia 2016?
Share your thoughts in the comments section below.