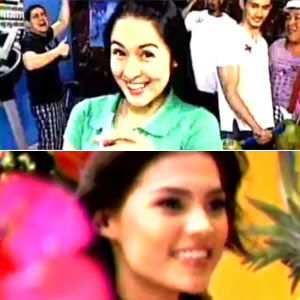 ---
For those in GMA-7, being together is what matters.

In 2007, GMA-7 declared "sama-summer tayo together" with their "Sumamer Ka Na!" campaign. The following year, the Kapuso Network affirmed the strengthening of this formed samahan through their "Umiinit ang Samahang Kapuso" station ID. Last year, Marian Rivera led an ensemble as she encouraged everyone to enjoy the summer season via the "Sabay Sabay Tayo" music and dance video.

For 2010, on its 60th year, GMA-7 chose to stick to this same commitment of togetherness. Through this summer's "Sama-Summer Tayo" station ID, it continues to live its promise of sticking with the Kapuso populace, come what may, through thick and thin.


The song in its 2010 summer station is performed by Jay-R and Kyla, with lyrics by Leah Pajarillo. Titled "Sama Summer Ka," this song is composed by Charlie Teodoro and arranged by Simon Peter Tan.

Being "Sama-sama" has been a constant theme in most of GMA-7's station IDs. Remember last year's Christmas Station ID? "Sama-sama tayong mag Pasa-Love ngayong Pasko" was its main message. Maybe it is for consistency. Maybe it is to highlight the network's core value. But having seen and heard this same message for the past many years lessens the impact and novelty of this year's summer IDs. There are actually several station IDs this year because GMA-7 is airing several versions, depicting different genres: there is one for comedy, one for loveteams, one for game shows, among others.

For the comedy group for instance, they have "Sama-Summer Tayo sa Kulitan" featuring the stars from their sitcom, gag show, comedy chat show and syndicated programs, having fun and kulitan together. For the drama group, they came up with "Sama-Summer Tayo sa Pag-Ibig," showing tender moments from the Kapuso love teams and soap opera stars. Another version shows Dingdong Dantes representing the game shows with "Sama-Summer Tayo sa Tagumpay."
ADVERTISEMENT - CONTINUE READING BELOW

Each version is accompanied by the Sama-Summer Tayo theme with customized lyrics to suit the station ID's mood. The said theme sung by the reliable Kyla and Jay R sounds good and enough, to get the viewer into the summer mood. The light and ear-friendly vibe of the song is one of the strong points of the summer campaign. Sadly, it looked as if the visuals are not enough to get the viewer into the season's happy, carefree and festive spirit.

Case in point, all the artists in the versions mentioned above were shown simply eating and/or drinking (with the exception maybe of a pair of drama actors playing chess). Surely, they could have shown "pag-ibig" in ways other than the Aljur Abrenica and Kris Bernal eating fruits together or Rhian Ramos having a refreshing drink with her hair being blown by the wind. The "kulitan" of the comedy stars likewise do not look natural and spontaneous enough, something the Bubble Gang cast could easily achieve with their tested on-screen chemistry and genuine rapport.

It also did not help that the artists were shot in already familiar environments (i.e. the studios of their very shows) given that the campaign's message wasn't something new either. This weakens the Sama-Summer videos especially when compared to ABS-CBN's station ID that does not only show stars engaging in fun summer activities but shot in exotic locations such as a beach or a park.

Having said all that, GMA-7's summer campaign for 2010 could be their least memorable one in years. It does not have the grandiose production value and wow factor of the "Samahang Kapuso" ID they made in 2008. It lacks the silly yet natural fun of Sabay Sabay Tayo, and is not at par with the summer energy of Sumamer Ka Na.


It looks like this year, in the battle of summer station IDs, GMA-7 is in no fighting mood.
ADVERTISEMENT - CONTINUE READING BELOW