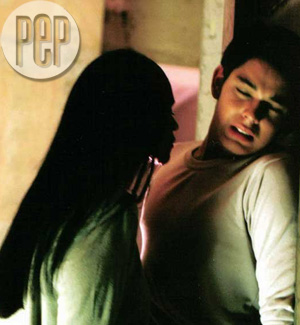 IMAGE 0
---
Regal Entertainment's Sigaw (2004) remains to be one of thecountry's most critically-acclaimed horror flicks. Directed by youngfilmmaker Yam Laranas, the film starred Richard Gutierrez, AngelLocsin, Jomari Yllana, and Iza Calzado.

Sigaw had also been exhibited in international film festivals with an English title of The Echo. It also won the best music award (for Jesse Lucas) in the Screamfest Horror Film Festival in Los Angeles in 2005.

Two years after its first release, the film will now be remade in Hollywood with Yam Laranas still directing and The Echoas its official title. The rights of the film were acquired by VertigoEntertainment from Lily Monteverde's Regal Entertainment.

According to twitchfilm.net, "Yam Laranas will begin shooting The Echothis coming March [2007]. The film is a remake of Sigaw, the Filipinohorror film that first drew Laranas international recognition and itlooks as though they're doing this up right. Not only is Laranas at thehelm for the English language version of his own film but he has beenheavily involved throughout the development process and the core storyhas been left intact. Laranas is simply a hugely gifted film maker-agenius when it comes to manipulating light, texture and tone-and thisshould be his well-deserved introduction to the English-speaking world..."

The Hollywood Reporter also ran a story written by Boris Kit last November 7 about the Hollywood remake of Sigaw. Here is the complete report:

Vertigo Entertainment will produce The Echo, a remake of the acclaimed Filipino thriller Sigaw. Yam Laranas, who co-wrote and directed Sigaw, will direct the movie, being written by Eric Bernt.

The story revolves around a young ex-con who moves into an oldapartment building, only to learn his neighbor is an abusive policeofficer who savagely beats his wife and daughter. When the ex-con triesto intervene, he becomes trapped in a curse.

Vertigo plans to move quickly with the film, eyeing a March 19 start date.

Vertigo's Roy Lee and Doug Davison will produce with Shintaro Shimosawa and Tyler Mitchell.

The rights were acquired from Regal Films of the Philippines.

The film is being fully financed by venture capitalist Robert Hoffthrough his new company RightOff Entertainment. Hoff, who fullyfinances the U.S. Olympic ski team, has been a general partner atCrosspoint Venture Partners since 1983, and was honored this year bythe Los Angeles Venture Assn. with a Lifetime Achievement award. Heserves as exec producer.

Bernt, repped by Endeavor, recently wrote The Hitcher remake for Rogue and Platinum Dunes. He also will serve as an exec producer.

Laranas is repped by ICM.

Vertigo, which is behind the remake franchises of The Ring and The Grudge film series, is basking in the glow of the success of Martin Scorsese's The Departed. The company is in production on The Strangers for Universal, Sassy Girl for Gold Circle and Addicted for the Yari Film Group. Vertigo's next release will be the Nicole Kidman starrer The Invasion.
ADVERTISEMENT - CONTINUE READING BELOW