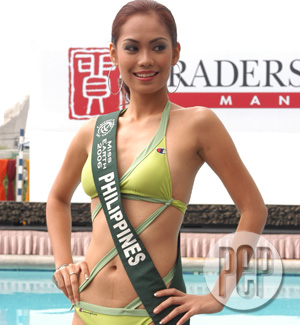 IMAGE 0
---
Filipinos can once again appreciate world-class beauties as thecandidates of Miss Earth 2006 actively campaign for this year'sselected theme—the issue of global warming.
Around 70 of the 89 Miss Earth 2006 candidates were presented to themedia at the Traders Hotel in Roxas Boulevard last November 9. Clad inidentical two-piece bikinis, the contestants displayed not only theirstunning looks but also their concern for the environment.
Carousel Productions Inc., the organizer of this environment-orientedbeauty pageant, focused on the issue of global warming in order toshift the people's perception of global warming from an abstract threatto a pressing reality. The pageant was supposed to be held outside ofthe country for the first time in its six-year history.
Originally, this year's Miss Earth competition was supposed to takeplace in Santiago, Chile. However, according to Peachy Veneracion,vice-president and project director of Carousel Productions, organizersin Chile failed to meet the August 29 deadline with regards to hotelbookings and media coverage. For this reason, Carousel Productionsdecided to let the Philippines continue to host the competition.
ADVERTISEMENT - CONTINUE READING BELOW
Miss Philippines Air 2006 Ginger Anne Conejero and Miss PhilippinesEcotourism 2006 Reena Sarmiento hosted the press presentation.
Not surprisingly, the Philippines' representative to theenvironment-oriented beauty pageant, Catherine Untalan, received theloudest applause. The six-foot tall Psychology graduate of theUniversity of the Philippines pointed out that "even burning garbagealone is harmful for our country."
Aside from Untalan, another candidate with Filipino blood is Ms. EarthCanada Riza Raquel Santos. Addressing the crowd in Tagalog, Riza toldthe local media that her father hails from Bulacan.
The Miss Earth candidates are also expected to help campaign thePhilippines as a competitive tourist destination. Their presence intourist spots such as Coron, Palawan; Batangas; Laguna; Lucena;Pampanga; and Quezon province is expected to generate global attentionto these destinations.
The coronation night for Miss Earth 2006 is scheduled for November 26at the National Museum Agripina Circle in the City of Manila. It willbe televised nationwide on ABS-CBN at 9:30 PM and broadcast worldwidethrough Star World and The Filipino Channel.
ADVERTISEMENT - CONTINUE READING BELOW
The reigning Miss Earth, Alexandra Braun Waldeck of Venezuela, will crown her successor during the event.
Now on its sixth edition, Miss Earth has become the third largestbeauty competition in the planet, after Miss World and Miss Universecontests. The titles of the winners are named after natural elements,namely: Miss Fire (equivalent to third runner-up), Miss Earth Water(second runner-up), and Miss Earth Air (first runner-up) while thegrand winner is crowned as Miss Earth.