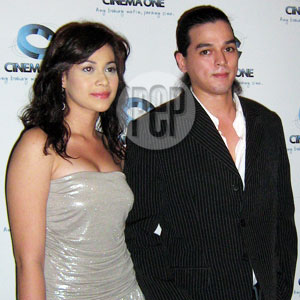 IMAGE 0
---
Miko Palanca reveals the real score on his relationshipwith Bea Alonzo! In a PEP (Philippine Entertainment Portal) interviewwith Miko during a press conference for Star Magic artists last night,December 11, in ABS-CBN, the actor was pretty open about courting StarMagic's important talent, Bea Alonzo.
It Might Be You. It's been three years since speculation on the Miko and Bea romance brew. It started on the set of their soap It Might Be You---theseries which top-billed the Bea Alonzo and John Lloyd Cruz love team.Miko played Bea's childhood friend and John Lloyd's rival.
"We were working together, tapos even after when ourshow ended, we would still keep in touch," recounts Miko. "We neverlabeled whatever it is we have now. We're more than friends. We'redating, but it just started happening more and more these past coupleof months. We've been seeing each other a lot more."
Both private people, Miko and Bea recently admitted to the public that they are indeed exclusively dating.
"I've always been a private person kasi e," says theactor. "But you know, I just felt na there's no point in hidinganything because we're both very happy."
Beautiful Bea. When asked to describe Bea, Miko lists down her good qualities. The quiet actor is obviously smitten.
"She's a very sweet girl," he starts. "She takes care ofthe people around her. She's obviously very beautiful. She's gotqualities that I look for in a girl---simple, down to earth. All thesethings that I look for, nakikita ko sa kanya."
ADVERTISEMENT - CONTINUE READING BELOW
Marriage? While Miko's brother, BernardPalanca, chose to tie the knot with Meryll Soriano a few months intothe relationship, Miko says he is not going down that road any timesoon.
"No, no, no, no, no, no, no," exclaims Miko. "I'll tellyou right now that's far from what we're [Bea and I are] thinking. Itnever ever crossed our minds. Basta like I said, we're enjoying now.I'm enjoying her company. She's enjoying my company. We want to leaveit as that. Kaya hindi namin ni-le-label, kaya hindi naminpinag-uusapan...Basta't masaya kami. From here, eventually if thingsget better, then good, 'di ba?"
But is Bea wife material?
"I don't know what to say," he smiles. "If you thinkabout it, it is kinda early to say that. I'd like to think that kungtalagang umabot sa seryosohan, then sana ito na nga ang huli ko."
P.S. I love you. Some might be surprised but Miko has not said the three magic words to Bea.
"The feeling is definitely there," Miko says simply. "IfI say that word, I want her to be the first one to hear it from me. ButI definitely care about her a whole lot. I don't know...like I said,things are doing nice now. I don't know...maybe I'll say that tomorrow.Maybe tonight if I see her. I don't know. Bahala na when that moment'sthere.
"I don't wanna take it for granted. And I don't want nasabihin ko lang 'yon, tapos biglang ano...We gotta be sure about theway we feel," Miko adds.
ADVERTISEMENT - CONTINUE READING BELOW