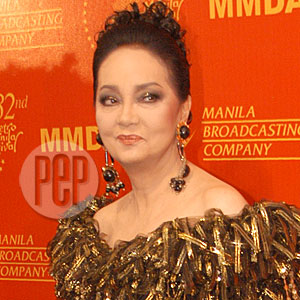 IMAGE 0
---

Veteran actress Celia Rodriguez stole some of the thunder from the Gabi ng Parangal of the 32nd Metro Manila Film Festival when she spewed biting remarks about the controversial awards show.
"Pareho tayong maganda. Pareho tayong hindi gumagapang ng award," Celia said to Rustom Padilla when they presented the Gatpuno Villegas Cultural Award last night, December 29.

And that was not the end of it.
When Rustom announced Kasal, Kasali, Kasalo as the winner, Celia's face was clearly filled with displeasure and doubt before she threw the index card she was holding.
Manay Celia, who is known for her elegance and frankness, was one of the best-actress nominees for her performance in Cesar Montano's Ligalig. The veteran actress lost to young superstar Judy Ann Santos of Kasal, Kasali, Kasalo.
Celia's side comments and actions surprised many present at the Aliw Theater where the awards night was held.
When PEP (Philippine Entertainment Portal) cornered her for an exclusive interview right after the awards ceremonies, Celia spewed even more fiery words:
"As far as I'm concerned, Ligalig is the best picture. But then, we have different frame of mind, different choices. Hindi ko masabing kung ano gusto ko, gusto rin nila. Pero if you are a filmmaker—I've been in this business for over 50 years—I know what a basura is and I know what is a good picture. And I will not specifically tell you which is basura and which is not. All I know is that Ligalig should win the best picture."
ADVERTISEMENT - CONTINUE READING BELOW
When asked if she's going to do a film intended for the film festival next year, the fiery actress answered, "Why not? I'm an actress. Why shouldn't I join? But I want it honestly done and truthfully done, walang gapangan. Hindi puwede yung ganun."
She continued, "There's a movie that didn't even win a category na [Cinema Evaluation Board's] Rated A. Then, merong ni walang rate, napakapangit, bakit may mga award? Walang rate, bakit nanalo ng award? Hello!
"Mali yun, hindi puwedeng ganu'n. And my God, 2007 na tayo, gapangan pa rin tayo nang gapangan! Niloloko n'yo ang sarili n'yo! I [will] not in...conscience...receive an award that I bought because I will only be fooling myself. Hello!"
40 PERCENT OF THE CRITERIA. Manay Celia also had something to say about the decision of the MMFF jurors to include box-office returns as part of the criteria in choosing the best picture winner.
"Now, when it comes to 40% of the gross, just because it went to Enteng Kabisote... No offense meant because these Sottos are my friends. But ibang category sana yung box-office hit, tapos Best Picture [iba rin]. E kung basura pala yung number one na one million a day, tapos ang pangit ng pelikula, will you give it the best picture [award]? Teka muna, this is not the end of it. You will hear more from me about that---that's wrong," she said angrily.
"Enteng Kabisote is three years [box-office winner], right? Did it ever win the Best Picture? Why are we encouraging the producers to make basura films? Bakit ngayon lang nanalong Best Picture? It has been number one for three years, bakit ngayon lang? There's something fishy going on. At saka yang festival na 'yan, peste 'yan!"
ADVERTISEMENT - CONTINUE READING BELOW
But Celia Rodriguez saved the worst for the 2006 MMFF jurors.
BOARD OF JURORS. "Change the board of jurors! Change them, that's the only way... People who know the industry, people who know what a good movie is, people who have knowledge in the movies. Hindi yung may MMDA na kung sinu-sinong pupulutin mo! Hello, hindi nga niya maayos ang traffic e!"
When PEP reminded the actress that there were two National Artists in the board of jurors, the veteran actress fired back: "Yes, but there are 12 of them! How can you win? Eddie Romero, my god...Bienvenido Lumbera! I respect them immensely. Eddie Romero is the only living National Artist [for film], what about the rest?
"If you are an MMDA officer, what are you doing in this film industry? You can't even fix the traffic, hello! How dare you clean the industry when you can't even fix the traffic? Yun lang. Change the jurors, please!"
ATTY. LAXA: Hours before the Gabi ng Parangal, PEP spoke to Atty. Expiridion Laxa, member of the MMFF executive committee and chairman of the Film Academy of the Philippines.
PEP asked Atty. Laxa if this year's awards night will be as controversial as last year's. It will be remembered that Regal Entertainment's Lily Monteverde and director Joel Lamangan questioned the results of last year's awards night.
"I don't think so," was the quick reply of Atty. Laxa. "Because for the first time in the 32 years' history of the Metro Manila Film Festival, there are two national artists [who are] members of the board of jurors, namely Eddie Romero and Bienvenido Lumbera. For the first time, member ng juror yung chairperson ng MTRCB [Consoliza Laguardia]. So prestigious yung composition of jurors this year."
ADVERTISEMENT - CONTINUE READING BELOW
Aside from those mentioned by Atty. Laxa, other members of this year's MMFF board of jurors are: Julie Borje, Chairman; Rolando Josef, MMDA Chief of Staff; Crispina Belen, entertainment editor of Manila Bulletin; Jess Navarro, Film Editors Guild President; Christine Dayrit, CEB Chairperson; Angie Magbanua, director and talent manager; Dero Pedero, composer-singer; and Jojo Pinga, MMDA Consultant.

This very same board of jurors that Atty. Laxa took pride in just hours before the results were announced is now being blamed for the "shocking" results of the 2006 MMFF Gabi ng Parangal.