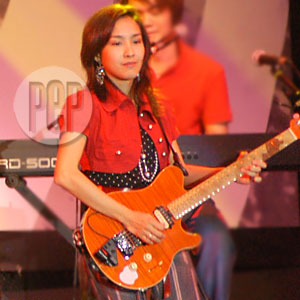 IMAGE 0
---

Singer Barbie Almalbis is now three months pregnant with her first child with husband Martin Honasan, son of former Senator Gringo Honasan. The couple got married on June 2006.
In a taped interview with S-Files last January 29, Barbie shared her first few months of pregnancy: "Minsan naninibago pa ako. Hindi pa namin alam kung ano ang specific changes na kailangang gawin sa lifestyle namin."
When asked to choose between a boy and a girl for their first born, Barbie replied, "Boy daw. Kung girl okay din."
Barbie revealed that she is craving for spaghetti or anything with tomato sauce.
"Siguro spaghetti. Kain ako nang kain ng may tomato sauce. Tsaka mangga," the expectant mom said.
Now that she's pregnant, people are asking Barbie if she is pushing through with her singing career.
Barbie said, "Lahat naman ipinapaalam ko sa OB [obstetrician]."
Although now heavy with her first child, Barbie will still be busy with her U.S. concert tour entitled Barbie Rocks USA: The American Tour 2007. The U.S. concert tour will kick off in San Diego on February 2. Barbie will also be performing in Los Angeles on Feb. 3 & 16, Las Vegas on Feb. 4, Chicago on Feb. 9, New York on Feb. 10, Baltimore on Feb. 11, and San Francisco on Feb.17.
The singer-composer is also set to conquer the Big Dome this coming March with Kitchie Nadal in Let's Rock Manila.
Barbie was a member of the now-defunct band Hungry Young Poets. She also became the lead vocalist of Barbie's Cradle before going solo. In her career as a musician, Barbie popularized songs like "Torpe," "Firewoman," "Tabing Ilog," "Limang Dipang Tao," "Money For Food," among others.