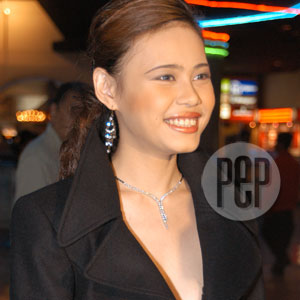 IMAGE 0
---
Criselda Volks, who was confident to answer all the 40 controversial questions, never had the chance to finish DJ Mo Twister's "Forbidden Questions" this morning because she uttered profane words twice.
First, the sexy actress was given a warning by DJ Mo for saying the "F" word after answering Charlene Gonzalez and Donita Rose as her girl crushes.
"Oh, man if I can only fu--," said Criselda, who was immediately cut in by Good Times hosts DJ Mo, Mojo Jojo, and sexy actress Maui Taylor—who took the post vacated by DJ Andi 9.
DJ Mo nervously said, "You almost said it, you almost said it! It's just the first two letters. Watch your language, though." He also warned Criselda that if she does it again, he would not think twice in discontinuing the game.
The question and answer portion resumed, and Criselda was doing well. In fact, the callers of the said program were commending the sexy actress for quickly answering the questions.
ADVERTISEMENT - CONTINUE READING BELOW
However, when it came to the celebrity e-mail question, where the guest has to create an e-mail for the names that DJ Mo mentions—Criselda, for the second time, uttered a swearword.
By this time, DJ Mo Twister had to stop his celebrity guest from answering the succeeding questions. Thus, making Criselda answer only 17 out of 40 "Forbidden Questions."
"Cris, I know you're having fun and I know we're having a good time, but I can't go on because you said a bad word again," said DJ Mo.
He further explained, "I know we're not graphic, but there are words that you cannot use on the radio. And when you said the first one... You said it once, if you say it one more time, I'm gonna say goodbye. We cannot do the show...We gotta have some sort of responsibility when it comes to this."
Criselda, on the other hand, just kept on apologizing, asking DJ Mo for another chance to go on and finish all the questions.
ADVERTISEMENT - CONTINUE READING BELOW
Meanwhile, aside from the controversy that Criselda has created during the show, the actress also showed her dislike for the Viva Hot Babes.
In fact, before the actual "Forbidden Questions" segment started, the sexy actress warned former Viva Hot Babe member Maui Taylor—who started joining Mo and Mojo Jojo last Monday—by saying, "Maui, I'm gonna hit on you."
Among the other Viva Hot Babes members that Criselda mentioned were Andrea del Rosario, Gwen Garci, and Sheree for being the "plastic people in showbiz." They are next to Lara Morena, who is on the top of her list. Also, Jen Rosendahl for having the "worst body odor," specifically bad breath.
She also named the Viva Hot Babes as the worst dressed celebrities. "They dress like they just came out from the province. They look like Japayukis when they dress up," described Criselda.
Other questions that Criselda dared to answer without hesitations were the following:
ADVERTISEMENT - CONTINUE READING BELOW
Worst billboard in EDSA? "The worst billboard in EDSA, I think, is every billboard of Kris Aquino. She is like endorsing products that... I don't know, I think she is fat and ugly. Although she's smart, but I think she is fat and ugly and she's not supposed to be on the billboard. She is only on the billboard because she is popular. That's about it."
Have you had one bad encounter with a celebrity? "I'm gonna say Gina Alajar, almost had a fight [with her]. Gina Alajar looks down on actresses who are starting out, who has got potentials [sic] but... As she says, 'I'm Gina Alajar, hello?' You know, 'Nobody can stop me, so whoever is lower than me or not as popular as me, I can yell at.'"
The sexy actress added, "Sorry, Tita Gina, but I just have to burst your bubble."
ABS-CBN or GMA-7, which is the better station? "The better TV station to me is GMA. Because ABS gets their groups of talent, they don't even look on who's good and who's not. And they just wanna get their own talents and build them up no matter how bad in acting they are. They just wanna earn all the money, man."
ADVERTISEMENT - CONTINUE READING BELOW
Do you have anything fake on your body? "No part of my body that is not real. Nothing made. Everything is real, 100 percent. I'm a hundred percent real."
Which celebrity couple do you think will not last? "Well, actually, me and Cris [Villanueva], obviously." Then, she added, "Anyone who goes out with Sam Milby won't last because once he meets me then... Though, he sucks because he always smiles."
Criselda also revealed that she has been offered an indecent proposal a lot of times. According to her, it went up to five million pesos. Asked if she accepted it, the sexy actress replied, "No, I didn't. Well, I have my own money now. If I was broke I would have accepted it, you know. I gotta be practical."