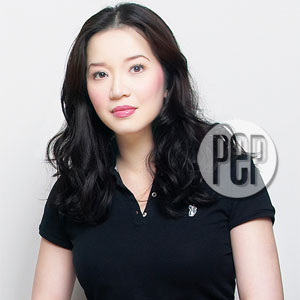 IMAGE 0
---
PEP (Philippine Entertainment Portal)received an unconfirmed report on February 28, that Kris Aquino was rushed tothe Makati Medical Center. The TV host-actress was said to have felt a suddenpain in her stomach.
It was the second time she is brought tothe hospital in a week.
On February 22, Kris was also brought tothe hospital due to "premature labor pains," which was caused bystress. In an interview with Korina Sanchez for The Buzz and RatedK that aired last Sunday, February 25, she revealed that the issuessurrounding her marriage with James Yap is affecting her pregnancy.
Kris said, "Kasi hindi naman poisang linggo o dalawang linggo lang ito, e. It's been a month."
Hope Centeno, a former employee of BeloMedical Group, admitted on national television that she allegedly had an affairwith James, and that she might be pregnant.
James denied Hope's allegations. Krischose to stand by him.
The seven-month pregnant Kris said,"How dare you say sorry to me now? Na umibig ka lang? May lakas ka ng loobna humarap sa TV at magsasabi ka talaga na wala kang masamang intensyon.Unang-una, nagtangka ka nang mang-agaw ng asawa, hindi pa ba masama 'yon?
"Pangalawa, kinalimutan mo, I amseven months pregnant. There's an innocent life inside of me, na kung ako langito talaga, alam mo—nung narinig ko si Boy [Abunda], totoo, e—patas ang labansana. Kaya kong lumaban, kaya kong humarap, kung wala akong dinadala, but I ampregnant. All this stress, all this pain,hindi naman sa akin to napupunta, e, sa bata."
OFFICIAL STATEMENT. Yesterday, Kris gave anofficial statement through The Buzz, an entertainment talk show sheco-hosts with Boy Abunda and Cristy Fermin, regarding her current healthcondition, her take on the issues surrounding her marriage, and her leave ofabsence.
ADVERTISEMENT - CONTINUE READING BELOW
"I'm writing this while still confined in Makati Medical,fearful about the condition and the ultimate survival of my son. Scared about how I'll make it through the coming months ofcomplete bed rest, the truth is the one place I've always felt invincible wasinside the studio. It is where I could excel; where in spite of my deepesthurts I could have several hours of joy. My safe haven because I loveinteracting with my guests and my players, and my staff showered me withsupport and care. Now, even the work that I've done on a daily basis is beingtaken away from me."
"I had a very different piece writtenyesterday afternoon. I have submitted it to Louie, our TV head, for reading of TheBuzz today. It is after he left that I read in my book, Beauty forAshes: Receiving Emotional Healing by Joyce Meyer (a Christian ministerwith a world-wide following), 'If we want to forgive and recover from hurts andwounds, we must not talk loosely about the problem or the person who causedit.' Further she wrote, 'If you want to get better, you cannot be bitter.'
"Lastly and most important to me in my life, Joyce Meyerwrote, 'Why does God make us wait for healing? Waiting is the difficult part.How well we wait reveals whether we have faith in God.'
"Faith in God's plans for tomorrow is the one thing I haveleft. I believe that God didn't put me and Baby James in our current situationif we won't eventually be in a much better place. The next few months are atest we must endure to determine how good that place will be.
"Last Wednesday night, I camedangerously close to delivering Baby James at only 29 weeks. My contractionswere coming very strong, coming at 3-4 minute intervals.
ADVERTISEMENT - CONTINUE READING BELOW
"My baby's heartbeat was weakening and my cervix has alreadydilated. He is barely 3 pounds at this point, and for the past two days, I'veendured very painful steroid shots to help strengthen the lungs of Baby Jamesand increase his survival.
"At least five times a day, my fingers are pricked to checkthat my gestational diabetes was kept in control to ensure that my baby'shealth is not put in further peril. My food intake is closely regulated and theonly time I'm allowed out of bed is for bathroom privileges.
"There is so much I want to say,so much in the past month and a half that I've had to endure. I've asked Godfor healing, but I must allow him to do so—to heal me and my family. And, theonly way for my Lord and Savior to do so is for me not to keep re-opening thewounds.
"This much is true, the truth I hold on to, I wanted to savemy marriage, to give my unborn son what is rightfully his—a family.
"Let me extend myheartfelt thanks to all the people: my family, friends, co-workers, fans, andeven total strangers who have checked my condition, offered prayers for myson's safety, and expressed their affection and support. To all of you, I justwant to say thank you for being a source of strength for me during this timewhen I'm at my emotional and physical weakest.
"I now say a temporary goodbye to all of you. In the comingweeks, my one focus is to be the best mom I can possibly be to Josh and hisbaby brother. The only way I can succeed at this is to leave the spectaclebehind me and totally retreat from the public eye.
ADVERTISEMENT - CONTINUE READING BELOW
"Please know how I will miss being a part of your daily TVviewing. I've always said that my career's biggest blessing is that all of youwho has tuned in to my shows allowed me to become a part of your family
"And now, it's my turn to focus on the twopeople that really matter in my life, my two biggest blessings, my twosons—Josh and Baby James. At the end of the day, after all has been said anddone, my ability to give them good lives is what matters most."