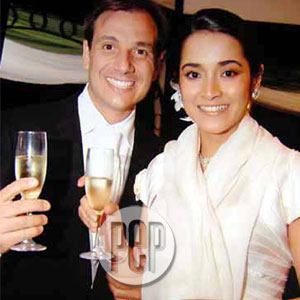 IMAGE 0
---
MargaritaDemetria "Mai-Mai" Cojuangco, fourth daughter of former TarlacCongressman Jose "Peping" Cojuangco and former Tarlac GovernorMargarita "Tingting" Cojuangco, met Italian businessman Andrea Zinithrough Gift Gate owner Virgie Ramos.
Virgie and Andrea, whose family is thelicensee of Benetton bags and accessories, had been doing business for 12years. After she introduced him to Mai-Mai in 1995, Andrea confessed:"That's the girl I want to marry."
Nearly nine years later, the26-year-old Mai-Mai and the 36-year-old Andrea said their "I do's" in the splendor of Italy.