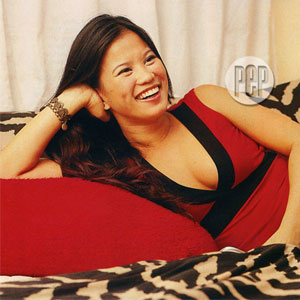 IMAGE 0
---
From Viva Hot Babe to sizzling belly-dancing instructor tointense kontrabida, Andrea del Rosario has gone far in showbiz. In telenovelas,she could well be the next Cherie Gil or Jean Garcia, yet she has thecapability of switching from antagonist to sexy star, and could even take on atweetums role.
Whatever image she may project onscreen, at home she is aregular kind of girl. Her home is nice and dandy, clean and uncluttered.There's a basic sofa happily messed up only by throwpillows of various sizes andsudden bursts of red. Then there are the basic armchairs, one in wicker and oneupholstered.
What televiewers don't know is that their TV vamp can paint!Andrea took up painting as part of her advertising course at St. Scholastica'sCollege. Her abstract works and the splashes of red in a predominantlywhite-beige condo reveal that side of her.