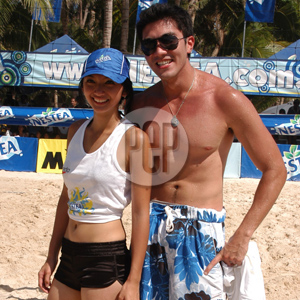 IMAGE 0
---
Boracaymay have become Baywalk plus the sand, but it remains the place to be evenafter Holy Week. The island paradise was still crowded during the post-Lenten season since sponsors sent stars to occupy Bora and show the residents how to partyunder the scorching heat of the summer sun.
From April 18-21, every square-inch of Bora's powdery sandwas filled with back-to-back events and parties, bands, celebs, semi-celebs,and even has-beens.
CELEBS GALORE!Everywhere you turn,you will come across familiar faces-celebs, actors, models, and rock stars wereall over Bora either for official events or on vacation.
A gorgeous and unassuming Angel Locsin was spotted dining atAria restaurant with Marvin Agustin and friends. Wearing a white sundress, theyoung actress was swamped by meter-thick fans craning their necks to get aglimpse of the Asian Treasures star.
Arriving at the Boracay Mandarin Hotel, MYX VJs Luis Manzanoand Iya Villania barely escaped droves of fans asking for autographs and photos.MYX, as media partner to Nestea, which celebrated its 11th Nestea Beach Volleytournament in Boracay that week, also flew in VJs Nikki Gil and Karel Marquez.
Nancy Castiglione and her "honey"Brad Turvey were dressed in pharaoh clothes as they hosted Nestea'sEgyptian-themed Victory Party at the Crystal Sand beachfront in April 21. Itwas perhaps the wildest, noisiest party of the week, with madcap band ParokyaNi Edgar attracting droves of fans and onlookers alike (enticing them twice tojump over the barricades) with their by-request hits, capricious spiels andcrazy parodies of local bands.
ADVERTISEMENT - CONTINUE READING BELOW
Nestea's Celebrity Beach Volleygames also showcased sun-kissed studs and gals getting down and dirty on thesandcourt. Among them were models/TV personalities Valerie de los Santos, GeoffRodriguez, Marco Alcaraz, Tisha Silang, Sam Oh, Reema Chanco, Bubbles Paraiso,and Robby Mananquil.
Marc Nelson, Wilma Doesnt, Angelu de Leon, Say Alonzo, MichDulce, Paolo Paraiso and Rachel Alejandro were also among those spottedenjoying the Bora sun and sand.
PUMPING PARTIES.Shindigs wereaplenty, and Nestea hosted three in a row: the Italian party and fashion showat Boracay Mandarin Hotel on April 19 where models and celebs strutted theirstuff on the catwalk built across the hotel pool. The show featured cool islandwear by Boracay-based designer PJ Arañador; Brazilian party and bartendingexhibition at Summer Place on April 20 where friends Nancy, Tisha, Bubbles andGeoff created their own alcohol mix with Nestea; and the Egyptian Victory partyat Crystal Sand on April 21 where Parokya Ni Edgar upstaged all otherperformers and events of that night.
The other parties across Bora clubs were hosted by Hit FM,WAVE, NU 107.5, and MYX among others. They flew in bands including Imago,Sugarfree, Six Cycle Mind, Spongecola, Sandwich, Chicosci, the Dawn, Wake UpYour Seatmate, Playground, and the ethno-tribal group Kadangyan.
Even our canine friends had great beach fun in Alpo's dogshow last April 22. The summer celebrations didn't stop there as a long list ofevents continue to fill Bora's calendar for the rest of May.
VOLLEY ACTION.The culmination ofNestea's summer beach fest covered the Boracay station 2shores with the 11th nationwide beach volley excitement. From 34 colleges anduniversities nationwide that competed in the eliminations at La Salle GreenHills, 18 teams from 17 schools made it to the semis and final rounds inBoracay. The 3-day beach volley tournament came down to its final game on April21, with Gabshar Tahiluddin and Yusop Abdulkarim of Mindanao State UniversityTawi-Tawi winning the men's title and Janez Armie Igot and Jusabelle Brillo ofUniversity of the Visayas taking the women's trophy. Champion teams receivedP150,000 cash each and a trophy. Their respective coaches took home a P50,000cash prize as well.
ADVERTISEMENT - CONTINUE READING BELOW
The games kept traffic at the beachfront of Hey! Jude @D'Mall D'Boracay doubly busy from April 19-21.
BEACH CLEAN UP.Aside from the beachvolley games and the parties, Nestea expanded their events this time to includepro-environment efforts. Dubbed "Nestea Love The Beach," this campaign promptedunderwater and beach clean ups done in both Puerto Galera in March 10, andBoracay in April 20. Residents and schools within the area helped in the beachclean up, while groups of diver friends—with celebs Nancy Castiliogne, BradTurvey, and Sam Oh—led the underwater leg.
Nestea merchandise were sold in malls and other event venuesto support the Love The Beach campaign. Proceeds will go to the PhilippineBusiness for Social Progress and will be used for coastal rehabilitationprograms.
Withefforts such as these, maybe Boracay is far from turning into Baywalk afterall.