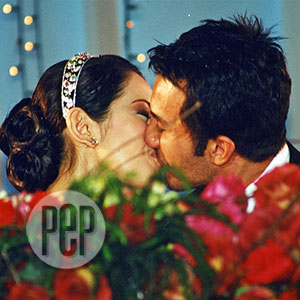 IMAGE 0
---
"Yes, everything is final," was the tearful admission of Ruffa Gutierrez on her separation with Yilmaz Bektas.
In their joint statement, the former beauty queen and her Turkish husband said, "Earnest and sincere efforts at saving their marriage have failed. It is to the best interest of Ruffa and Yilmaz, their children, and respective families that such decision to severe marital ties had to be made."

The unica hija of Eddie Gutierrez and Annabelle Rama insisted in her phone interview with entertainment columnistRicky Lo that there was no third party involved. The main reason for their break-up, according to Ruffa, was their"cultural differences."
Prior to her announcement, Ruffa never gave any indication that her marriage has been on the rocks. In her blog with PEP (Philippine Entertainment Portal), the former beauty queen happily talked about Yilmaz and their children, Lorîn and Venice.
But early this year, people couldn't help but notice that her trips to Manila have been more frequent, and her stay in the country has been longer. And marriage trouble as the probable cause may have crossed the minds of some friends and fans of the former beauty queen, but Ruffa has always told the public that she misses her husband and that she talks to him over the phone constantly.
ADVERTISEMENT - CONTINUE READING BELOW
PEP goes back to the happy beginning of Ruffa's and Yilmaz's love story.
ONCE UPON A TIME...Coming from different worlds, Ruffa andYilmaz crossed paths on May 11, 2000, in Cannes, France. The TV-host actress was there to cover theinternational film festival for The Century Productions of Los Angeles, whilethe wealthy businessman was there to buy a boat.
In YES! magazine's May 2003 issue, the then newlyweds recalled their first meeting. "I saw him at the restaurant," Ruffa narrated. "He came into the bathroom and smiled at me..."
Yilmaz described the moment, "It was destiny. I swear to God I can't explain how she'scoming to me. How are we starting tolook at each other..."
After their brief exchange of glances and smiles, Yilmaz wasted no time and made the next move—find out the hotel where the lady was staying. The businessman, who was still in the process of mastering English, admitted, "I asked where she's live,why she here, what she's name, what she's birthday..."
ADVERTISEMENT - CONTINUE READING BELOW
Yilmaz further added, "I paid the reception desk. You know, it's the festival, and it's veryhard to book a hotel right away. But Isaid I want to stay in the room next to her, you know? And I stayed in the next room to Ruffa."
The Turkish businessman was so determined to pursue Ruffa,so the next day, Yilmaz went to meet Ruffa again. This time, he brought a friend who could act as his interpreter because hehardly spoke English back then.
"We had coffee," said Ruffa. "Every time I would ask him something, his friend would interpret. But he was doing sign language, you know. Then, he'd draw, 'tapos nakalagay, 'I love you, can you be my girlfriend?'And I said, 'My gosh, you're so fast.' He doesn't waste time."
"He's so persistent," recalled Ruffa. "The first fax that heever wrote to me, pinasulat pa niya sa bellboy doon sa hotel."
ADVERTISEMENT - CONTINUE READING BELOW
Aside from those sweet notes, the couple also remembered theirfunny verbal exchanges.
"Hindi ko sinabi sa kanyang actress ako," said Ruffa. "Sabi ko, 'I'm a secretary. ' He didn't really buy it. Pero two days lang naman ako nag-lie sakanya. No'ng magustuhan ko na siya, Itold him the truth."
But Yilmaz still didn't buy the new story. When she told him she had been Miss WorldSecond Princess, he didn't believe her either.
He laughingly said, "I told her that I am Prince." Quickly, he added: "But I don't care what'sshe's answering. It's just like I'mfall in love."
EAST MEETS WEST. A month after their very first meeting, Yilmaz followed Ruffa to thePhilippines.
Yilmaz could still clearly remember his plane ride. "I thought it was just likethree hours from Istanbul. Well, I'msleeping like six hours, and when I would go look in my watch, still we notlanded. And the flight attendant said,six hours more or something like that, and I wanna jump already," recalled Yilmaz.
ADVERTISEMENT - CONTINUE READING BELOW
After a few months, it was Ruffa's turn to visit Yilmaz'shomeland, Turkey.
When they started going to the beaches, Ruffa began towonder: "My goodness, who is this guy? How come there's so many paparazzi following him?"
She continued, "Maybe he lied to me, that he's not abusinessman. I was thinking that maybehe's a singer or an actor because he's always in the newspapers.
"Minsan dinala niya ako sa Bodrum. It's parang Boracay nila. Talagang sinusundan kami. Kasi,they're interested to know who he's dating."
After several coast-to-coast dates, Yilmaz's persistencepaid off—the Filipina beauty queen finally fell in love with the guy from Istanbul.
"Ang lakas ng dating," described Ruffa about Yilmaz. "He has charisma. And he has this attitudethat when he wants something, he sees to it that he gets it. He call's me twenty-five times a day tocheck on me. Long distance, ha? He's really very sweet."
ADVERTISEMENT - CONTINUE READING BELOW
Ruffa also admitted, "Pero masama naman siyang magalit. He's very impulsive." To which her mom, Annabelle Rama, agreed:"'Pag nasa mood, mabait. 'Pag namanmainit ang ulo, parang tigre."
The couple also admitted that, like any other relationship,they also have their share of bad moments. Ruffa said, "Sinusubukan na naming maghiwalay, but we always findourselves going back into each other's arms."
And that prompted their decision to get married. They picked the date: March 2003. Come March 25, 2003, Ruffa and Yilmazestablished the record for having one of the grandest showbiz weddings to date.
But unlike most couples, Ruffa said that she andYilmaz don't really celebrate their wedding day. In her interview with Ricky Lo, the actress revealed, "What we celebrate is the day we met, which was May 11 eight yearsago during the Cannes Film Festival."
DOUBLE CELEBRATION. On their wedding day, Yilmaz also announced that Ruffa was almost three months pregnant with theirfirst child Lorîn.
ADVERTISEMENT - CONTINUE READING BELOW
At first she just thought she was not feeling well becauseof her heavy workload. But while shewas vacationing in Istanbul last December 27, 2003, she found out that she wasalready carrying the fruit of their love.
Although unexpected, it was a dream come true especially forYilmaz. Ruffa said, "Yilmaz had beenwanting a baby for two years. Never ko'binigay sa kanya. Sabi ko, 'we have toget married first.'"
For a while, the couple kept this secret from Ruffa's mom. Butlater on, while the couple was in Las Vegas, Yilmaz made an overseas calland talked to his soon-to-be mother-in-law.
Ruffa, who was laughing all the time, recalled, "Yilmazdecided to call her and said: 'Ma, this is what's happening, you know. Ruffa is pregnant and we have to getmarried, then you have to say yes!'"
Annabelle, along with Ruffa's dad Eddie Gutierrez, just kepton crying after hearing the good news.
ADVERTISEMENT - CONTINUE READING BELOW
On September 11, 2004, Ruffa and Yilmaz gave birth to their second daughter Venice in Los Angeles.
POST-WEDDING ISSUES. After the marriage, a certain woman named Selen Gorguzel came out claimingthat she was the first wife of Yilmaz. The revelation, dated April 11, 2003, appeared in the online edition ofHurriyet, Turkey's leading or largest newspaper, with a headline translated inEnglish: "Yilmaz is married to me, he cannot get married."
In the said report, Selen insisted that [written inTurkish]: "My husband's marriage [to Ruffa] is naturally a seriousproblem. We have become used to hisphilandering, but the news that he has gotten married is a differentmatter. We have a daughter, and she isgrowing up. Such an event irritatesboth me and my daughter."
The article further said that Ruffa's and Yilmaz's marriagein the Philippines was against Turkish law and is considered invalid. The newspaper article explained, "If aperson, who is married in Turkey, goes to a country applying Islamic law thatpermits to up to four wives, that is not a problem under that country'slaw. However, our [Turkish] laws forbidgetting remarried when one is already married."
ADVERTISEMENT - CONTINUE READING BELOW
Yilmaz aired his side to the same broadsheet, Hurriyet. "We didnot get married. We got engaged. Themarriage will be in Istanbul in June," explained Ruffa's husband. (The actual marriage in Turkey happened on September 4, 2003, which wasattended only by the immediate members of their respective families.)
In the May 2003 issue of YES! magazine, Ruffa, who was in Los Angeles at that time, made this statement: "I am the onlywife—the first and last. I am part of his present, I am part of hisfuture. Ako lang ang pinakasalan. We're very happy."
And she ignored all the controversies surrounding her marriage, and focused on her new job: to be a loving wife and good mother to her children. She also left her her showbiz career career inthe Philippines, so she could stay in Istanbul as Mrs. Bektas.
FAST FORWARD TO 2007. Earlier this year, Ruffa made peace withYilmaz's "ex" and treated Selen's daughter like her own.
ADVERTISEMENT - CONTINUE READING BELOW
A few months later, Ruffa's shocking annoucement about their separation erupted.
On May 8, Ruffa's interview with Ricky Lo mentioned, "We did tryvery hard to iron things out but we failed. In the past four months that I'vebeen here, Yilmaz and I tried to sort things out, but things just wouldn't workout."
Ruffa firmly said, "Everything is final." Is it already time to conclude that not all fairy tales end with, "And they lived happily ever after?" Or is it not yet too late to ask the couple this question, "Can't you live happily ever after?"