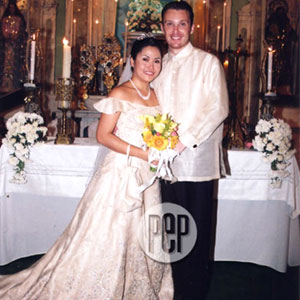 IMAGE 0
---
WhenFatima Melody C. de Castro, then 28, and David Ian Greenway, then 31, had achurch wedding in her hometown, Tiaong, Quezon, it was their second time toexchange "I do's."
The first time was in a civil ceremony in Southampton,England, four months earlier.
The two theater actors—who go by the stage names Ima Castro and DavidShannon—first met in April 2002 in Manchester, England. The Filipina and theIrishman were the lead stars in the long-running musical Miss Saigon, whichwas then on tour.
It took a while for Ima to agree to go out on a date withDavid, but when she finally did, it didn't take long for David to realize thathe wanted Ima "to be the mother of my children."
On his 30th birthday, Davidproposed to Ima, and she gave him his best birthday gift ever by saying yes.