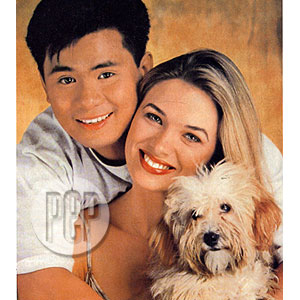 IMAGE 0
---
For several years, showbiz insiders talked about Ogie Alcasid's sketchy marital status and rumored love life in a hush.
First, there was speculation that he and his wife, Australian beauty queen Michelle Van Eimeren, had long been separated. The split was believed to be the reason Michelle left the country in 2003 to permanently settle in her home country.
Second, songwriter Ogie was said to have been seeing fellow singer Regine Velasquez, and she was cited as the reason that the once touted fairy-tale marriage collapsed.
Despite these nagging issues about Ogie and his marriage, the singer-composer-host-comedian skillfully avoided all probing by the entertainment press, giving the customary "not true" remark during interviews and even during casual conversations with reporter friends.
In the June 2007 issue of YES! magazine, Ogie broke his silence.
He finally admitted that both long-standing rumors were true: he and wife Michelle had broken up and he was in love—make that crazy in love—with songbird Regine Velasquez.
FIRST SIGN OF SMOKE. Ogie and Michelle's rumored marital problems were strongly hinted at by YES! in its October 2003 issue.
During the interview with Ogie, YES! was armed with all the information and speculation from different sources, but he vehemently denied all.
"We are separated physically, she's in Australia. But if you're asking me about our marriage, I'm still Mr. Alcasid and she's still Michelle Alcasid," Ogie flatly said.
He admitted that, like any other couple, their union had its share of problems, but these were not enough reason to feel unhappy.
ADVERTISEMENT - CONTINUE READING BELOW
"My wife and I have problems," he said cautiously. "But the thing about my marriage with my wife is, we sort things out. There are some points where we don't get along. But my wife will always be my wife. I cannot be unhappy with her."
Ogie, who is very well known in the industry for his work ethics, related how domestic bliss led him to success.
"Because of the support of my wife, my children, towards my career, I've been able to do so many things. You can only do that if you're happy," he mused.

Ogie has only good words for Michelle: "Very emotional, very loving. She really is an amazing, remarkable human being. She has so much love in her. So much love to give and you can see it."
Watch for Part 2.