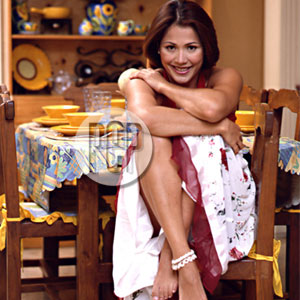 IMAGE 0
---
On television and in the movies, Maritoni Fernandez has established herself as one of the younger, more hip kontrabidas. Her sharp British-mestiza features, fiery eyes, and strong personality make whatever character she's playing a truly formidable adversary. The person at the receiving end of her tirades can't help but be stunned.
In the comfort of her home, Maritoni's real self (as opposed to her reel self) is an animated presence, not an intimidating one. She answers questions about her failed marriage, her fight with breast cancer, and her romance with a man five years younger than she is, straight to the point and with utmost honesty.
"I'm idealistic," she says, explaining her outlook on life. "I really like to believe the best in everything. But I'm also realistic. My ideals are based on reality, not on the unreachable. When I found out that I was sick, I took control of the situation. I prepared myself mentally. When I got to that level, I relied on faith. The rest is really prayers. Talagang, 'God do you still want me to live? Kung ayaw mo talaga, kunin mo na ako. My prayer na lang is: Don't make it hard for me. Huwag lang masakit.'"
Maritoni learned on April 4, 2001 that she had cancer . But, as she says, "Finished all treatment and declared clear on Oct. 11, 2001, after undergoing removal of tumor, lymph-node dissection, placement and removal of portacath, four rounds of chemo every three weeks, and six weeks of daily radiation."
For over two years now, she has been in remission, the symptoms of her disease have decreased or subsided. To maintain her health, Maritoni sticks to a diet of fish, chicken, and vegetables, and works out in a gym four or five times a week. She also takes a drug to prevent the production of the female hormone estrogen, otherwise "there's a bigger chance that the cancer will recur," Maritoni explains.
ADVERTISEMENT - CONTINUE READING BELOW
"It's so shocking that I'm still so pretty, kasi my body doesn't produce estrogen anymore," she adds. "My doctor is so shocked, because the drug I'm taking is supposed to make my hair and my nails brittle and make my skin bad."
Just when Maritoni was rebuilding her life and career in show business after her bout with cancer, she had to face a different fight. Her marriage to businessman Alex Alvarez had fallen apart and they decided to call it quits.
"We were a couple for ten years. We were husband and wife for eight years. We started having a problem siguro mga four years ago. Noong nag-usap kami talaga to break up, there was little left to hold on to. The anger, the pain, the resentment—that all happened within the marriage. Kaya noong naghiwalay kami, wala na. Kung meron mang natirang feeling, it was relief, for both of us."
Maritoni reveals that she was married in civil ceremonies in Hong Kong—and for a reason. "I never got married in church because I have this belief that, yes, you can promise forever to a human being and break that promise. 'Sorry, it didn't work.' Kasi tao naman 'yan, puwede mong kausapin. But if you promise in front of God, till death do you part, paano mo babawiin sa Diyos 'yon? You cannot."
Separated and taking care of her then eight-year-old daughter Alexis, Maritoni never thought it was necessary to make the separation final and formal by filling for divorce—until she met model-actor Hans Montenegro again. But that's getting ahead of the story.
ADVERTISEMENT - CONTINUE READING BELOW
Maritoni had known Hans before she started in showbiz. "He is the barkada of my younger sister Kate. I used to see him a lot at the Manila Polo Club when we were growing up. He was just a scrawny looking guy. Pero always polite. Always very nice."
Late last year, Maritoni and Hans were guests on GMA-7's "Partners Mel and Jay." During breaks in the taping, they chatted and updated each other about their lives. The day ended with Hans asking for Maritoni's cellphone number and a date.
"He goes, 'Are you doing anything after this? You wanna have coffee or something?"' Maritoni recalls. "E, parang nagulat ako sa proposal niya. I said, 'Gotta go! Next time na lang!"'
Several cellphone calls and text messages later (mostly from Hans), the two finally met for coffee, and Hans quickly made his intentions clear.
"We sat in Starbucks, and the first thing he said to me was, 'Okay, I really like you. Let's cut through the bullshit. What's with you and your marriage? What's the real score? That's how upfront he was.
"Sabi ko sa kanya, 'You have some balls! I've never come across a guy who has that much guts to ask me that straight up.'
"Actually, 'yong sinabi ni Hans, it really made sense. He goes, 'You know, Tons, I've been through what you're going through. Don't procrastinate anymore. Don't do it for me. Do it for yourself. You can never move on with your life hanggang talagang plantsado na 'yan. If this is the only reason why we met again, let it be so. For your sake, go ahead, ayusin mo na 'yan. It's not healthy for you. It's not good for your ex. And more importantly, and pinakakawawa diyan, 'yong anak mo.'"
ADVERTISEMENT - CONTINUE READING BELOW
Maritoni now says, in retrospect, "He was the first person who made sense."
At the time this was published, the two were planning to get married. But in 2005, shortly after Maritoni gave birth to Liam Moynihan—her son with Hans—the couple broke up.