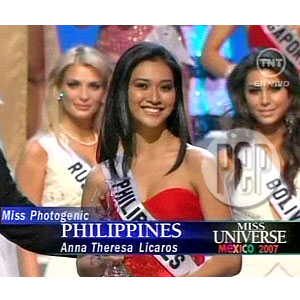 IMAGE 0
---


Philippine representative Anna Theresa Licaros bagged theMiss Photogenic special award in the recent Miss Universe 2007 beauty pageantheld today at the National Auditorium in Mexico City.
Licaros is now the seventh Filipina who won the MissPhotogenic award. In 1973, MargaritaMoran was not only crowned as the Miss Universe, she was also voted as MissPhotogenic during the event. The saidtitle, which used to be chosen by media personnel covering the event, isdetermined by Internet votes.
Meanwhile, Riyo Mori of Japan was crowned as the MissUniverse 2007. She defeated NataliaGuimaraes of Brazil (1st runner-up), Ly Jonaitis of Venezuela (2ndrunner-up), Honey Lee of Korea (3rd runner-up), and Rachel Smith ofUSA (4th runner-up).
Other special awards were received by Miss ChinaNingning Zhang (Miss Congeniality), Miss Brazil Natalia Guimaraes (Best inEvening Gown), and Miss Japan Riyo Mori (Best in Swimsuit).