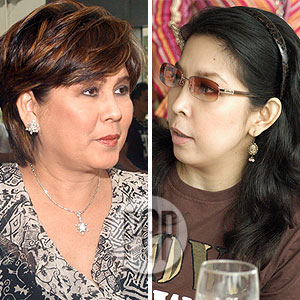 IMAGE 0
---
This time, it's Dolly Anne Carvajal's turn to say her piece.
Less than 24 hours after talent manager Annabelle Rama publicly lambasted her in showbiz talk shows, columnist Dolly Anne retaliated through a text message sent to ABS-CBN.
According to the embattled columnist, she at first didn't see the need to come out and answer the slew of insults thrown at her by Annabelle. What made her think otherwise was the outpouring of encouragement and support she gathered from close friends and associates whom she thanked for standing beside her.
She refused, however, to reveal her plans, saying she would like to consult her "Tita Letty" (Letty Jimenez-Magsanoc), editor-in-chief of the Philippine Daily Inquirer, before deciding what to do next.
The entire controversy started when Dolly Anne, through her column in the leading national broadsheet, touched on the rumor that Yilmaz Bektas's family was part of a drug syndicate in Istanbul. This was quickly followed by another article, this time tackling the rumor that Ruffa was previously married in the United States—to a certain Richard Daloia—even before she met Yilmaz.
Annabelle Rama, the mother of Ruffa Gutierrez, expressed her anger in media interviews. She accused Dolly Anne of riding on the Ruffa-Yilmaz separation bandwagon. The feisty Annabelle also called Dolly Anne "bruhilda" on national television.
Dolly Anne defended herself by declaring that there was no malice in what she wrote and that she was only doing her job as a reporter.
She ended her text message by assuring the public that she would answer the issues raised by Annabelle point-by-point in her column.
ADVERTISEMENT - CONTINUE READING BELOW