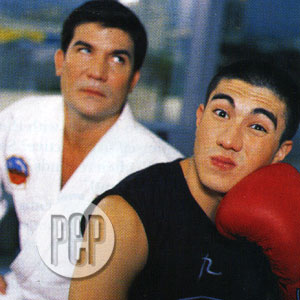 IMAGE 0
---
Five years ago, YES! magazine did an enterprise story featuring the showbiz dads and their kids. PEP (Philippine Entertainment Portal), in time for the Father's Day, is now reviving the old but timeless pieces to let us catch a glimpse and father-and-son tandems off the camera.
Any pictorial involving Luis Manzano cannot be scheduled for weekdays, only Saturdays. His father Edu will not have it otherwise. After a series of negotiations, this pictorial was set for a Thursday afternoon. The go-signal came with a clear warning that Luis had to leave by five o'clock. He needed an hour to drive back from the Red Corner Gym to the College of St. Benilde, where he had a six o'clock class.
"I'm strict. I'm very strict," Edu admits readily. "School is number one...first and foremost. He has to have good grades. I can't hear that he's failing or getting low grades. 'Di pwedeng maglakuwatsa. Party only on weekends... Even before, he was getting offers already and, ah, I used to reject all offers."
His reasoning seems sound. "The worse thing that can happen to him is to be known as the son of Edu Manzano and the son of Vilma Santos," this father says.
"That's ridiculous! Well, what have we done, ah, that somebody should be called in the third person, di ba? So, ah, we wanted him to grow up to be Luis Manzano and not the son of."
Luis Santos Manzano has his work cut out for him. He is still best known as Lucky, Ate Vi's little boy. In the '80s, after all, each time the end credits rolled on his mother's top-rating show "Vilma!" the entire nation would hear the Star for All Seasons part with, "I love you, Lucky!"
ADVERTISEMENT - CONTINUE READING BELOW
The now 26-year-old Luis says he doesn't mind the Lucky tag. "If you call me Luis, if you call me Lucky, I'd still look. I've never had a problem with that. I've never had a reklamo with Luis or Lucky," he says with a shrug.
His dad thinks otherwise. "Now he's Luis," says Edu Manzano, a former vice mayor of Makati. "He's entered that period of his life when he wants to be considered more mature, more, uhm, an adult than anything else, more responsible."
Happily, that should not be too hard. For two words that come to mind when meeting Luis are "mature" and "articulate," words not often used to describe showbiz scions that survive the very public break-up of their very famous parents. "It's my mentality na rin eh. If two people can't be together, why force it?" reasons Luis who inherited his mom's looks and his dad's sense of humor.
With pride, Edu says, "You know, he's a very sharp boy. He's, ah, very receptive to comments, ah, to criticism. And, ah, in the world his mom and I were involved in, he would have to be, 'no? But we shielded him from all of that eh as much as possible. We wanted him to have a normal lifestyle."
He adds, "See, the thing was, it didn't look all that...devastating because, uhm, Vilma and I...set aside everything for him... And we tried to remain friends as much as possible."
The father need not fret. Already, this early, Luis has everyone applauding. At the very least, he's got the girls in a tizzy.
ADVERTISEMENT - CONTINUE READING BELOW
At the very most, he's got everyone noticing the old-world charm about him: the little courtesies and the unwavering politeness.
His father knows that. "Even as a young boy, ah, he was made to open doors," Edu explains. "He started out with his mom. I used to tell him, 'You know, when you're with your mom, you open the car door. When you're at a restaurant, you pull her chair.' 'Coz my father did the same for me... Actually, when you see him now, he hasn't forgotten his manners."
"I was never shy. Kahit kelan makapal ang mukha ko," he says about his high-profile role as former commercial endorser of a clothing brand.
"Makapal ang mukha ko pero hindi ako gago" he says merrily about not having become a high-profile actor then. "I don't wanna go into movies kaagad when I don't know how to act. Maybe if I learn. There is a hesitance in my part 'coz I know how it is. Mawawalan ako ng privacy, eh. And that's something I treasure. I know that, right now, it's happening na. Pero kahit paano I still keep things minimal naman. So ayaw ko namang pa-grabihin pa."
As it is, the public has already become interested in his love life. It is aware that the young man's relationship with actress-model Nancy Castiglione has ended. But while the pretty mestiza shed tears during a TV interview, Luis has kept his emotions to himself. When asked about her, he says only that there was no third party and that they remain good friends. Still, the public speculates.
ADVERTISEMENT - CONTINUE READING BELOW
Well, why not, when the boy with the famous parents is himself so attractive? So attractive that Mama Vi often reminds him, "Don't get anyone pregnant!"
Now Papa Edu says even he runs to Luis for love advice. "Ako, napakatanga ko talaga sa mga babae. Wala talaga akong kaalam-alam sa babae," insists Edu in that deadpan way of his. "So he gives me guidance. He even gave me a date one time. Nag-double date na kami n'yan... Actually, it was fun. We even dressed the same."
Indeed, at 47, the father looks young enough to go on a double date with his son. "We go out together. Uhm, we would gimik together. We would treat each other as friends. I've never hurt him. I've never spanked him even as a kid," says Edu.
But having Dad for a barkada has not turned Luis into a spoiled brat. His father went out of his way to make sure he did not.
"I think the worst punishment I gave him," Edu says of Luis, "was when he was going out on a date and I gave him one hundred pesos. Scary 'yun. Imagine your date ordering something and wala kang pambayad?" Edu says. "Walang credit card 'yan until recently. He learned the hard way. During his teen years, he would have to work for his money. We used to make him run errands."
Seeing Luis walk within earshot of the interview, Edu raises his voice and feigns a reply to a non-existent question: "He's also retarded. He's not mentally stable."
ADVERTISEMENT - CONTINUE READING BELOW
There is a natural playfulness between father and son. Like a comic tandem, they would finish each other's jokes. Between takes, they would huddle to talk about sports, cars, current events, and women.
"Nowadays, it's hard to just be like a typical father figure," says an observant Luis. "I mean, discipline and all that. I think the best way to actually raise a son or daughter is, you know, to try to be his/her buddy, but always implement the need for respect. Like with my dad and me...We're buddy-buddy but the respect is there."
In March 2002, Luis graduated with a degree in Hotel and Restaurant Management. He is all grown up and Edu knows it.
"You start to realize a lot of things, Edu confesses. "As a father, you can always be nagging him. Give him space to let him make his mistakes and let him pick himself up from the floor... I've already let him go, 'no? He only consults with me after. No one decides for him anymore. Now you can give him certain allowances already... to be more himself. But, with all of that freedom I have granted him, he will always still be my little boy."
Call Luis lucky—and Edu, too.